Hey y'all! Long time no see. I apologize for my absence. It's been a hectic few months. But I'm back today with Part 2 of my Good Earth Beauty review roundup! I purchased a few of their newest launches and they were kind enough to send me some for consideration. If natural skin care is your thing, you don't wanna miss this!
Also make sure to check out my previous review. There are some real winners on that list and I still use them today.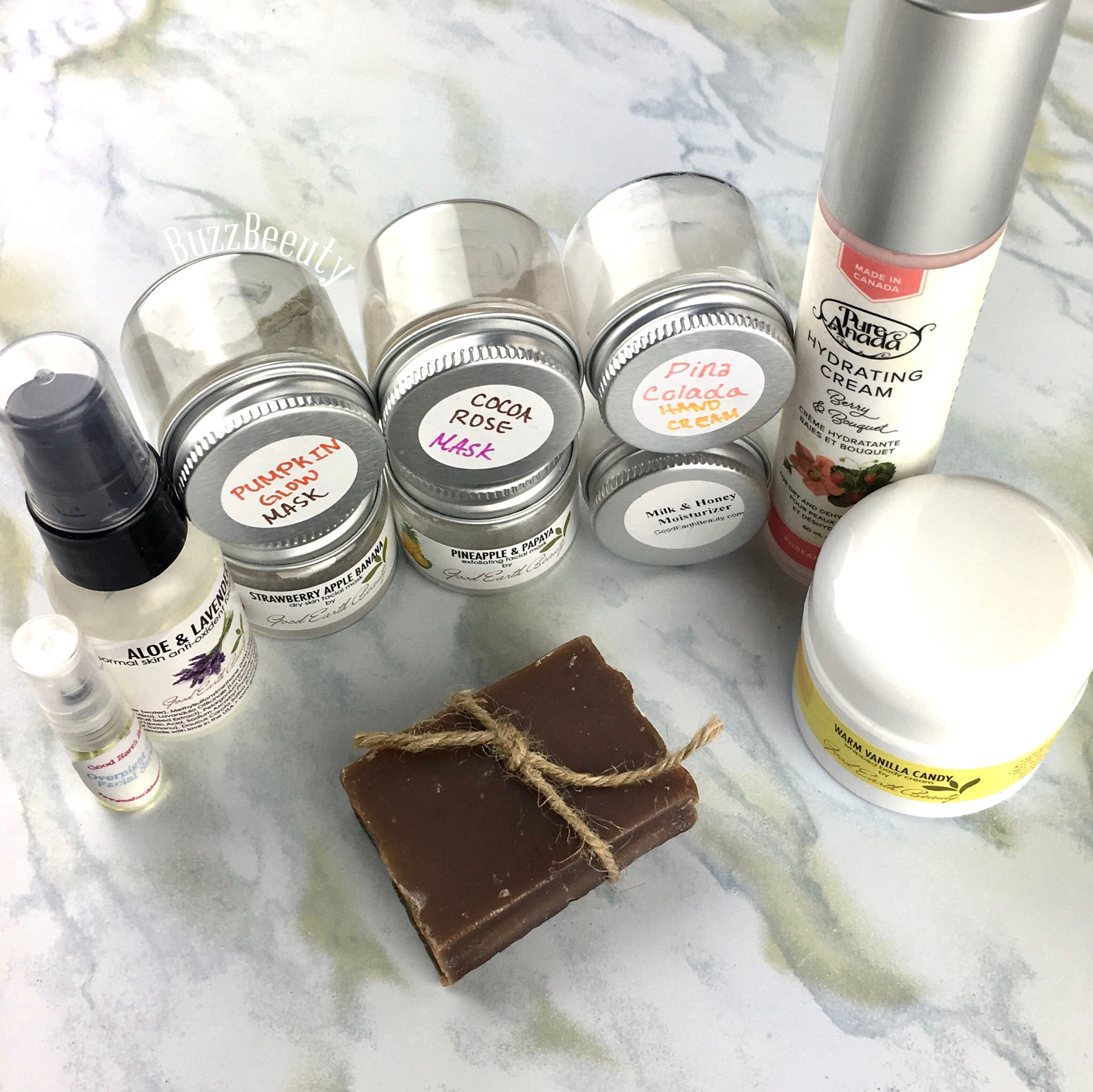 Good Earth Beauty Aloe & Lavender Facial Toner
"Spray Mist Bottle.  Loaded with unusual superstar ingredients, this toner performs above and beyond expectation. Treat half of your face for one week and marvel at the noticeable difference in color, texture, elasticity, tone, and smoothness. Each ingredient was carefully chosen for its youthening properties. You will be beyond thrilled with this toner. "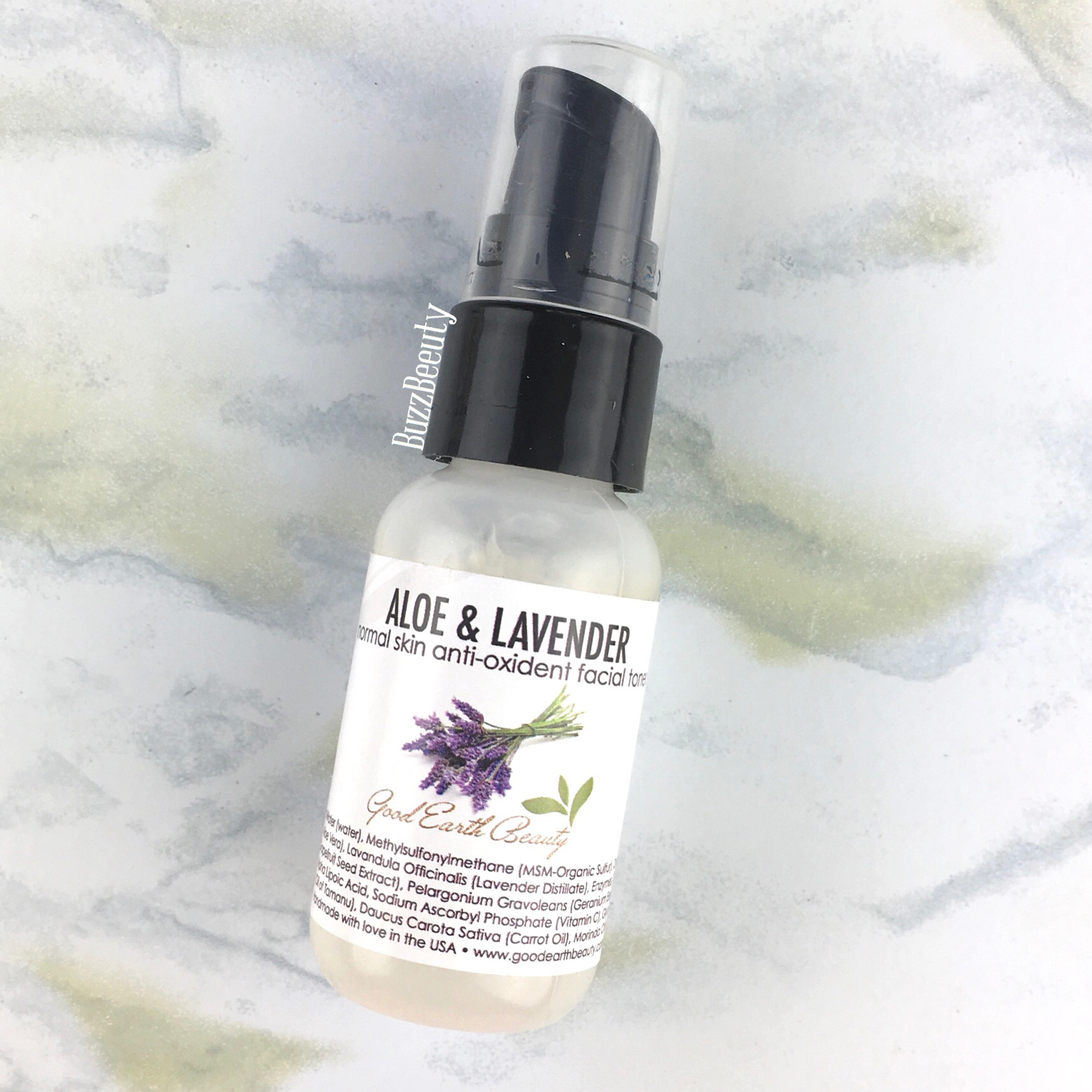 Ingredients: Structured Electrolyzed Water (water), Methylsulfonylmethane (MSM-Organic Sulfur), Organic Aloe Barbadensis Leaf Juice (Organic Aloe Vera), Lavandula Officinalis (Lavender Distillate), Enzymes, Organic Camu Camu Berry, Citrus Grandis (Grapefruit Seed Extract), Pelargonium Gravoleans (Geranium Essential Oil), Rubus Idaeus (Raspberry Seed Oil), Alpha Lipoic Acid, Sodium Ascorbyl Phosphate (Vitamin C), Glycolic Acid, Calophyllum Inophyllum (Oil of Tamanu), Daucus Carota Sativa (Carrot Oil), Morinda Citrifolia (Noni) .
Price: $2.75 sample, $16 for 4 oz, $26 for 8oz 
I love this toner. It's very gentle yet I've seen great results. It keeps me hydrated, removes excess makeup and oil, brightens my acne scarring, and helps the inflammation in my acne. I'm so impressed with how quickly I've seen results. I use it at night. I'm also completely onboard for skin care that contains aloe or lavender so win/win. I recommend this for sure and will be picking up a full size once my samples run out (which by the way, last a pretty long time! A little goes a long way).
Good Earth Beauty Overnight Glow Face Serum
"Hydrating Facial Serum – Overnight Glow – This healthful serum is formulated to leave all skin types with a glowing softness, comfort, and radiance. Our lusciously decadent formula penetrates to deep layers of the skin, offering instant and long-term hydration, nourishment, and antioxidant protection. Skin is calmed, luscious, lovely. Lasts a LONG time – a few drops are all you need!"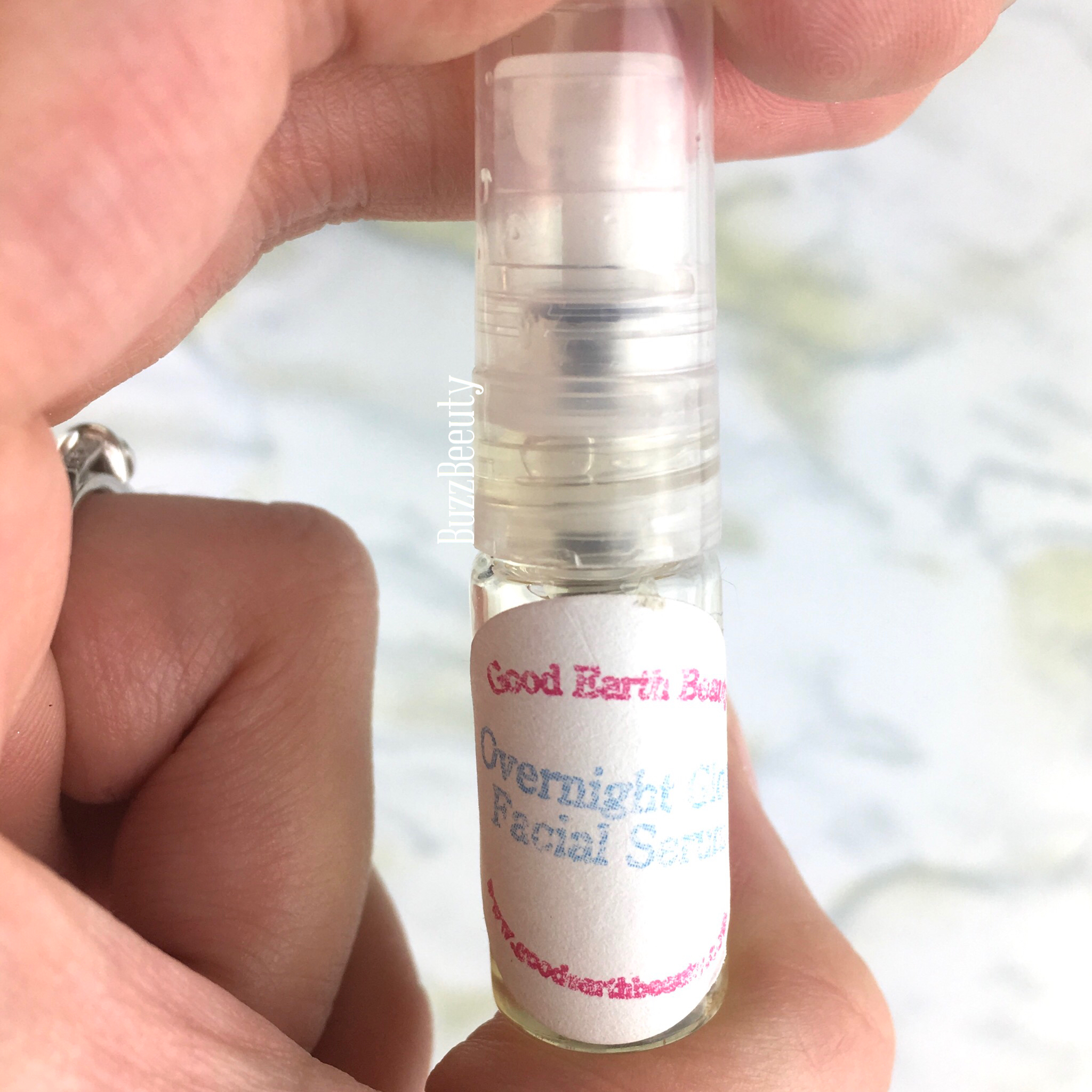 Ingredients: Olive Squalene, Immortelle Oil, Vitamin C, Grapefruit Seed Oil, Red Raspberry Oil, Orchid Extract
Price: $3.50 sample, $44 .5 oz 
This serum pairs really nicely with the toner. Two drops is all I need to cover my entire face. I use it after the toner at night. My skin looks healthy and moisturized when I wake up and I feel like it makes a difference in the texture. I appreciate that there are so few ingredients and no unnecessary fillers. It's pretty pricey, though. I know most serums are and you should splurge on products that stay on your skin. I don't normally use serums. I probably should as my skin is more on the dehydrated side. I think once I finally perfect my current routine, I will spend the money on the serum.
Good Earth Beauty Milk and Honey Moisturizer
"Pamper your skin with moisturizing milk and honey lotion. This delightful lotion will absorb into your skin without leaving a greasy feeling. This product is now enriched with antioxidant rich coconut milk and nourishing honey."
Ingredients: Organic Herbal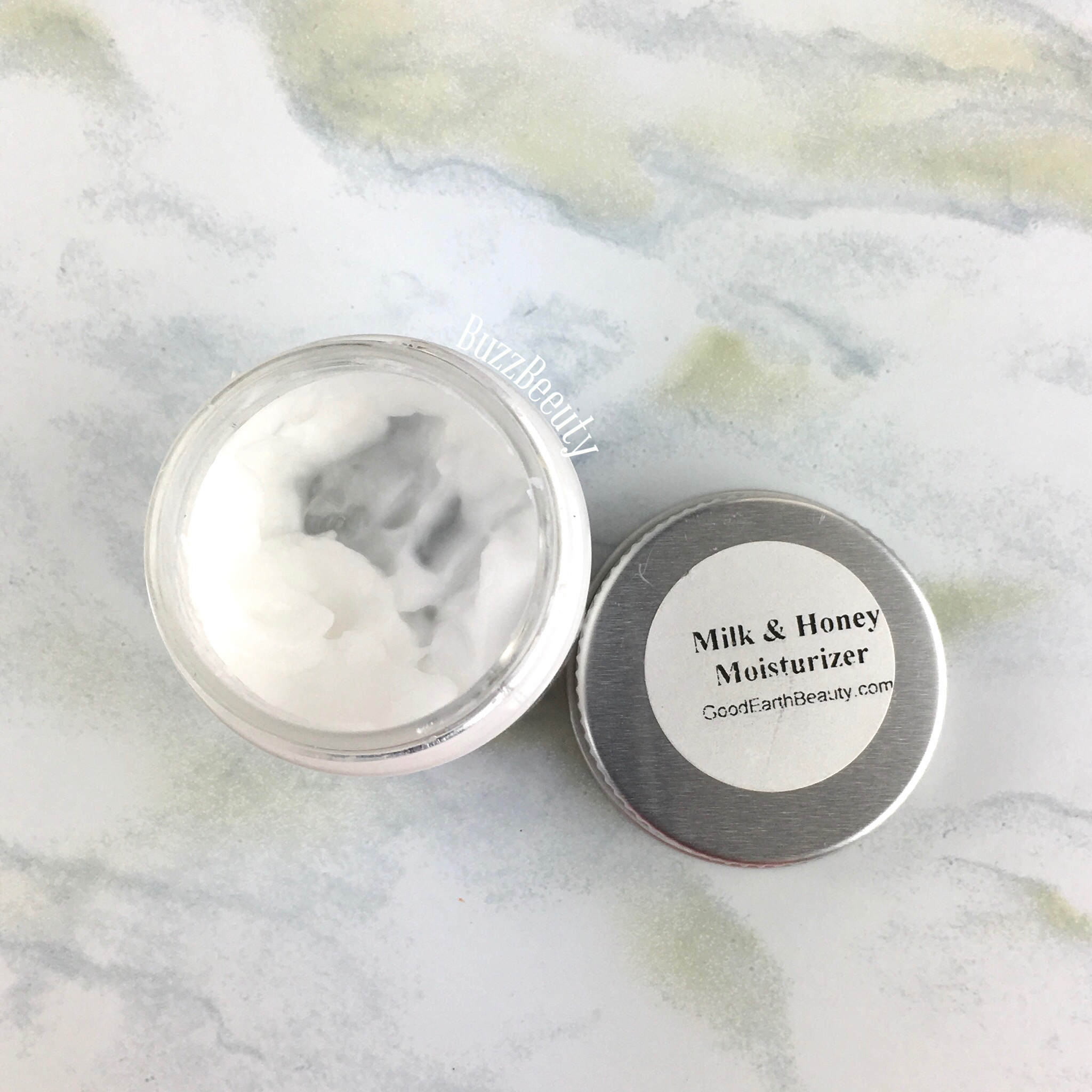 Infusion, Organic Aloe Barbadensis (Aloe Vera), Kosher Vegetable Glycerin, Organic Olive Squalane, Organic Carthamus Tinctorius (Safflower Oil), Mel (Honey), Coconut Milk, Butyrospermum Parkii (Shea Butter), Organic Simmondsia Chinensis (Jojoba Oil), Panthenol (Vitamin B5), Wildcrafted Camellia Sinensis (Green Tea), Citric Acid, Radish Root Ferment (Natural Preservative).
Price: $3.25 sample, $25 2.3oz 
Oh my, I LOVE this moisturizer! It has an interesting texture which I can't even describe. Kind of a fluffy gel? I don't know but it's amazing. It's very moisturizing but isn't greasy. It sinks in fast but holds the hydration. I love it, especially under my makeup. I'll be buying a full size for sure.
Good Earth Beauty Facial Masks 
There are four masks they offer at this time. All 4 come in powder form that you mix with water. I love this, as the powder lasts longer and allows you to create your perfect texture. I have pretty similar thoughts for all of them, so let's get into that first. There are very few ingredients in all 4, which was the selling point for me. I have super sensitive skin and masks scare me. They usually burn or cause more irritation than it's worth. But these… These have changed my life. Okay, a bit dramatic but I'm so happy about these. All of them are fantastic. I feel like I get pretty similar results with all of them, but I don't mind because I DO see a difference. I highly recommend you pick up samples of them all. The samples last awhile and will help you pick out your favorite to purchase in a full size.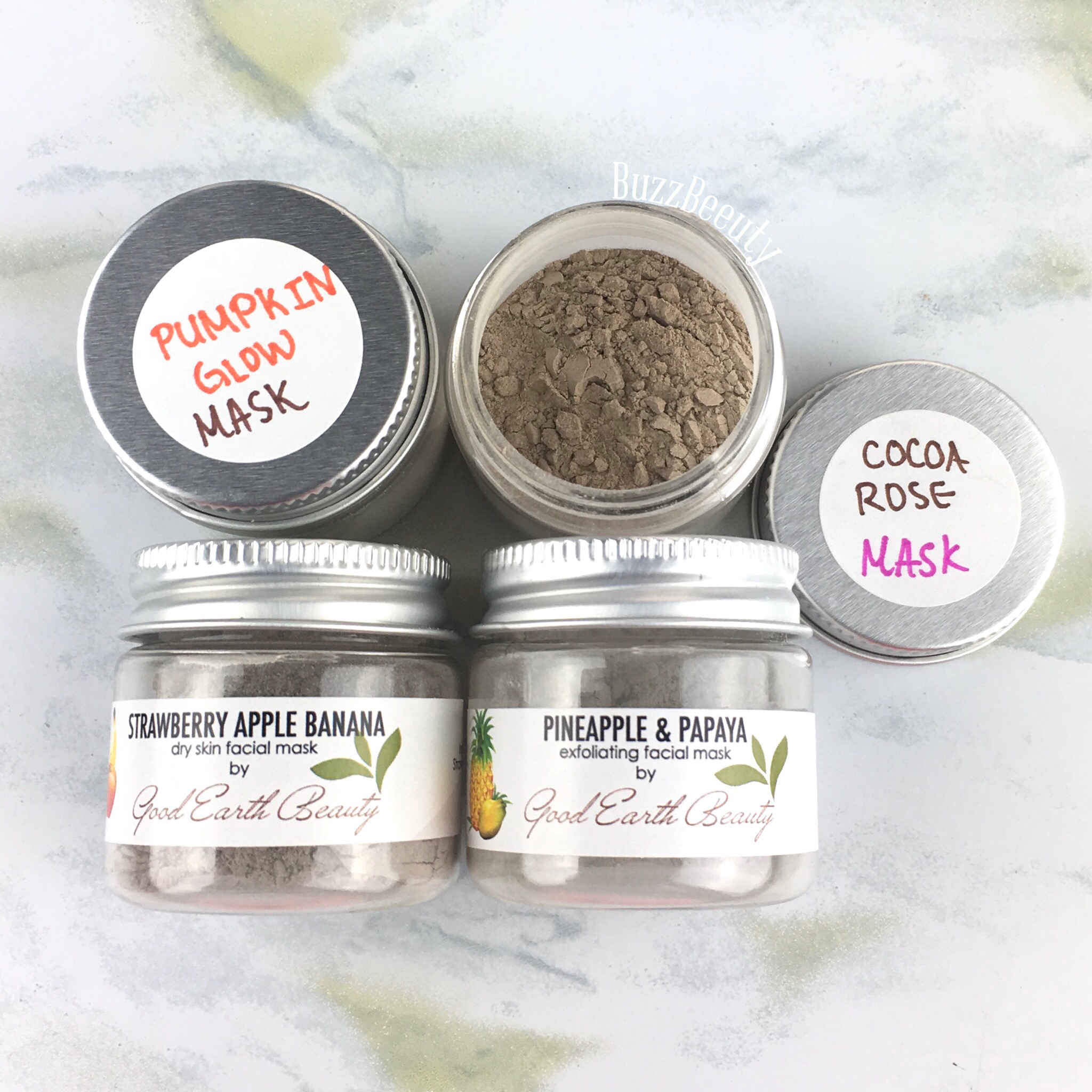 Cocoa Rose Exfoliating Mask 
"Made from antioxidant-rich cocoa, chocolate has become known for its heart-healthy benefits. The sweet stuff contains flavonoids, which protect cells from free radical damage that can lead to heart disease and have been shown to lower blood pressure. But chocolate isn't just good for your heart—it also has amazing benefits for your skin. This nourishing, organic face mask combines rhassoul clay, organic raw cacao powder, organic rose hips, and organic rose petals. This mask is perfect for sensitive or aging skin needing a dose of antioxidants. Along with all of its amazing benefits, this mask smells exactly like chocolate! (Just try not to eat it!)"
Ingredients: Raw French Cacao Powder, Rose Hips, Rose Petals, Marshmallow Root, Rhassoul Clay, Turmeric.
Price: $3.25 sample, $16 2.3oz, $36 4oz 
This was the first mask I tried. It smells SO GOOD! It made me want to eat a bar of chocolate. I noticed that my skin felt plumper and my fine lines looked less noticeable. I was hydrated and my skin felt overall more even.  This is the perfect mask to wear of self care days while you soak in the bath.
Pineapple and Papaya Exfoliating Mask 
"A natural exfoliating mask – Pineapple contains enzymes and natural alfa hydroxy acids (AHA). These acids are used in the skin care business for its moisturizing, exfoliating or anti-fungal properties. Pineapples contain the enzyme Bromelain, a well documented skin aid which reduces inflammation. Papaya is rich in vitamin A, E and C, where each act as anti-oxidants to protect the skin. Containing a natural enzyme called Papain, it promotes skin renewal, breaking down inactive proteins and increasing cell turnover. It has been used as a skin preparation for wounds and burns."
Ingredients: Kaolin Clay, Organic Dried Pineapple Powder, Organic Dried Papaya Powder, Vitamin C.
Price: $3.25 sample, $16 2.3oz, $36 4oz 
This one felt really nice when my face was breaking out. It seemed to calm them down. They were less inflamed and irritated. I can't really say if the pimples went away faster, but overall they felt and looked better.
Strawberry Apple and Banana Brightening Mask 
"Every day our faces are exposed to the elements. Sun, heat, cold, pollution, dirt, dust, rain…and that could be just the morning. Different masks can target select problems. With this combination mask, your face will benefit from three sources of fruit. You will notice that the tone and appearance of your face will be brighter and more radiant."
Ingredients: French Clay, Kaolin Clay, Organic Dried Strawberry Powder, Organic Dried Apple Powder, Organic Dried Banana Powder, Vitamin C.
Price: $3.25 sample, $16 2.3oz, $36 4oz 
This one also smells really good. I definitely agree with the claims. My skin looked hydrated, my acne scars looked less visible, and it toned down some of my redness. It's a great chemical exfoliant and helped with my blackheads.
Pumpkin Glow Exfoliating Mask 
"Our Pumpkin Glow Mask brightens and clarifies dull lackluster complexions. Pumpkin is packed with fruit enzymes and alpha hydroxy acids (AHAs), which increase cell turnover, to brighten and smooth the skin. This amazing fruit contains antioxidant Vitamin A and Vitamin C to help soften and soothe the skin and boost collagen production to prevent the signs of aging. The molecular structure of pumpkin is small and therefore can penetrate deeper into the skin when used topically. This is amazing for treating a dull complexion, aging skin and pigmentation. The delightful scent of natural pumpkin is just the icing on the cake!"
Ingredients: Organic Pumpkin Powder, Organic Coconut Milk Powder, Matcha Green Tea, Kaolin Clay, Marshmallow Root Powder.
Price: $3.25 sample, $16 2.3oz, $36 4oz 
Smells like fall in a jar! This one is probably the most "exfoliating". It seemed to have faded my acne scars over several uses. I don't think it could make them disappear, but it brightens the face and overall helps the appearance.
Pure Anada Hydrating Cream Berry & Bouquet 
"This moisture intensive cream will hydrate and plump your skin cells with organic shea butter, and argan oil. Strawberry fruit tones and tightens pores, while hibiscus extract reverses the signs of aging"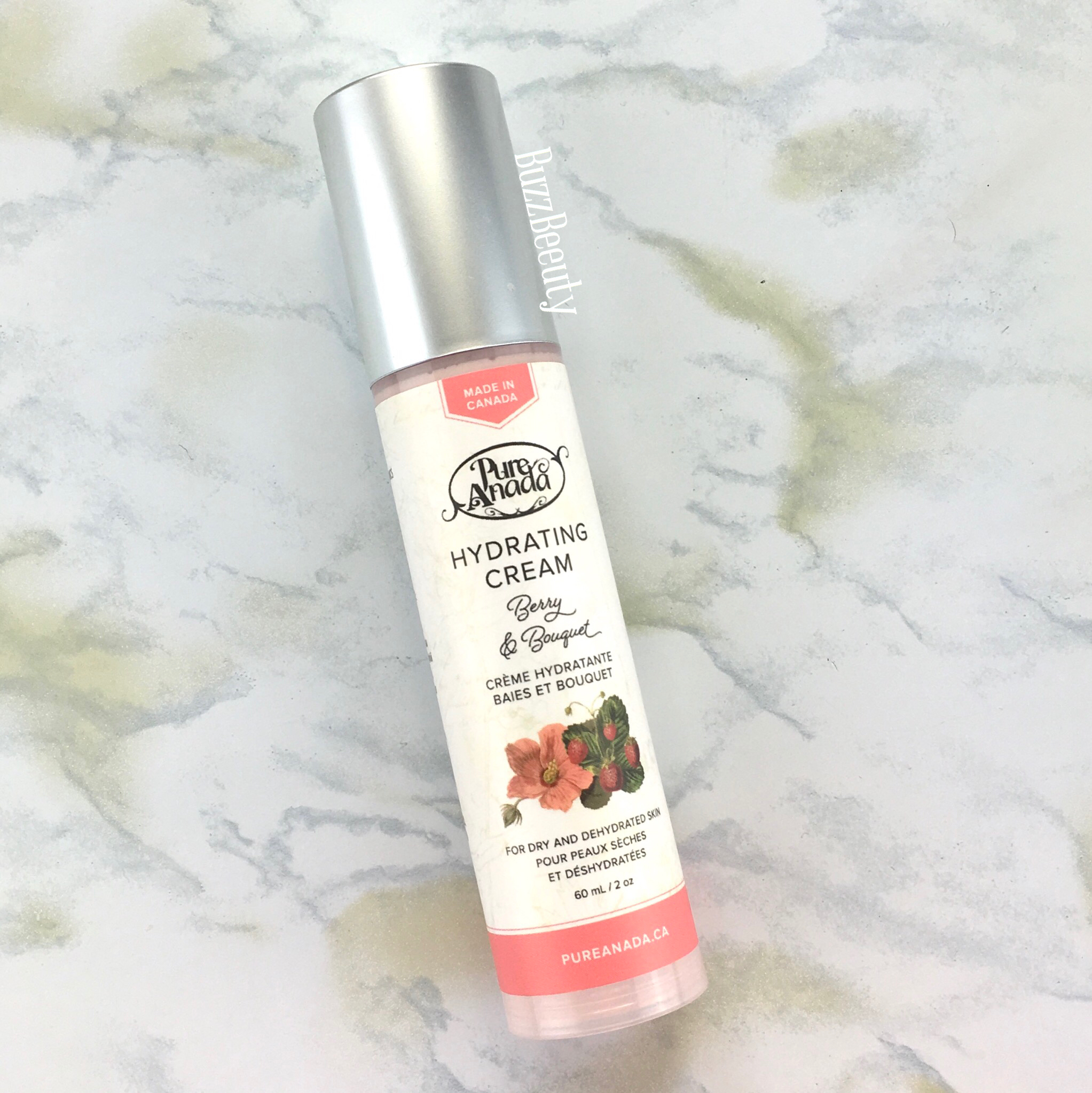 Ingredients: Aqua, Rose Damascena (Rose hydrosol), *Helianthus Annuus (Sunflower) oil, *Butyrospermum Parkii (Shea Butter), Cetearyl Olivate, Sorbitan Olivate (Olivem®1000), *Argania Spinosa (Argan) Oil, Fragaria Vesca (Strawberry Fruit), Cetyl Alcohol, Sodium Hyaluronate (Hyaluronic Acid), *Hibiscus Sabdariffa Flower Extract, Rosa Damascene (Rose Bulgarian Oil), Leuconostoc/Aloe barbadensis Leaf/ Sorbus Aucuparia Fruit Ferment Filtrate (Preservative) *Certified Organic Ingredients
Price: $16 for 2oz 
I LOVE this! It's a super quick absorbing moisturizer. If I'm going to be wearing a dewy foundation, this is the one I go for. It's hydrating without any type of extra dew added. I'm usually not a fan of scented face products, but this smells wonderful and doesn't cause me any issues. I will say I feel like I have to use a bit more to really feel hydrated.
Good Earth Beauty Warm Vanilla Candy Body Cream
"Our lush, thick and whipped body cream is chock full of skin loving vitamins and nutrients. It feels decidedly light and fluffy, while providing a luxurious and nurturing experience. It revitalizes the skin by enhancing its firmness and elasticity, providing a youthful look and feel. This rich body treat leaves an invisible layer on your skin that absorbs quickly so skin is never tacky or greasy – just soft, healthy and sweetly scented.Scent Description: Sugary sweet vanilla with hints of cotton candy and a handful of gumdrops. This a magnificent vanilla treat for all vanilla-lovers and sweet-tooth fans! Yum!"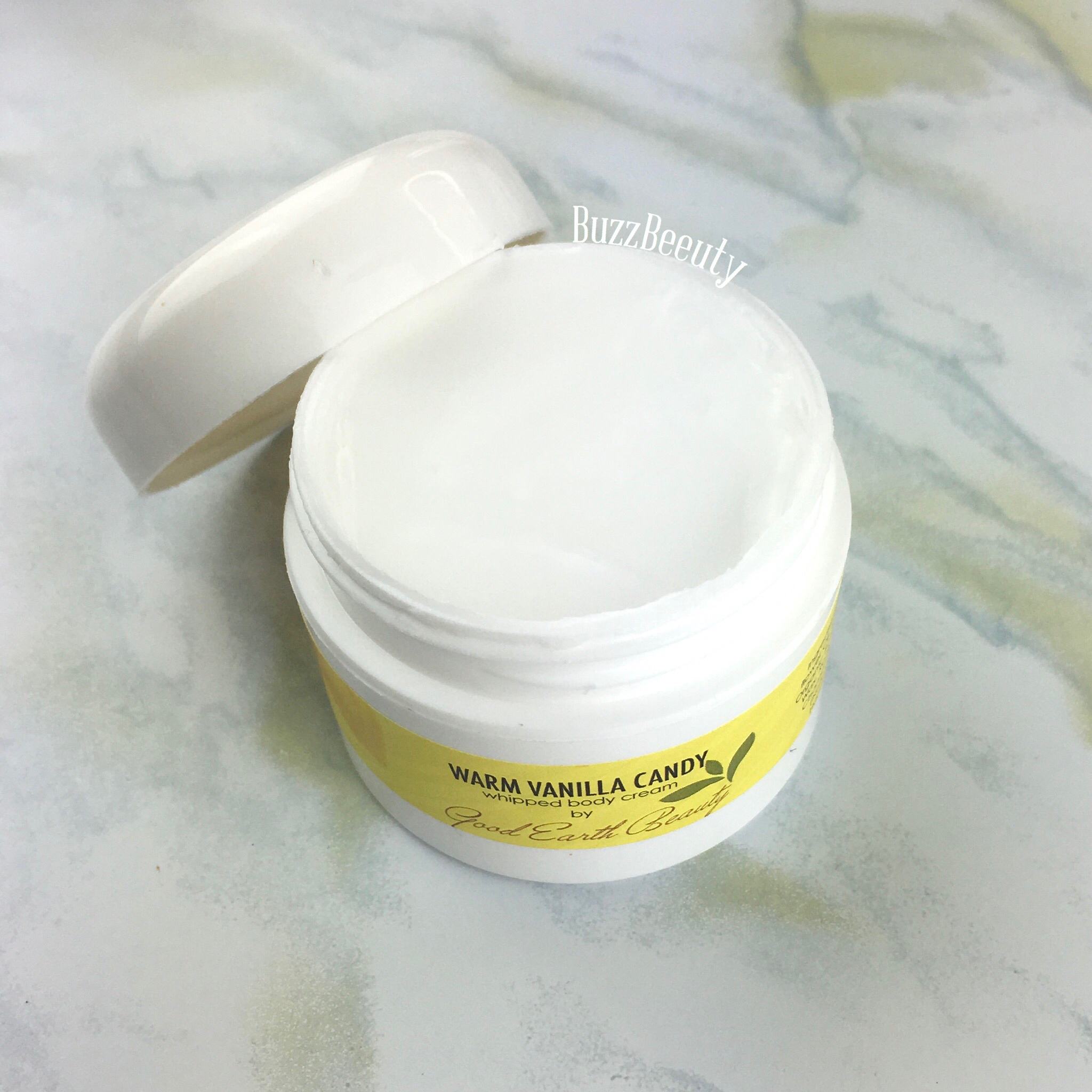 Ingredients: Purified Water, Organic Barbadensis Leaf Juice (Aloe), Sunflower Oil, Kosher Vegetable Glycerin, Shea Butter, Jojoba Oil, Tamanu Oil, Organic Borage Oil, Flax Seed Oil, Organic, Evening Primrose Oil, Emulsifying Wax, Rose Hip Oil, Panthenol (Vitamin B5), Wildcrafted Arnica Montana, Chamomile, Grapeseed Oil, Macadamia Nut Oil, Radish Root Ferment (Natural Preservative), proprietary blend of natural fragrance oils
This smells so good! It reminds me of the Bath and Body Works Warm Vanilla Sugar. It's a light texture and sinks in pretty quickly without leaving a greasy film. I like to use it on my legs after I shave. The sample size is probably going to last me forever. I'd definitley want to try more scents of their body creams.
Good Earth Beauty Pina Colada Hand Cream
"Our lavish, modern hand cream repairs dry skin and cuticles, leaving behind the tropical scent of Pina Colada. To heal cracked skin, you only need a small drop of this cream, which has aloe, macadamia-seed and olive oils, and shea butter. It's deceptively thin for such a hydrating formula, and it leaves hands soft and supple for the entire day."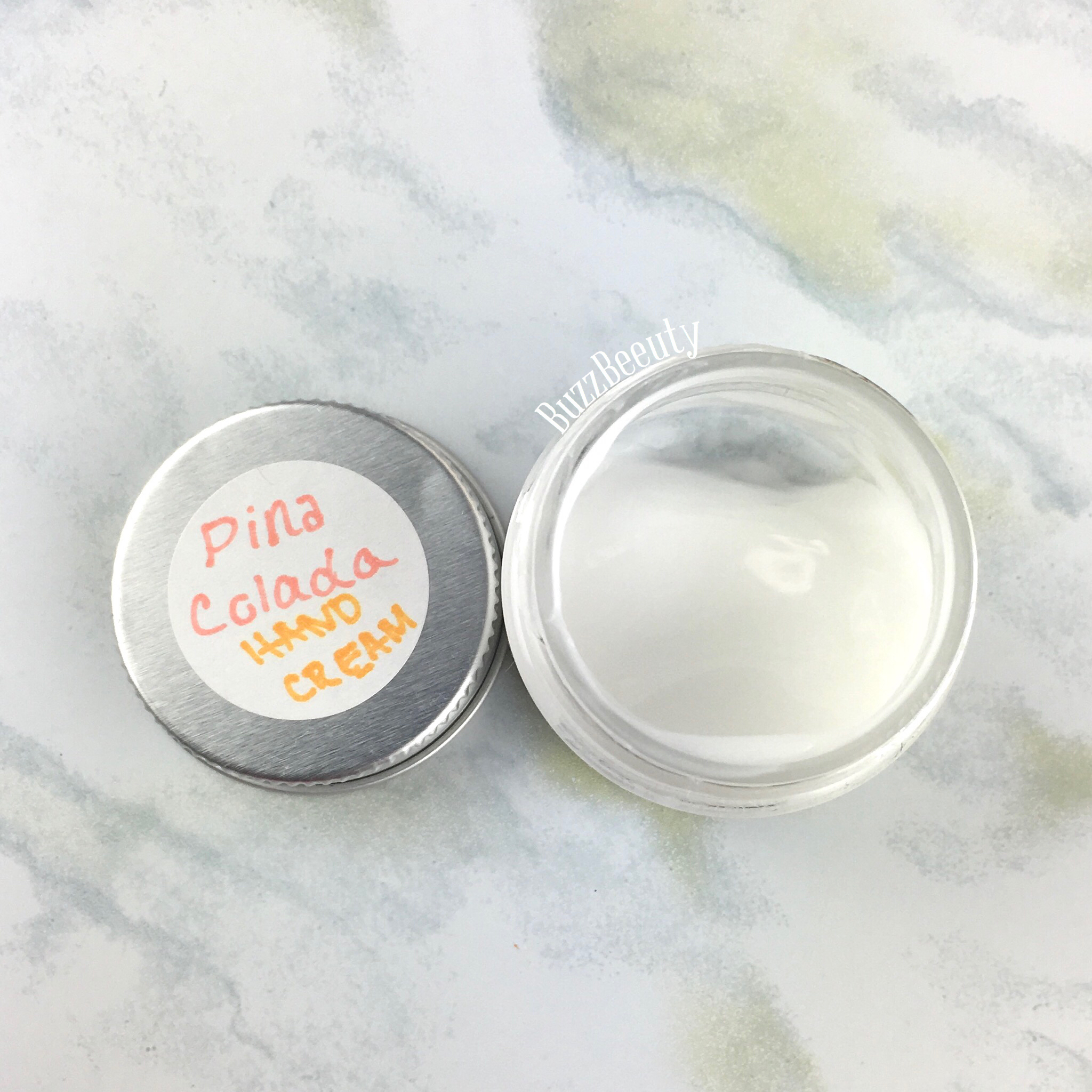 Ingredients: Purified Water, Organic Barbadensis Leaf Juice (Aloe), Sunflower Oil, Kosher Vegetable Glycerin, Shea Butter, Jojoba Oil, Mango Butter, Organic, Evening Primrose Oil, Emulsifying Wax, Rose Hip Oil, Chamomile, Grapeseed Oil, Macadamia Nut Oil, Radish Root Ferment (Natural Preservative), Proprietary Blend Of Natural Fragrance Oils.
Price: $14 4oz
This is literally like sticking your hand in a Pina Colada. If you love the scent of pineapple and coconut this is the perfect summer hand cream for you. It's lightweight and I don't mind the feeling on my hands. It's more of a wet hand cream and isn't sticky or oily. I like it a lot! And I'm picky about my hand creams so that says a lot.
Good Earth Beauty Vanilla Moisturizing Soap Bar
"All natural moisturizing soap with a wonderful vanilla scent.  only 5 ingredients!"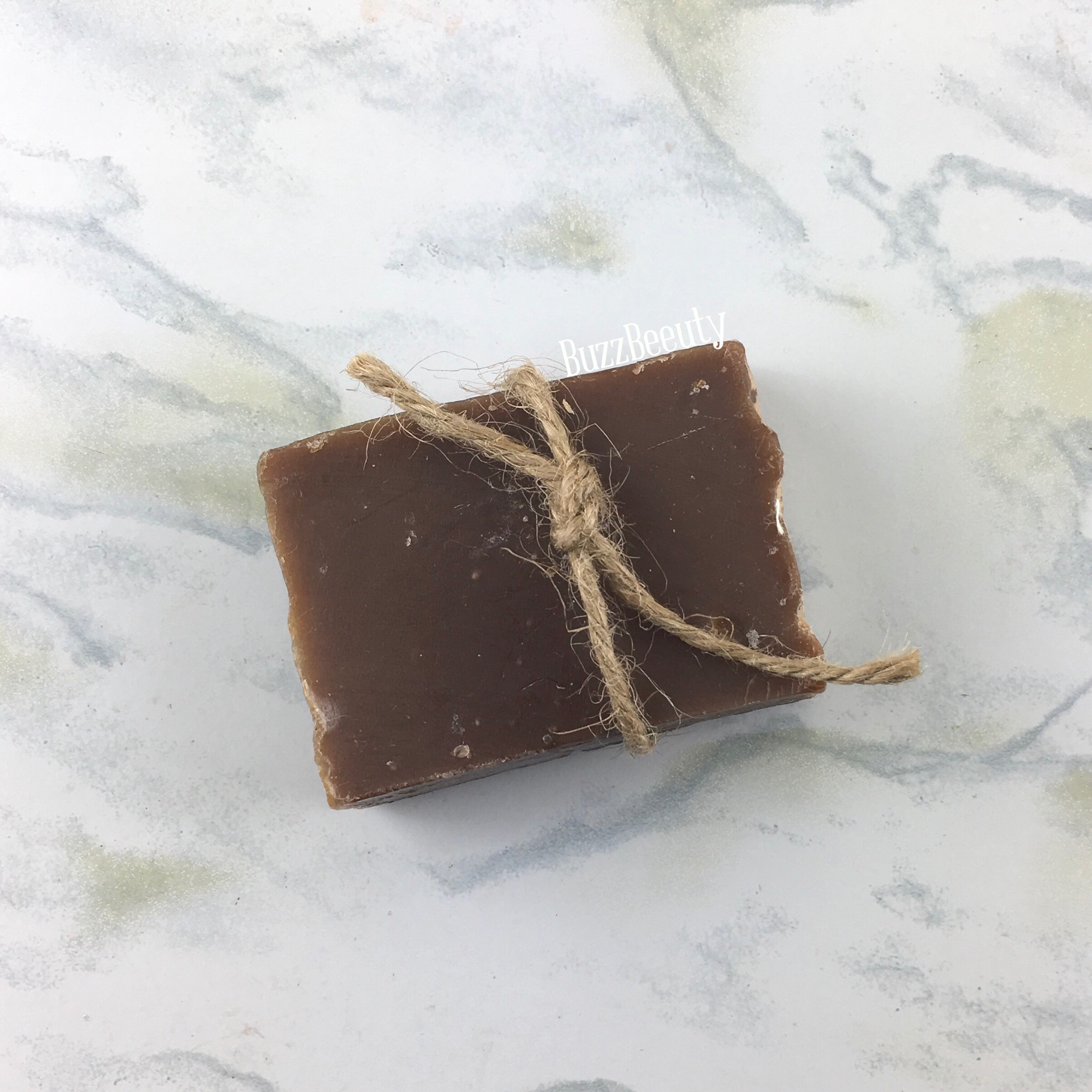 Ingredients: saponified organic olive, coconut, palm oil and shea butter, fragrance oil
Price: $9.25 per bar
This bar is awesome! I've had a few eczema spots pop up on my legs the last few weeks due to the weather change. I've been using this bar on them, as most soaps irritate. This is perfect! It really helps soothe and keep them hydrated. You can feel how hydrating it is before it's even wet. I also love the scent. It's a subtle vanilla and just smells clean. It'll last forever.
There ya have it, folks! My review of these new Good Earth Beauty products. If I had to pick my top recommendations, I suggest the toner, either moisturizer and any of the face masks.  Which product are you the most interested in? Let me know in the comments!