2017 was the year I started to take skin care seriously. I've struggled with adult acne the last couple of years, and I reached my breaking point. I started to do my research on skincare and educate myself on ingredients and found through trial and error that many mass-produced brands did not work for me and my sensitive skin. Even my prescriptions from the dermatologist were doing more damage than good. I was frustrated and my self-esteem was suffering. In comes Good Earth Beauty.
This indie brand contacted me and asked to send over some products. At this point, I was willing to try anything. I had never tried an organic skincare line at this point. And I am so very glad I did. I have finally gotten my skin to a more manageable state and in the process have found some holy grail skincare and body products from this brand! I have gathered up every item I own from Good Earth Beauty and here are my full thoughts.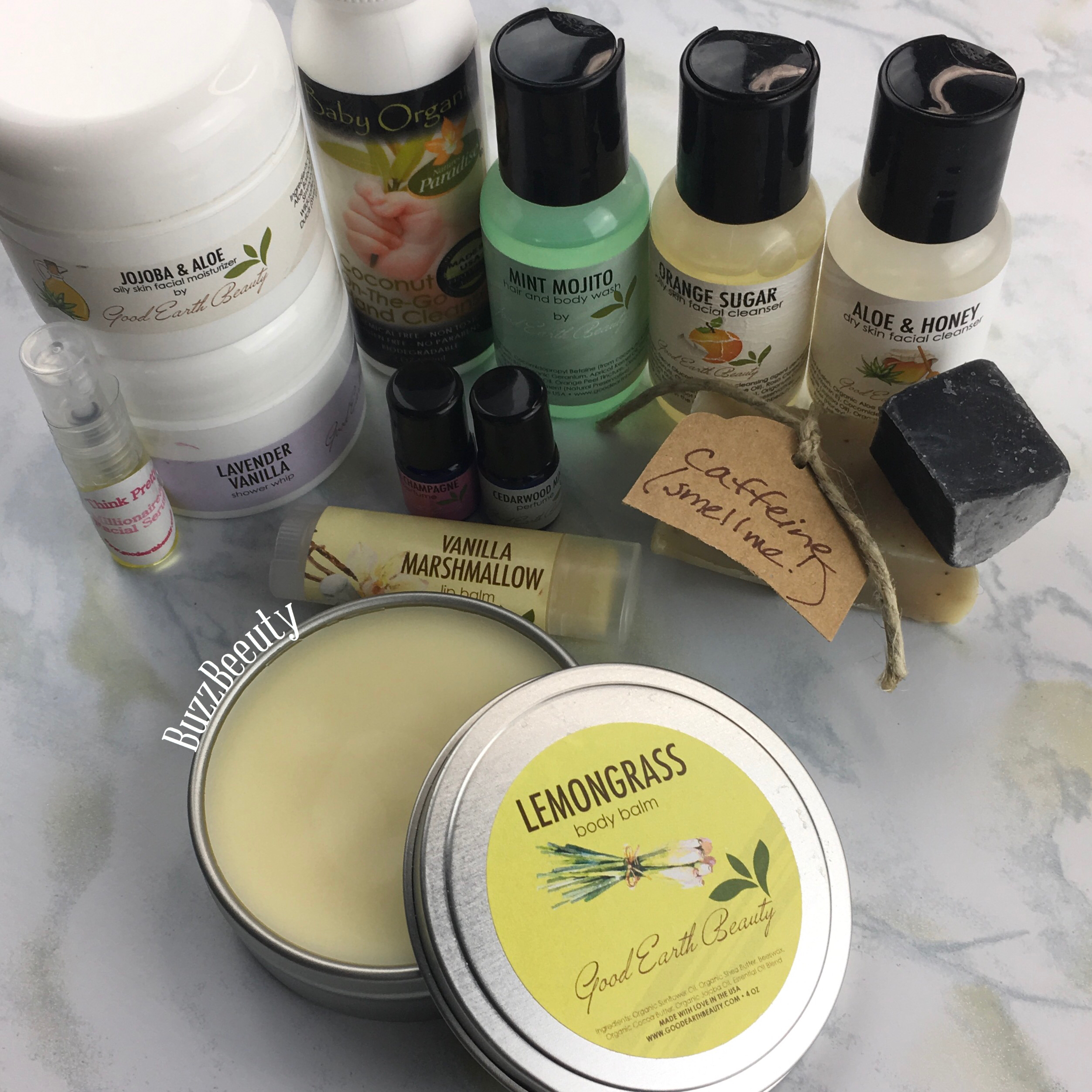 Disclaimer: Most of these products were sent to me for review. However, I have purchased a few myself and plan on placing more orders in the future. As always, opinions are 100% my own and I'll always be honest with you!
FACE
Dry Skin Facial Cleanser with Aloe, Coconut Milk and Honey – A special mix of organic aloe with coconut milk and honey gel. It is a gentle foaming product that heals as it cleans and moisturizes. Nourishing and yummy!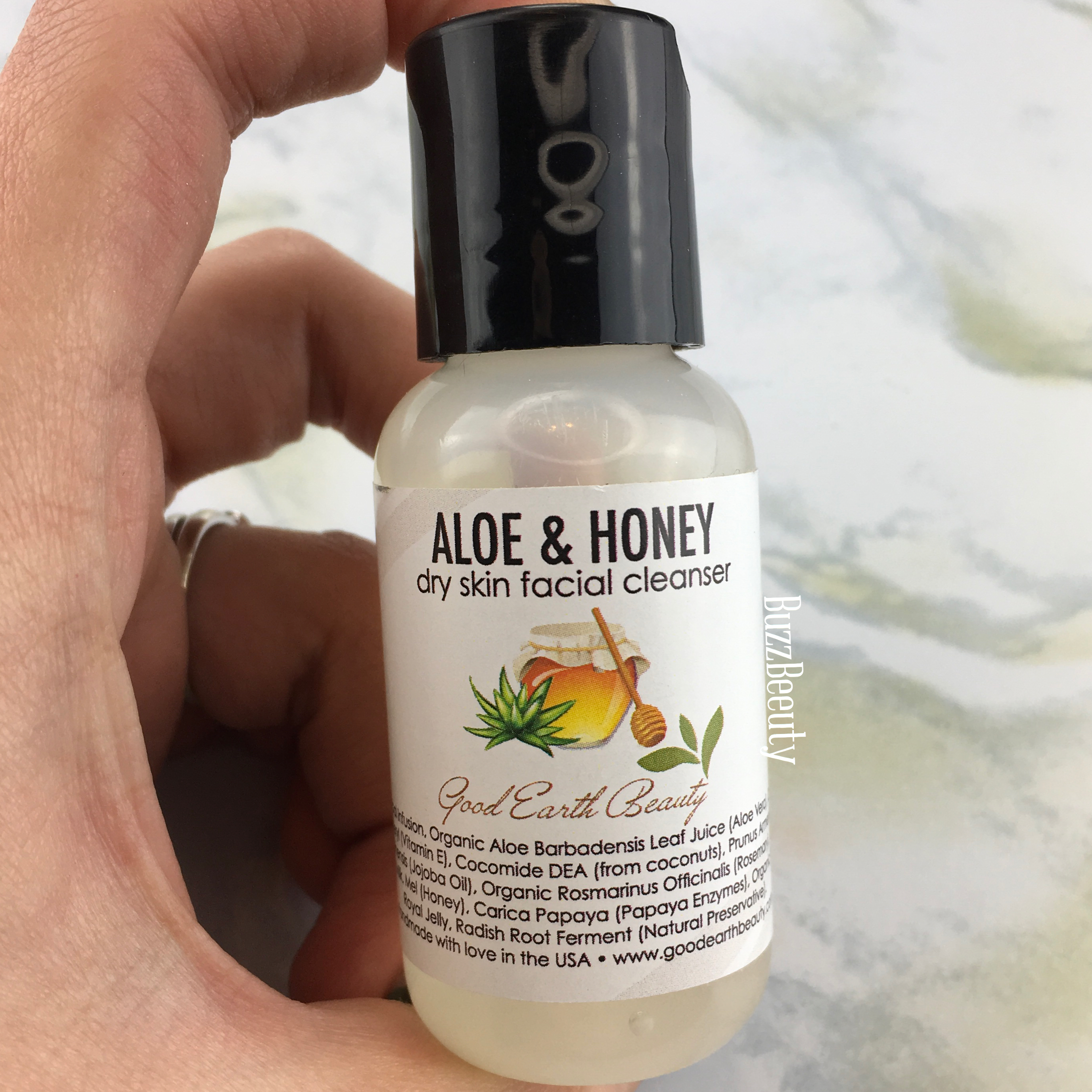 Ingredients: Organic Herbal Infusion, Organic Aloe Barbadensis Leaf Juice (Aloe Vera), Cocomidopropyl Betaine (from coconuts), Tocopheryl (Vitamin E), Cocomide DEA (from coconuts), Prunus Armeniaca (Apricot Kernel Oil), Organic Simmondsia Chinensis (Jojoba Oil), Organic Rosmarinus Officinalis (Rosemary), Organic Anthemis Nobilis (Chamomile), Coconut Milk, Mel (Honey), Carica Papaya (Papaya Enzymes), Organic Resina Propoli (Propolis), Royal Jelly, Radish Root Ferment (Natural Preservative)
Price: $2.50 sample size, $14 for 4 oz, $24 for 8oz
I've struggled to try and find a cleanser that didn't cause breakouts or dry out my skin. It's been a process and I've spent more money than I'm willing to admit to find something that works. I've finally found what I've been searching for. This cleanser has quickly become my all-time favorite. I have extremely sensitive, acne-prone skin and get regular outbreaks of eczema during the winter. This product has helped not only keep my skin clean but also helps calm down my dry skin flare-ups. It's extremely gentle but I feel clean after using it. I got my first chemical peel a few months back. My skin was so irritated I couldn't even touch my face, but I swear this cleanser helped calm it down.  The ingredients are wonderful and I have no concern about putting them on my face. The smell isn't too strong or overpowering but is nice. I just love everything about this cleanser and have bought myself backups. The price is great for the amount of product you get. A little goes a long way. I don't find it overly hydrating, but my skin feels soft and supple immediately after I use it. I highly recommend if you have regular or dry skin. I could see this working for oily skin as well, as long as you don't mind a more hydrating cleanser.
A SUGAR based natural facial cleanser. This cleanser is very gentle and contains natural non-comodegenic oils and botanicals for nourished and soft, moisturized skin.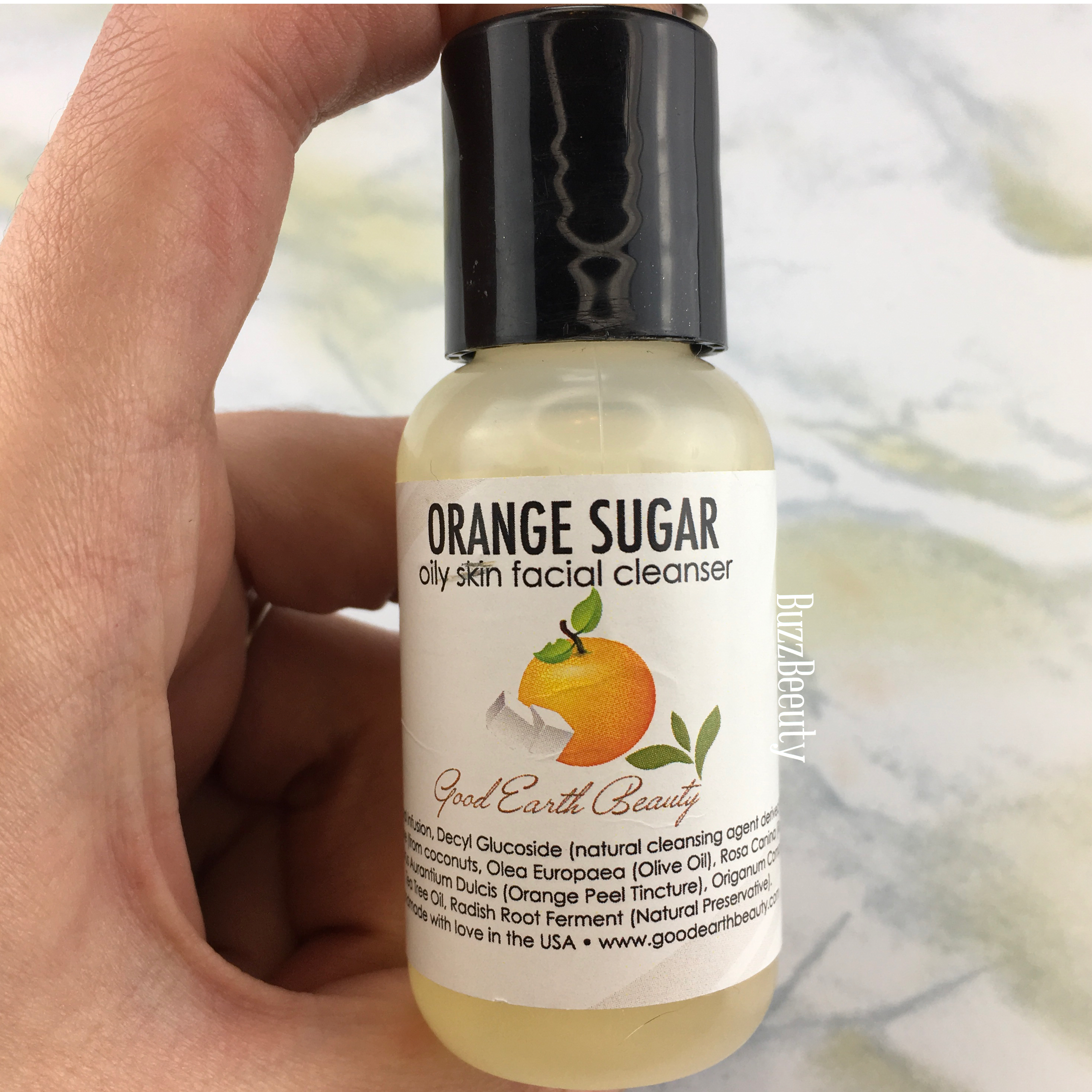 Ingredients: Organic Herbal Infusion, Decyl Glucoside (natural cleansing agent derived from organic sugars), Cocamidopropyl Betaine (from coconuts, Olea Europaea (Olive Oil), Rosa Canina (Rose Hip Oil), Borago Officinalis (Borage Oil), Citrus Aurantium Dulcis (Orange Peel Tincture), Origanum Compactum (Oregano Oil), Tea Tree Oil, Radish Root Ferment (Natural Preservative).
Price: $2.50 sample size, $14 for 4 oz, $24 for 8oz
While I prefer the Aloe and Honey cleanser, this one is nice as well! It's not as moisturizing but still leaves skin feeling clean and plump. I really like the smell of this one. Again, it's not too overpowering which I appreciate and the scent doesn't linger, but I'd rather wash my face with something that smells good. I passed this one on to my friend to try, as I'm stuck on the dry skin formula. She enjoyed using it. She said it was a great gentle cleanser that got the job done. If you have oily or combo skin, check this one out. I think it could be your holy grail. I think I'll definitely love using this one in the summer when my skin is more normal.
An easily absorbed and light lotion that will condition your skin without a greasy feel. A perfect light moisturizer. Great as a quick moisture treat for busy, active people. Works great as a day moisturizer under makeup and as a light moisturizer for oily and acne prone skin as it absorbs immediately and leaves skin hydrated yet clean.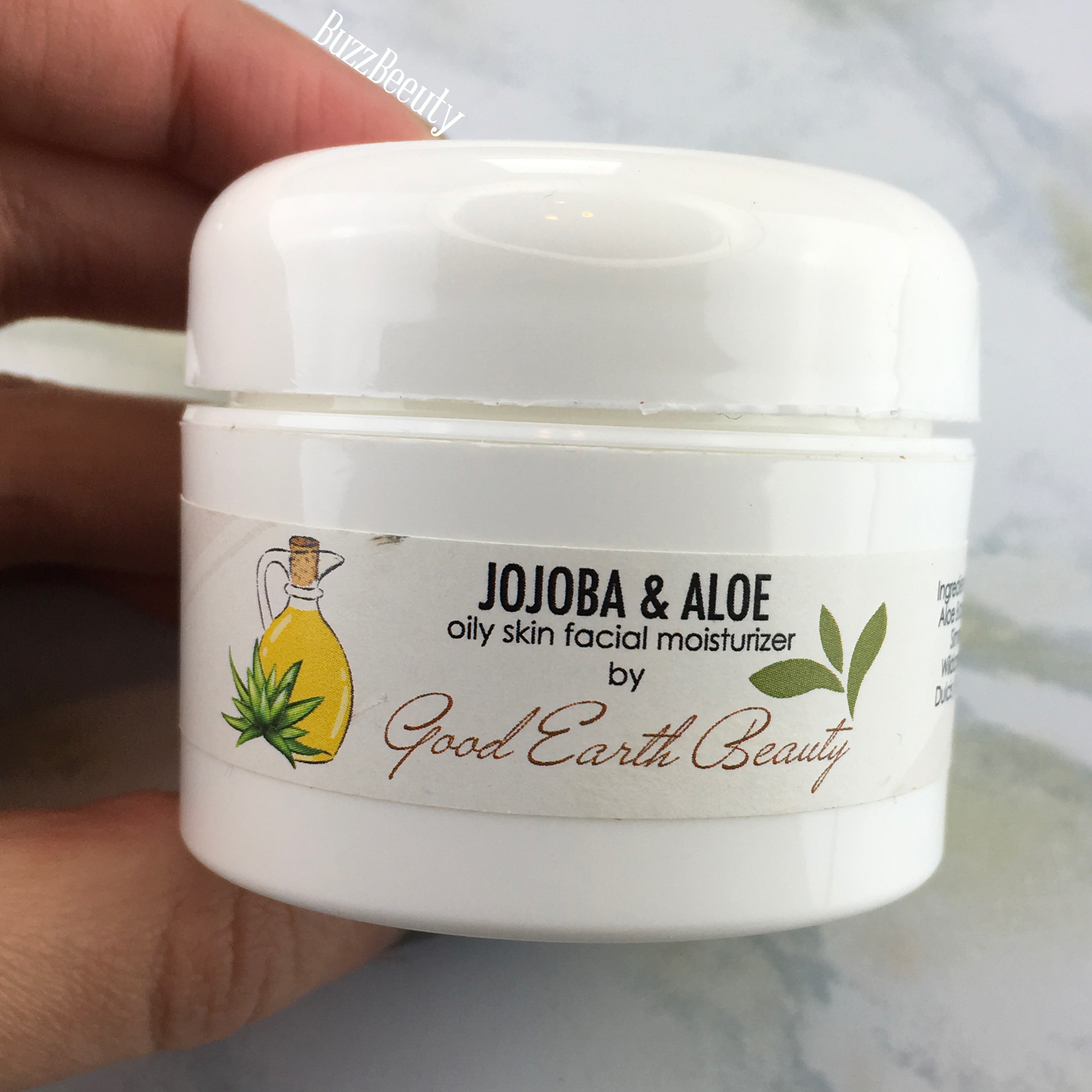 Ingredients: Organic Herbal Infusion, Purified Aqua (Water), Organic Aloe Barbadensis Leaf (Aloe), Kosher Vegetable Glycerin, Organic Simmondsia Chinensis (Jojoba Oil), Panthenol (Vitamin B5), Wildcrafted Camellia Sinensis (Green Tea), Organic Amygdalus Dulcis (Sweet Almond Oil), Prunus Armeniaca (Apricot Kernel Oil), Radish Root Ferment (Natural Preservative)
This moisturizer is my go-to for under my makeup. Especially on days when I'm wearing a more dewy or hydrating foundation. Though my skin is dry, I do find certain foundations leave me looking a bit more glowy than I'd like throughout the day. I use this moisturizer on my t-zone under my foundation and I notice a difference. It moisturizes but dries down quickly, which I appreciate for those days when I don't want to spend too much time getting ready. It helps keep my oils at bay, and my foundation lasts a bit longer without breaking down. I will definitely be using this every day in the summer. Where was this product when I lived in Texas?!?! If this works for me, I can see it working for everyone. If you are super oily it might not help control it during the day, but it's a great fast drying moisturizer.
All natural Activated charcoal soap with tea tree and lavender – can be helpful in clearing up acne and other skin problems – safe to use on face or body! Real charcoal – no dyes!!!!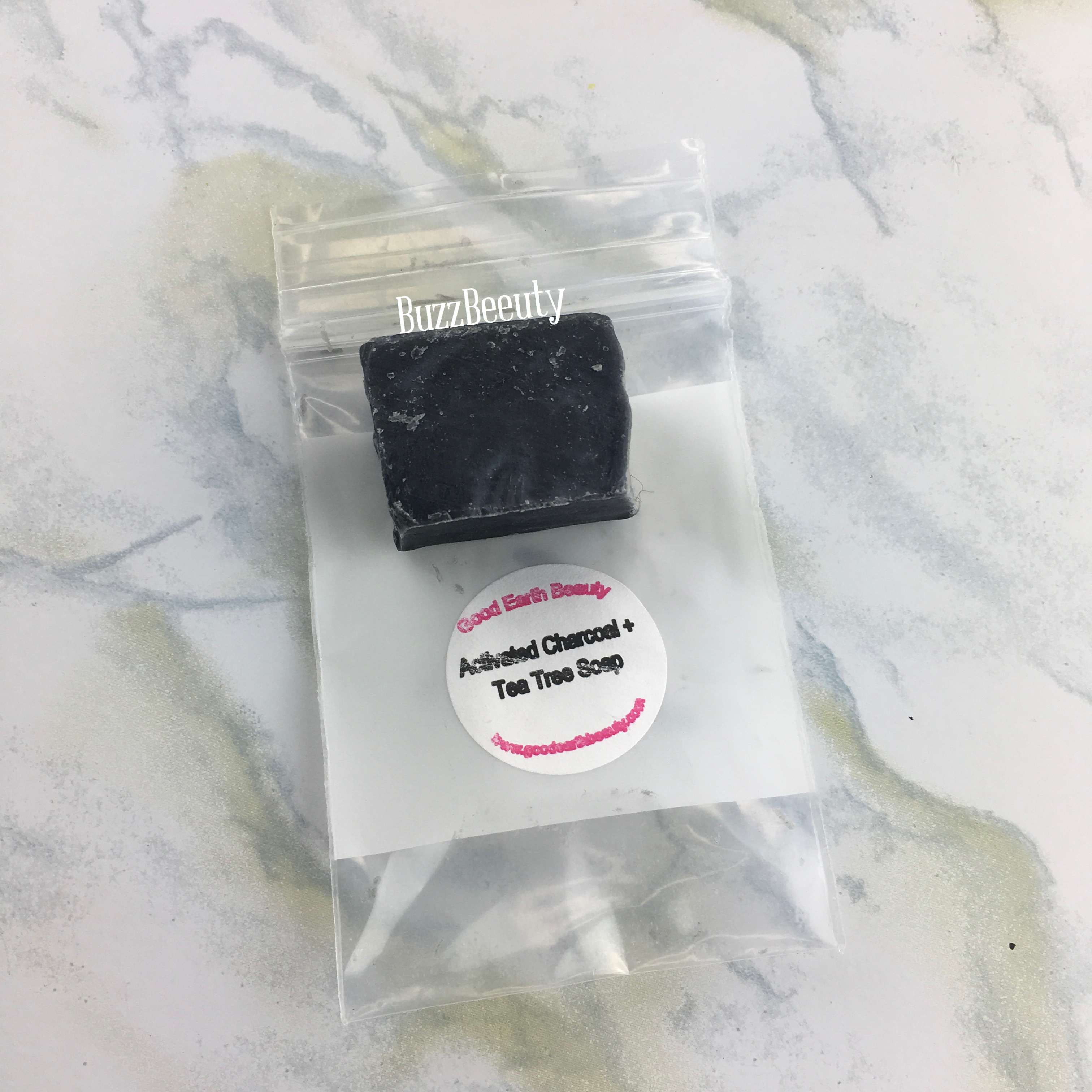 Ingredients: All natural Activated charcoal soap with tea tree and lavender – can be helpful in clearing up acne and other skin problems – safe to use on face or body! Real charcoal – no dyes!!!!
Price: 3 half sized bars for $10, $8 for a full size bar
I use this handy little bar of soap at least twice a week on my face. It's works wonders on pulling out my deep blackheads and reducing the inflammation on my pimples. It reminds me a lot of the Lush Coalface bar I used over the summer when my acne was at its worst. However, this one has way fewer ingredients! It gives my skin a squeaky clean feel. It does dry me out a little bit, but nothing some extra moisturizer can't fix. If you have oily, acne prone skin I can see this becoming your new favorite. I will be using up the rest of my bar happily and will consider picking up a new bar, especially when I'm more oily in the summer.
Vegan – natural –  soothing and moisturizing – helps heal chapped lips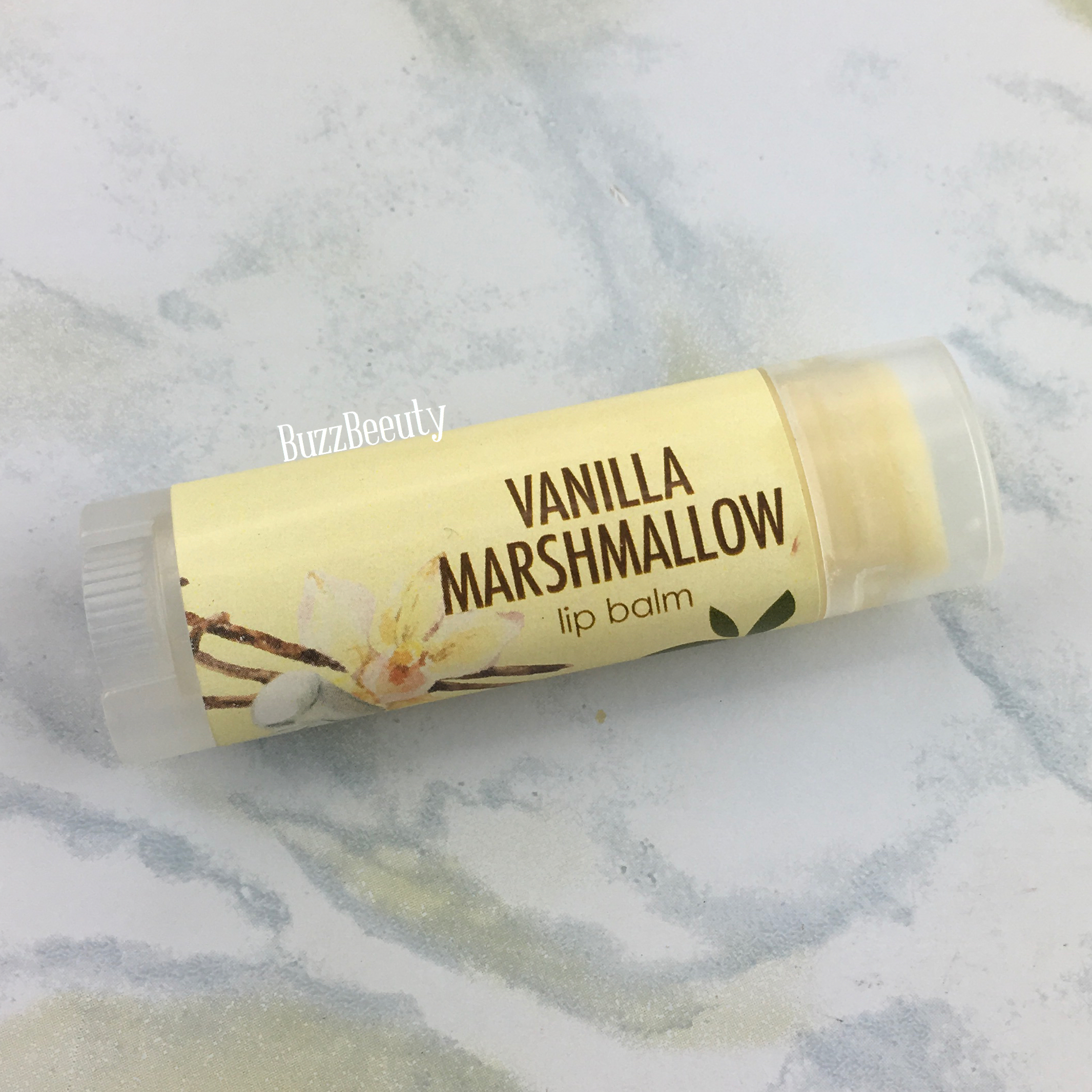 Ingredients: Meadowfoam oil, olive oil, avocado butter, candellia wax, vitamin E, natural flavor oil
Available in 5 flavors: Candy Cane Mint, Mint Chocolate, Pumpkin Pie, Vanilla Marshmallow, Vanilla Mint
Price: $6.25
This lip balm follows me everywhere I go. I keep it on my nightstand, move it to my beauty room when I do my makeup, and pop it in my purse when I leave the house. I absolutely love it. My lips have been pretty cracked lately and they cannot get enough of this balm. It instantly hydrates and softens my lips, and keeps them moisturized for a pretty long time. I love the scent. It's very light and has just a hint of a marshmallow scent. I don't get too much vanilla. My husband also enjoys using this one. He usually steals my lip balms and this one is one of his favorites.
BODY
Super moisturizing balm – great for extra dry, chapped skin. All natural and Pure.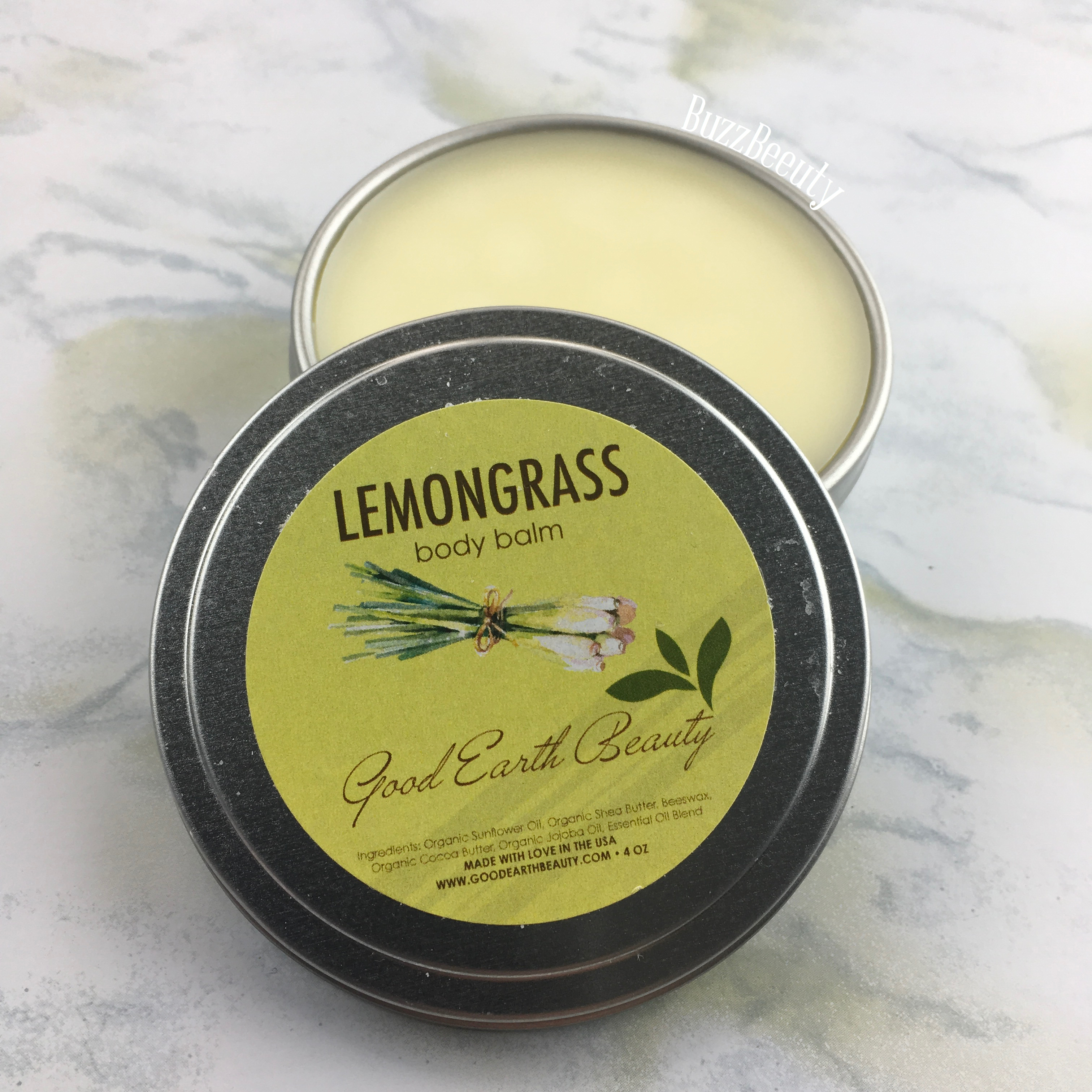 Ingredients: Organic sunflower oil, organic shea butter, beeswax, organic cocoa butter, organic jojoba oil, essential oil blend
Available in: Lemongrass, Geranium Rose, Lavender, Tea Tree Patchouli, and Unscented
Price: $10.50 for 2 oz tin
I wasn't sure how I'd feel about this scent, but it quickly grew on me. I get some tea vibes from it, and I'm not mad. I wouldn't have picked this scent out myself but I'm so glad they sent it to me because this might be one of my new favorite scents. This balm is the bomb. I use it for pretty much everything. It makes a great cuticle and nail treatment. I use it on my elbows and on my dry feet. It's also gentle enough to use on my eczema patches. I was worried the essential oils would cause more irritation but it didn't. It also soaks in super quick and doesn't leave a greasy residue. I use this multiple times a day and have barely even left a dent in it. This is going to last me forever. I really want to pick up the Lavender scented one to use before bed.
Body Organic™ Hand Sanitizer kills 99.9% of germs without the use of water using only USDA Certified Organic ingredients. Gentle enough for the whole family to use. Choose from 9 different scents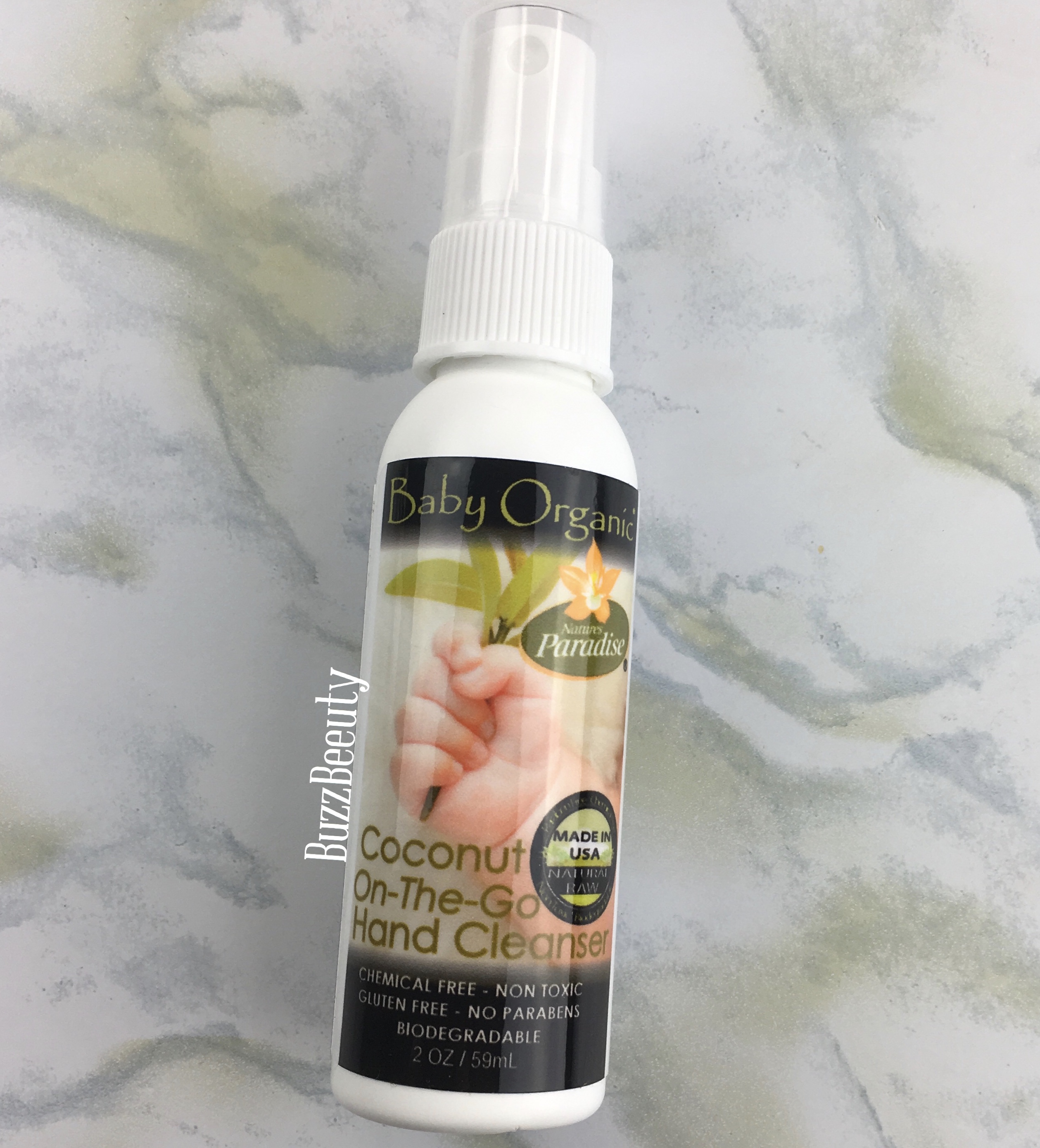 *This is currently only available in their Baby Organic Baby Care Gift Box, but you can buy their Organic Hand Sanitizer here for $10
Ingredients: Water, Organic Fruit Extracts, Organic Alcohol, Organic Clarified Lemon Juice
Made by Natures Paradise Organics
I'm a bit of a germaphobe, so I always carry at least one hand sanitizer with me. This one is a nice, organic, coconut scented sanitizer that smells good and has safe ingredients. I'm not super picky when it comes to them, but this one is definitely nice for those with little ones who worry. It's a bit sticky and I'm not a huge coconut fan, but my best friend loved using this on her baby at German Christmas Markets this holiday season. It's a bit expensive but has great ingredients if you look for that sort of thing.
Rose Champagne Perfume
A light, effervescent blend of champagne, citrus and rich, velvety rose petals. Sophisticated, sweet and bubbly soft, this is a flirty, whimsical floral champagne fragrance.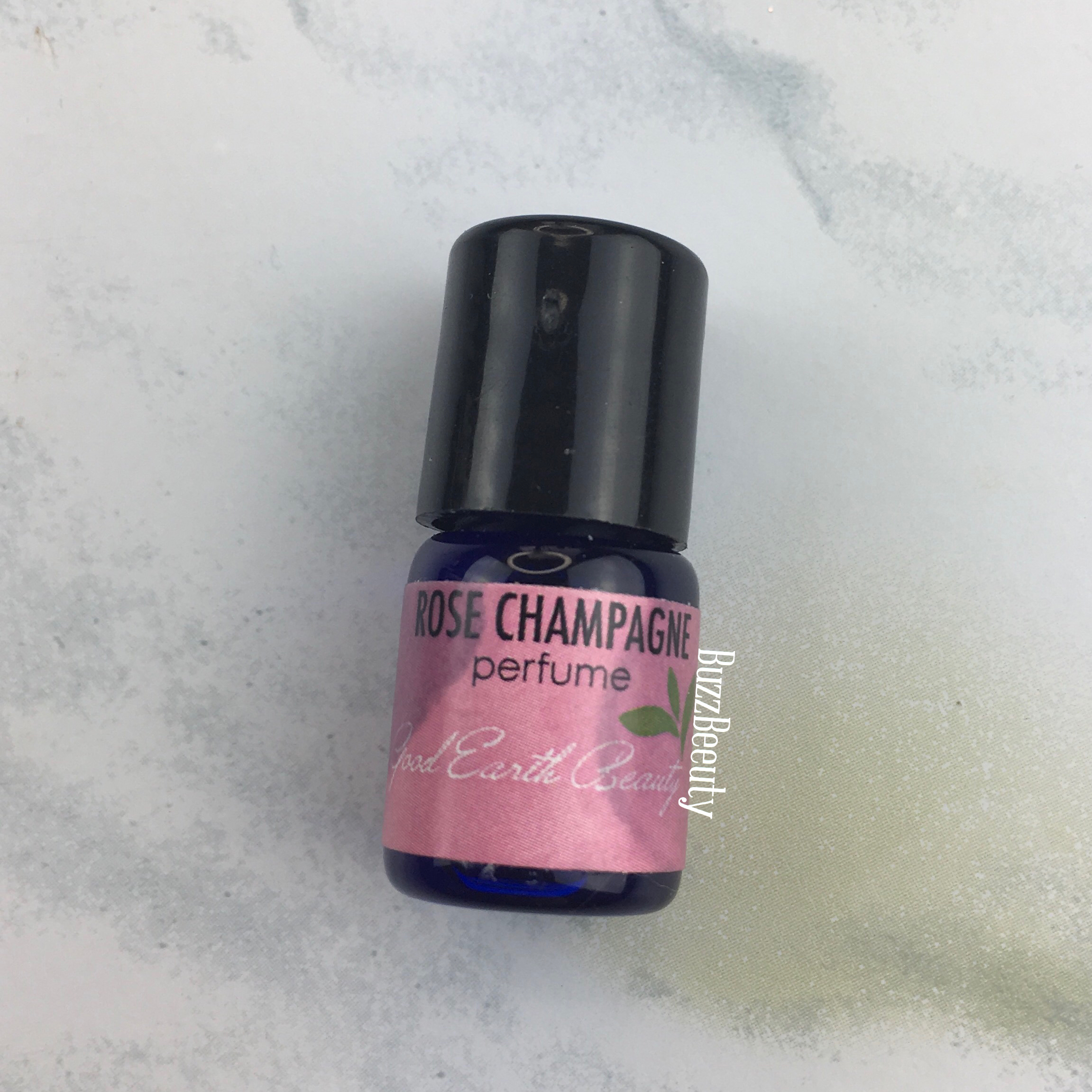 Ingredients: Organic Olive Squalane, Organic Jojoba Oil, Organic Grapeseed Oil, Natural Orchid Extract, Pure Essential Oils and/or Natural Fragrance Oils.
Price: $3.99 for sample rollerball, $22 for .35 oz rollerball
This isn't the sort of scent I'm usually drawn to, so my review is a bit subjective. It's a very sweet rose scent, and I can smell the champagne in it. It smells much sweeter on my skin. I will say the scent is pretty strong and I can smell it for several hours. It has nice lasting power. I LOVE the little roller ball! It's so convenient, and I wish all sample perfumes were presented like this. I definitely want to pick up some more sample scents. They're the perfect size for my small purse and I love mini things.
This nicely balanced blend has a distinctive gingery scent unique to the cedars of the American West,  beautifully balanced by sweet, green, refreshing mint. Very clean, this scent has a delightful unisex appeal. It just smells clean, fresh and crisp.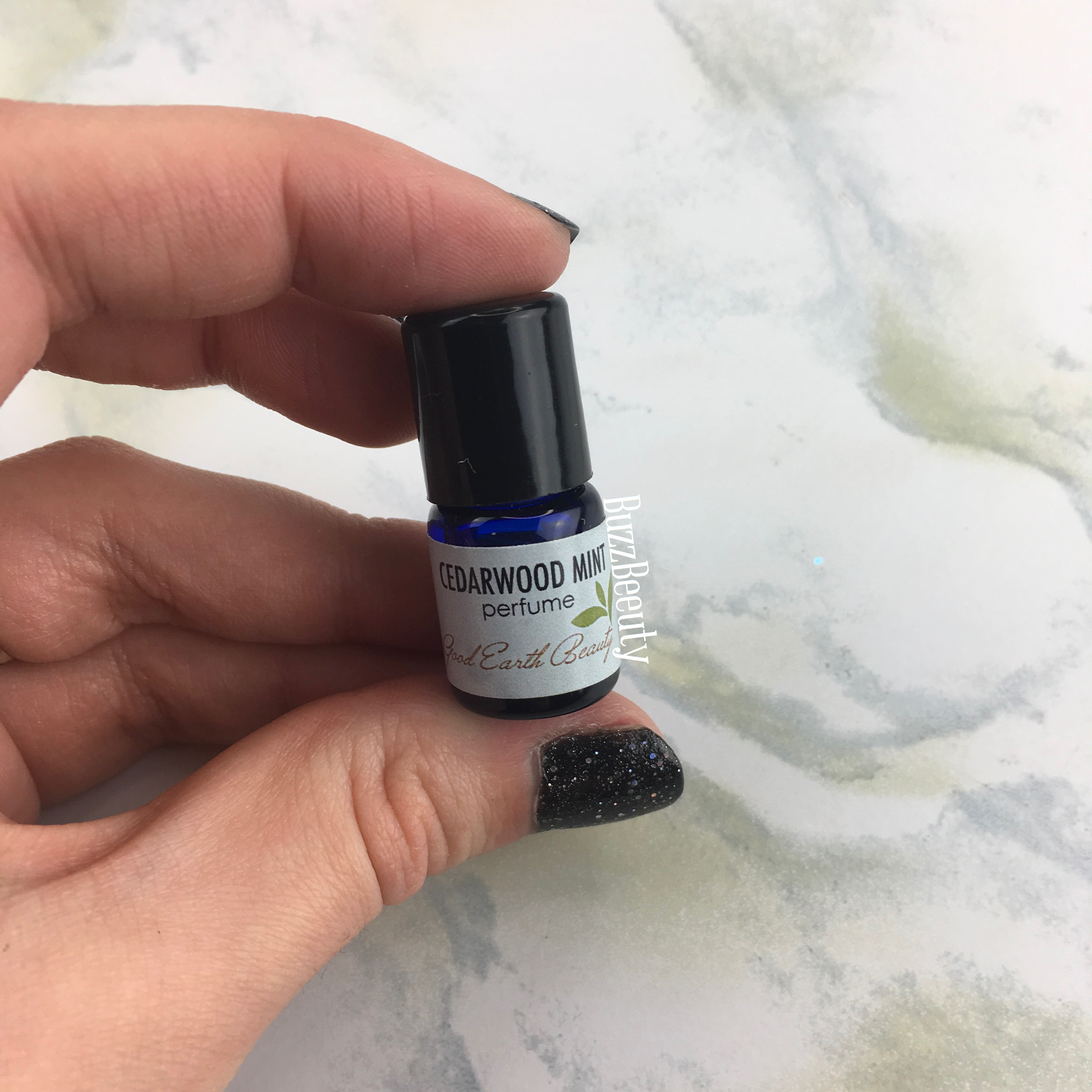 Ingredients: Organic Olive Squalane, Organic Jojoba Oil, Organic Grapeseed Oil, Natural Orchid Extract, Pure Essential Oils
Price: $3.99 for sample rollerball, $22 for .35 oz rollerball, $35 for .5 oz bottle
My husband isn't typically a cologne wearer, but he enjoyed wearing this one. It's a very nice unisex woodsy scent with a hint of mint. I also had my best friends husband try it, and he loved it a lot more than my husband did. He commented on how nice the rollerball was, and has almost made his way through the entire sample. If you have a man in your life who loves cologne and these types of scents, this is a really nice one! P.S. I wore it myself once and liked it on me as well!
SHOWER
Good Earth Beauty's natural Shower Whip will liven up your shower! This natural shower soap will detoxify and exfoliate your skin leaving you feeling refreshed, clean and moisturized!  For use on face and body! Lavender Vanilla  Scent Description –  Creamy vanilla intermingles perfectly with sweet French lavender. Relaxing and tranquil.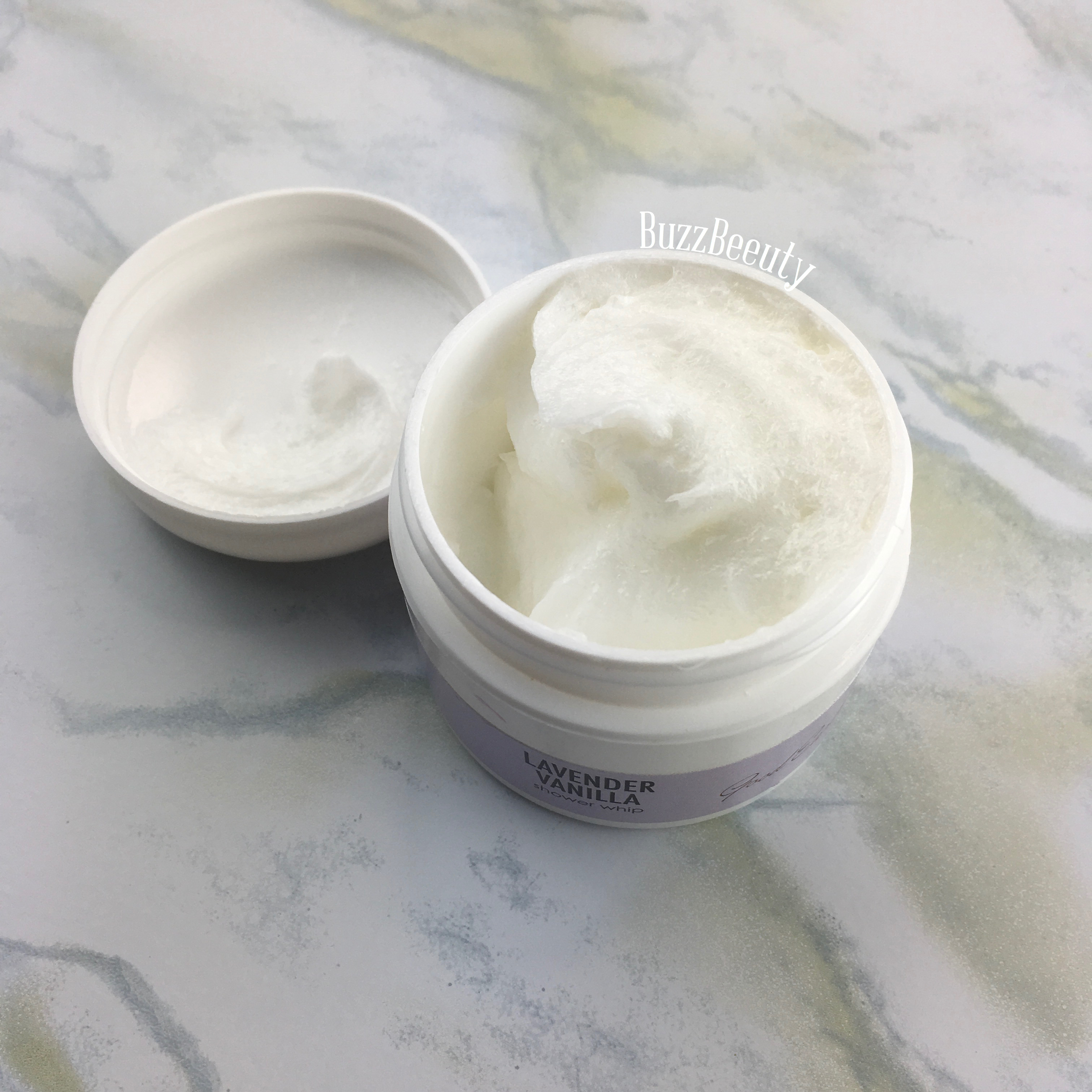 Ingredients: Organic RAW Shea Butter, Virgin Coconut Oil, Organic Sunflower Oil, Vegetable Stearic Acid, Vegetable Glycerin, Powdered Volcanic Ash, Vitamin E, Grapeseed Oil, Natural fragrance and essential oils.
Price: $4 for sample tub,  $12.99 for 4 sample tubs, $18 for 12 oz tub
Holy. Lavender. This is one of my favorite items. I'm a huge lavender fan and this one smells SO GOOD! I love the subtle vanilla in it, which sweetens it up. I use this when I shower at night or take an evening bath. I love that it exfoliates while it moisturizes. My arms really appreciate it, and the scents lingers and calms me down before bed. I will definitely be picking up a few sample sizes for my friends, and another tub for myself. I love it so much and the scent is absolutely perfect.
All natural moisturizing caffeine soap with peppermint and spearmint oils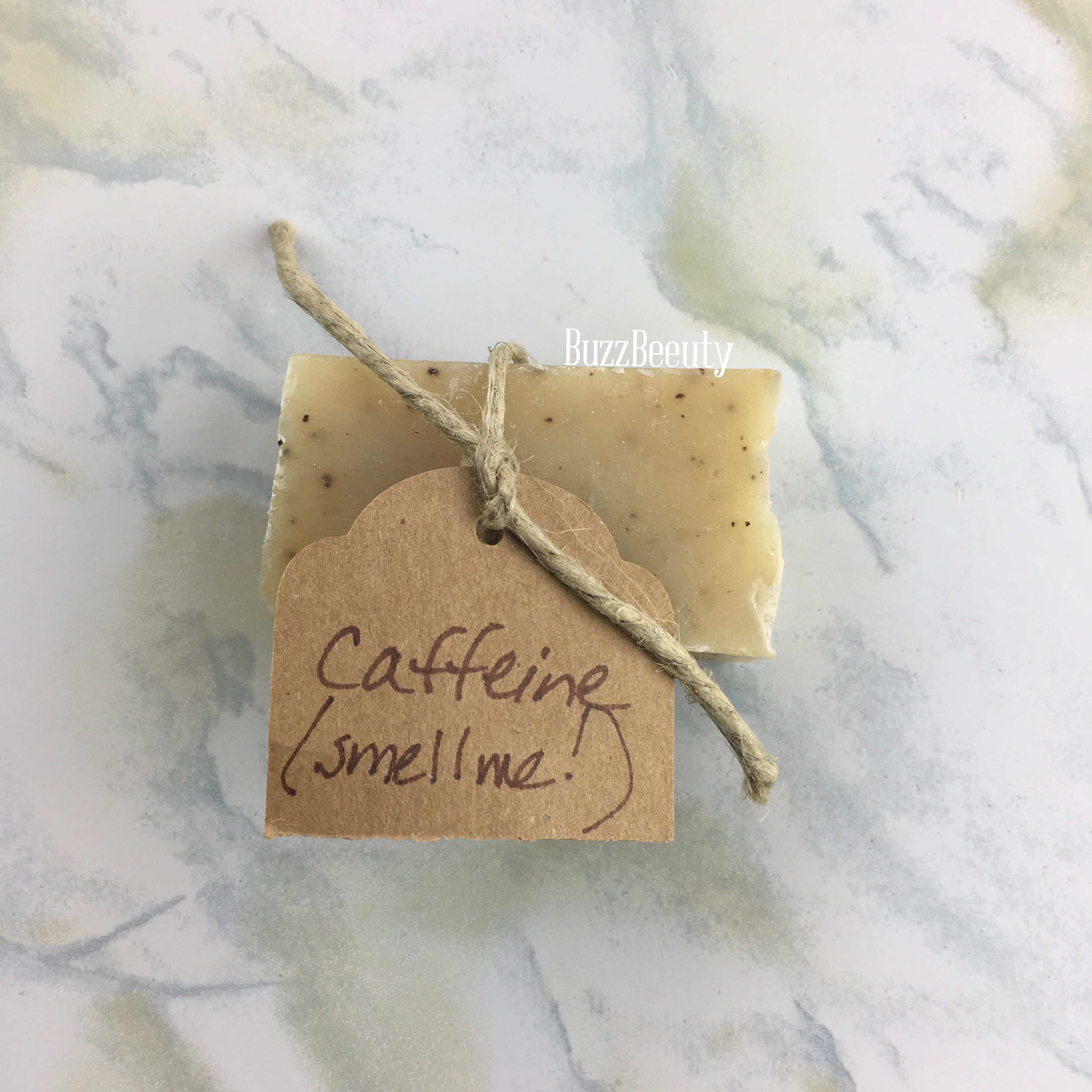 Ingredients: saponified organic oils of olive, coconut, palm and shea butter, coffee, peppermint and spearmint essential oil, coffee grinds
Price: 3 half sized bars for $10, $8 for a full size bar
I didn't think I'd get as much use out of this bar as I have! I originally planned to give it to my husband to try, but after using it on my legs before shaving I changed my mind. It's so good! I love the ground coffee in it that exfoliates. It really helps get my legs ready before shaving. I also use this on my arms, legs, and thighs to rub away any dead skin. It's a very strong mint scent, but it's comforting and doesn't linger long on the skin. I have some stretch marks on my thighs, and I really think this has helped the appearance of them. Caffeine soaps claim to have anti-aging properties. I don't know if I just see a placebo effect, but I really do enjoy using this soap.
Great for men! Best for: Normal, Oily, Fine Hair. Simplify your shower routine with our nourishing, double-duty hair and body wash. Extra gentle and non-irritating, our exclusive formula contains a moisturizing blend of organic oils and vitamin enriched vegetable based cleansers. This soothing all-in-one shampoo and body wash leaves your hair & skin soft and clean. Scent Description: This fragrance has a citrus lime top note that transitions into a spearmint & peppermint body that simulates the cocktail of the same name. The fragrance dries down to a vanilla Musk base.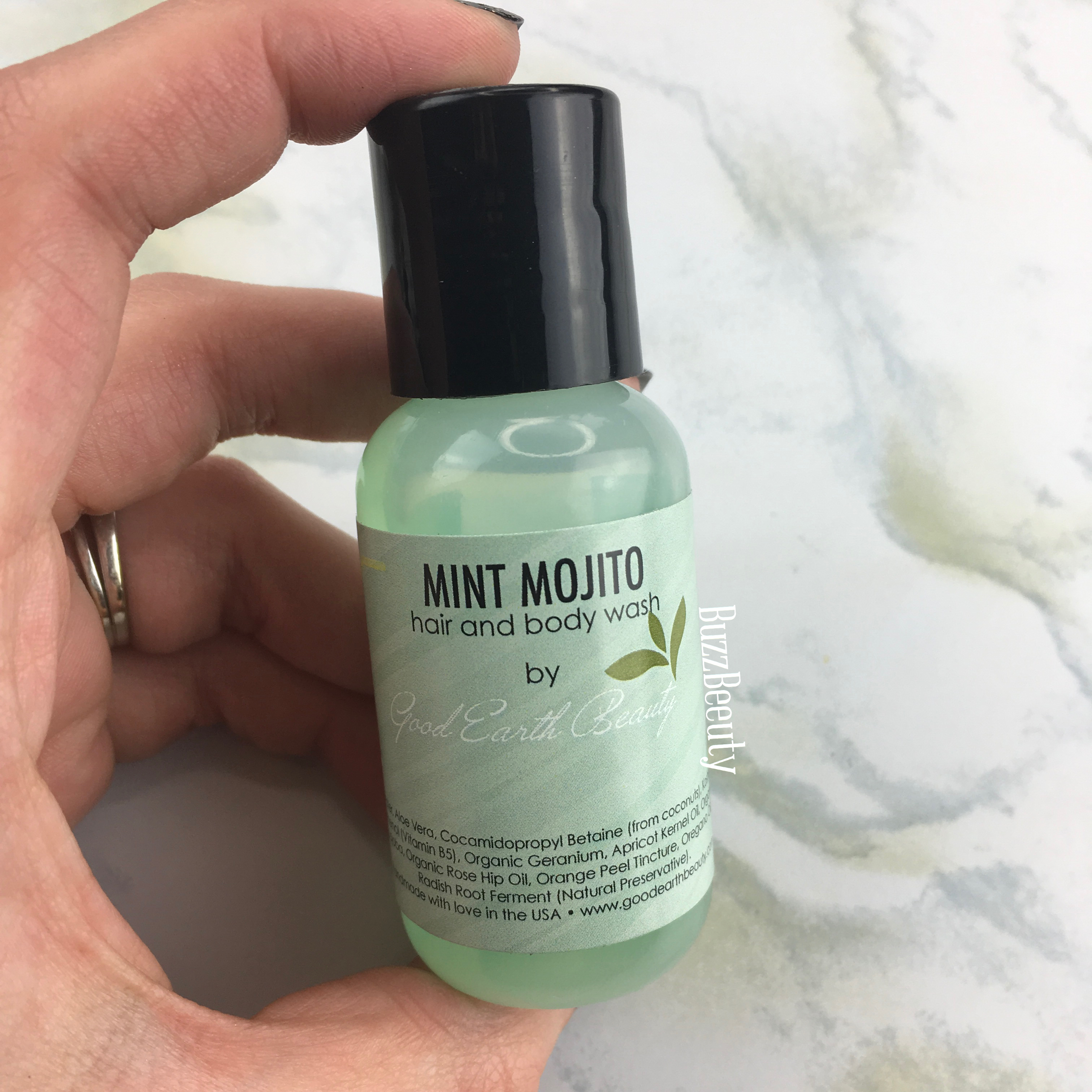 Ingredients: Distilled Water, Aloe Vera, Cocamidopropyl Betaine (from coconuts), Kosher Vegetable Glycerin, Ananas Sativus (Pineapple) Fruit Extract, Wheat Germ Oil, Organic Geranium, Apricot Kernel Oil, Organic Rosemary, Organic Chamomile, Organic Jojoba, Organic Rose Hip Oil, Orange Peel Tincture, Green Tea Extract, Oregano Oil, Tea Tree Oil, Glycerin, Radish Root Ferment (Natural Preservative)
Price: $2.25 for a sample, $18 for 8 oz
I gave this shampoo to my husband. He enjoyed the scent and thought it was a really great natural shampoo. It smells just like a mojito to him. I smell lemon-lime soda. He used it all over his body and the smell lingered for a couple of hours. It wasn't as moisturizing as he likes for his dry scalp and skin, but he said he'd recommend. I personally couldn't try it as it has wheat germ oil.
Phew! There are my reviews on all my Good Earth Beauty Products. I hope you found this review helpful, and maybe you found something you're interested in trying! I for one will continue to purchase from this brand. I don't think I can go back to store-bought skin care items after falling in love with so many natural ingredient products. I can definitely feel and see a difference in my skin. I am so very thankful for the lovely people over at Good Earth Beauty for giving me the opportunity to try these products.
In case you're interested, here is a list of products I hope to try next!
Wishlist:
Make sure to check out Good Earth Beauty