Hey guys! I'm so excited to be bringing you a review of some items from a new brand to me, Nomad Cosmetics. I've been trying out these items for a few weeks now and have so many thoughts I'd like to share with you!
Spoiler alert! One of these products has become an all time favorite! 
Nomad Cosmetics is an indie cosmetics brand bringing the beautiful colors of the world to your vanity.
We are a small hubby-&-wife team who love cosmetics and love traveling. Our passion is to combine both and so in 2015 started Nomad Cosmetics – a different kind of indie beauty brand. From traveling around the world, we have learned that beauty can be discovered anywhere and everywhere. We created Nomad Cosmetics to capture and highlight the beauty and local character of different captivating destinations we love. –Source
Felicia, one of the amazing co-founders, sent me over the Marrakesh Soiree Set to try out and review for you! This set includes:
Deep Beauty mascara in Noir
Intense Eyeshadow in Golden Mosque
Intense Eyeshadow in Desert Sands
Intense Eyeshadow in Jardin Majorelle
a cotton makeup bag
SensExperience™ card infused with intoxicating scent of Spice Market
This is one of two travel sets and retails for $17.
This is a travel/sample set of their full-size Marrakesh palette which retails for $47. This palette includes 6 eyeshadows, the mascara, kohl eyeliner, and a double sided brush.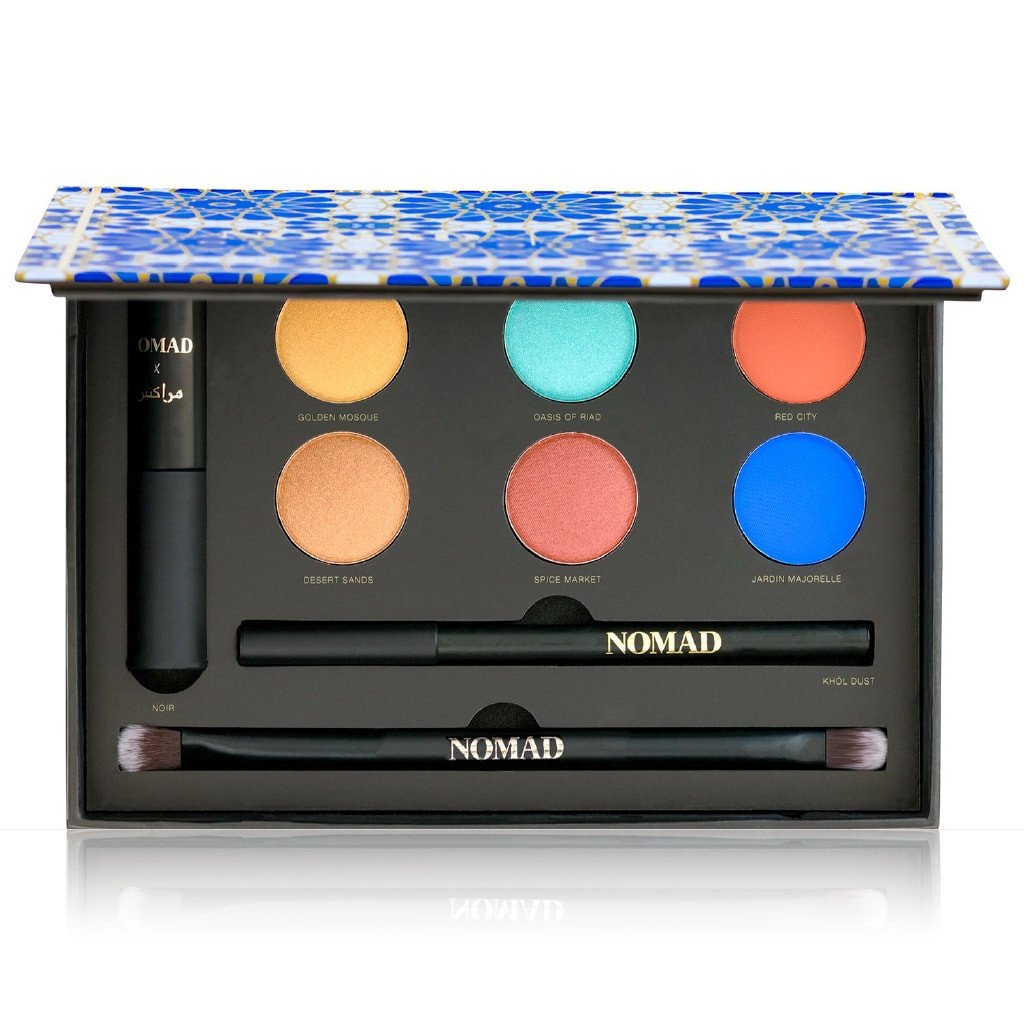 Intense Eyeshadows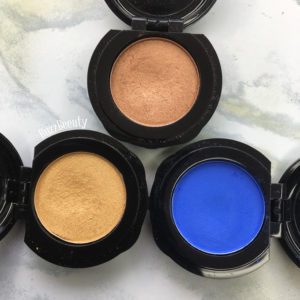 The intense eyeshadows in this set include Golden Mosque (light gold), Desert Sands (light copper), and Jardin Majorelle (a bright cobalt blue). These eyeshadows are infused with Argan oil. Here are some of the claims about the shadows:
4x Finer Pigments (vs. traditional shadows)
PureSource™ Ingredient: Argan Oil
Free of Parabens, Phthalates & Mineral Oil
PETA Certified Cruelty-Free & Vegan
And here are the ingredients:
Talc, Mica, Ethylhexyl Palmitate, Magnesium Stearate, Dimethicone, Caprylic/Capric Triglyceride, Silica, Paraffinum Liquidum, Polybutene, Tocopheryl Acetate, Phenoxyethanol, Ethylhexylglycerin. May Contain (+/-): Titanium Dioxide (CI 77891), Red Iron Oxide (CI 77491), Yellow Iron Oxide (CI 77492), Black Iron Oxide (CI 77499), Ultramarine Blue (CI 77007), Blue 1 Lake (CI 42090), Red 40 Lake(CI 16035)
These eyeshadows are very nice. They're super smooth to the touch and extra creamy. I had absolutely no issues blending them out and the longevity was incredible. I wore them for a good 10 hours, and even after a two-hour walk in the sun, I had zero creasing or fading. I was super impressed! My eyelids normally get pretty oily after awhile so the thought of having argan oil infused shadows scared me a little bit, but it actually seemed to increase the wear time.
Here are my swatches! Left side is applied over a primer, the middle is over bare skin, and the right side is sprayed with fix+. All swatches are with a brush.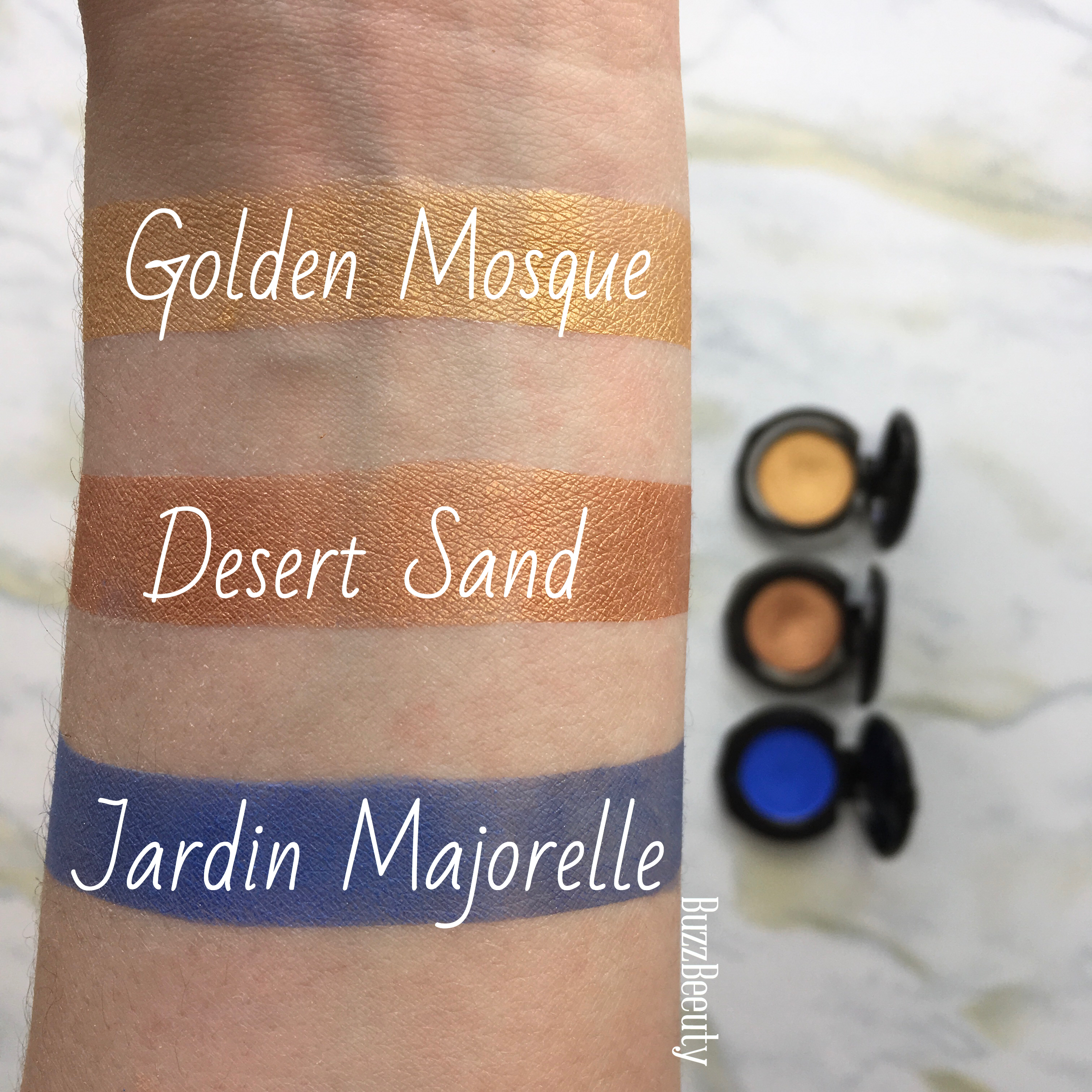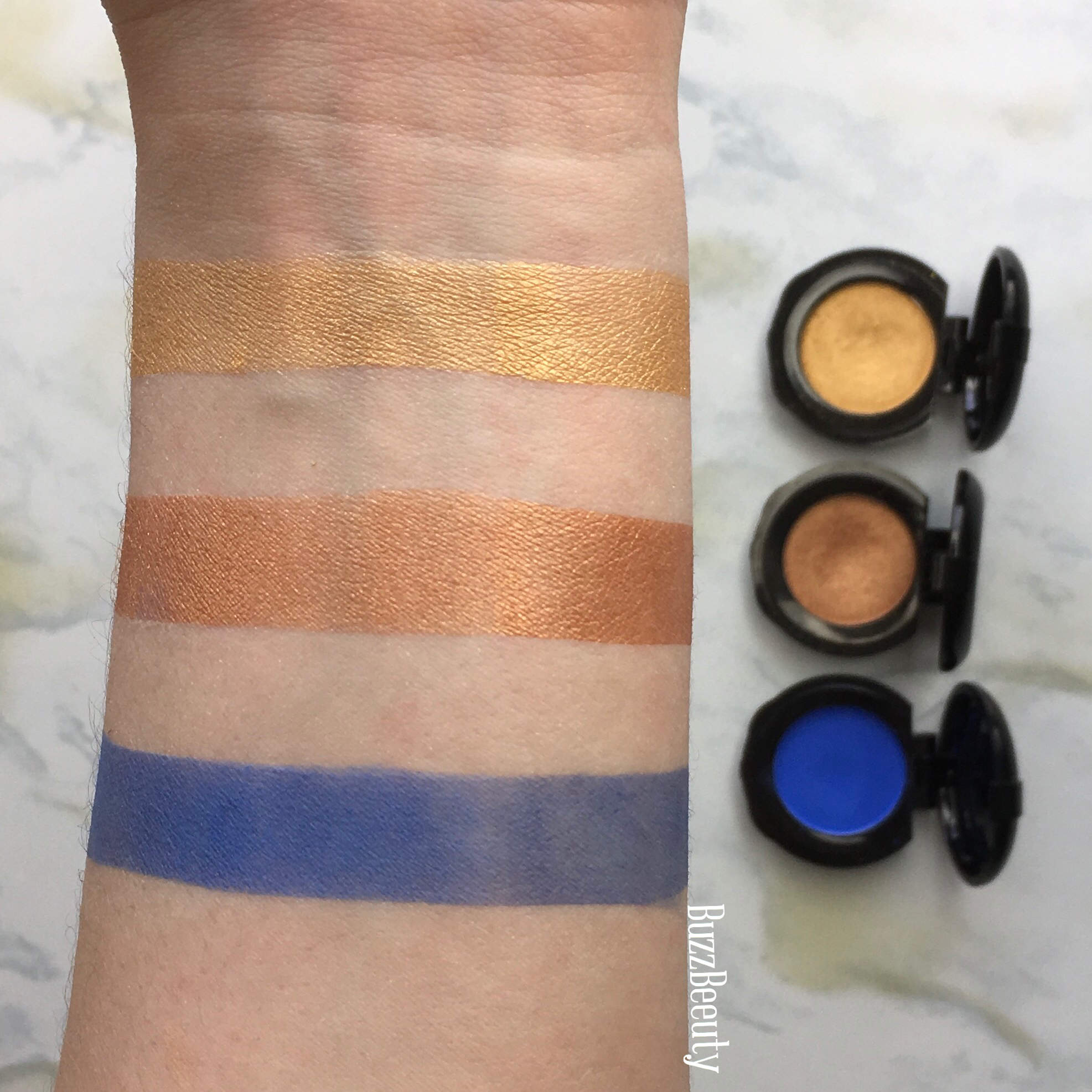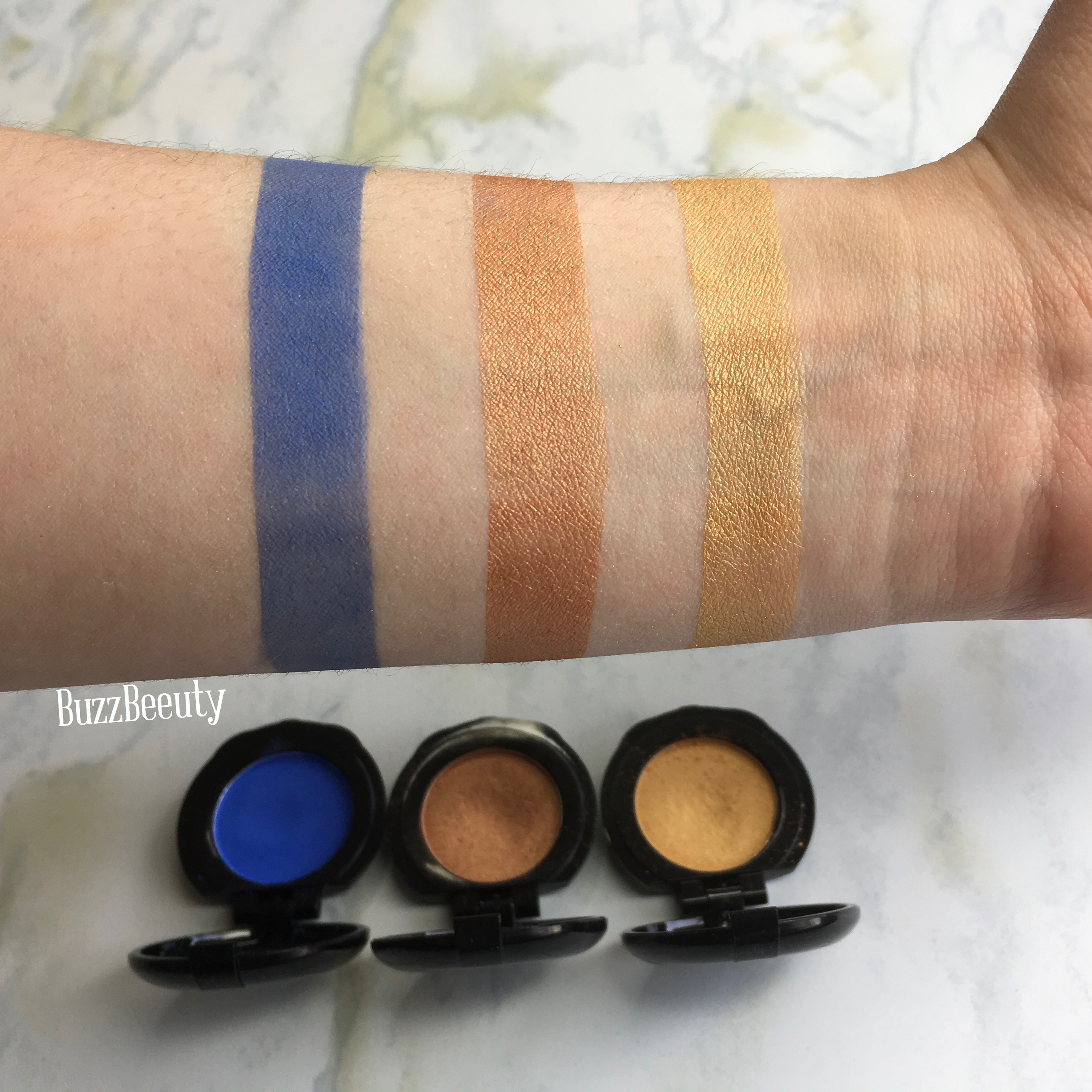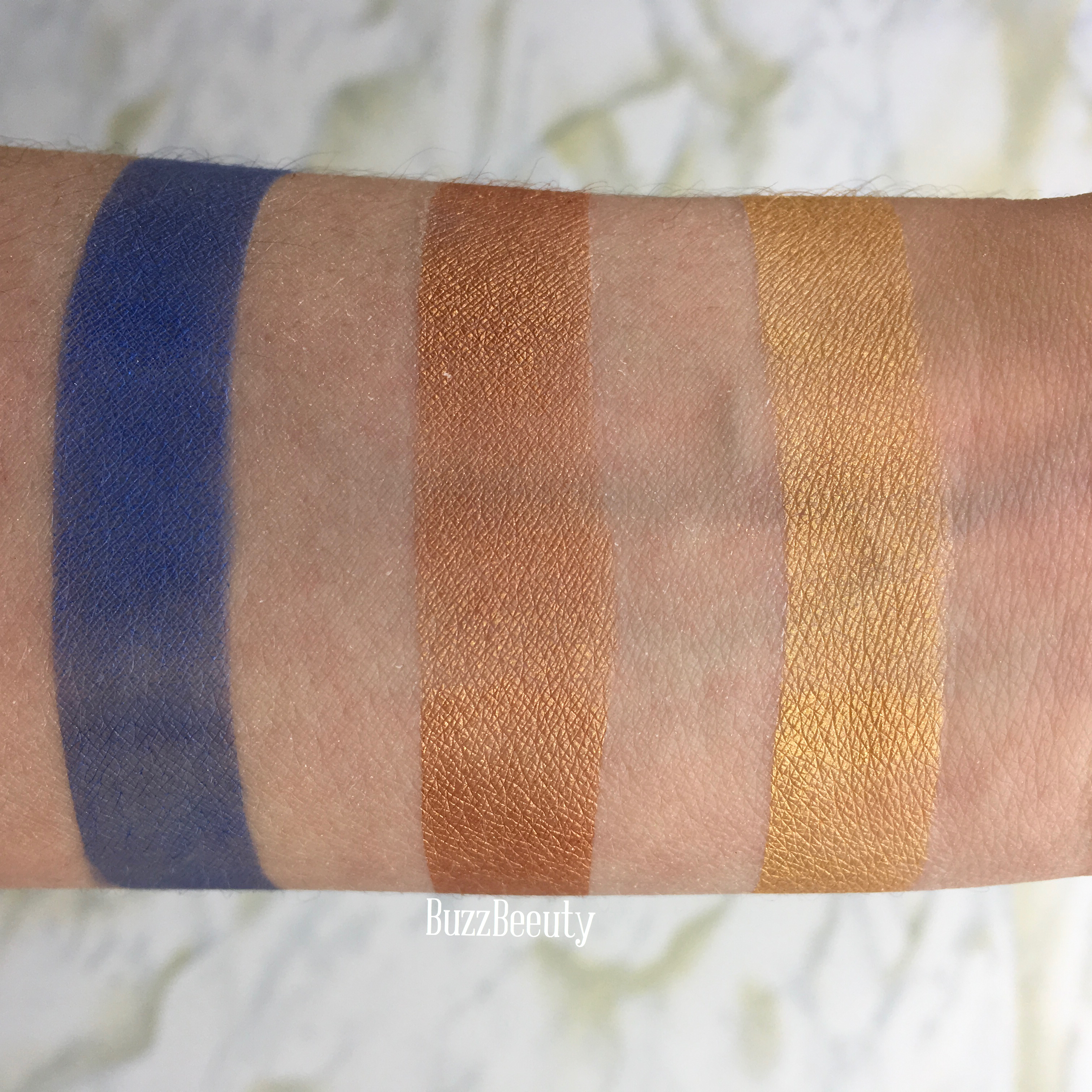 I found that the shimmers applied best for me when sprayed with fix+. I'll admit, I love my shimmery shades to be super metallic and foiled. These shimmers are more on the light shimmery side, which isn't an issue at all. I just personally prefer more SHA-BAM! They're also gorgeous applied over a glitter glue. But really,  none of that extra work in necessary. I always wear eyeshadows over a primer and highly recommend you do, and these wore just as beautifully over just that.
The matte shade is pretty impressive as well. I'll admit, blue is not my color so it's not something I would have purchased for myself, but it's already become a nice addition to my collection for that reason. I did a mermaid inspired look a couple of weeks back, and it was the perfect outer corner shade for the look. It was a tinyyyyy bit patchy when I first applied it, but it can easily be build up and blended out. It just takes a little bit of work, but I find that pretty normal with bold mattes like this. I do prefer the shimmers, both in color and formula, but I don't really have any complaints about this gorgeous shadow. It's so buttery and soft and I wish I had the full-size palette so I could pair this with the beautiful seafoam shade in there….
Overall, these shadows are pretty bomb. I was actually surprised how much I liked them after wearing them for several days. As I said, I'll probably be foiling them every time I wear them because they're not as intense as I prefer, but I don't see this being a problem. They're very wearable, and I can see them working for a wide range of skin tones. I'm really curious to try some more eyeshadows and hopefully I'll be picking up a palette soon cause the packaging is to die for!
Deep Beauty Mascara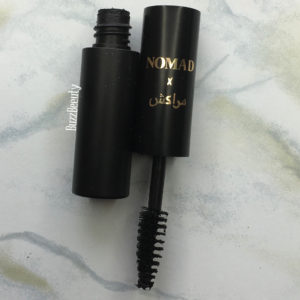 Okay, now let's talk about my favorite item from the collection. This mascara has quickly become my ALL TIME FAVORITE mascara. I'm not a mascara junkie, at all. It's just one of those necessary steps in my routine, mostly because I've never really developed a bond with a mascara before. Until now. Holy…. Cow…. I don't know what it is, but I'm obsessed. Before I get into it, let's look at the details.
This mascara is a mini size (.09 oz) and claims to give extra volume and length. Here's the ingredients:
Ammonium Methacrylate Copolymer, Water / Aqua, Dimethicone, Talc, PEG-30 Dipolyhydroxystearate, Cyclopentasiloxane, Trimethylsiloxysilicate, Beeswax / Cera Alba, Panthenol, Hyaluronic Acid, Phenoxyethanol, Ethylhexylglycerin. May Contain (+/-): Black Iron Oxide (CI 77499)
They do not sell this mascara individually, which breaks my heart. I would seriously buy 100 full size tubes of this and use nothing else the rest of my life… Seriously. It's so good.
I have super straight, stubby lashes that fall out all the time due to medical reasons. So most mascaras don't do much for me. But this one adds so much volume and length, it's crazy. I had several crying episodes while wearing this mascara (I'm emotional, okay?) and had barely any running even though it's not claiming to be waterproof. My eyelashes don't feel heavy or weighed down after a couple of coats, and the curl definitely stays. The brush is super nice and it's easy to coat every lash, and the formula isn't too dry or wet. I do get a bit of it on my lid when I apply it sometimes, but I have hooded eyes and that just happens. It dries pretty quickly and I can easily wipe it off. It also works perfectly on my bottom lashes. I seriously cannot find any flaw, except for the fact that they don't sell it by itself. I'm in loveeeeeeeeeee.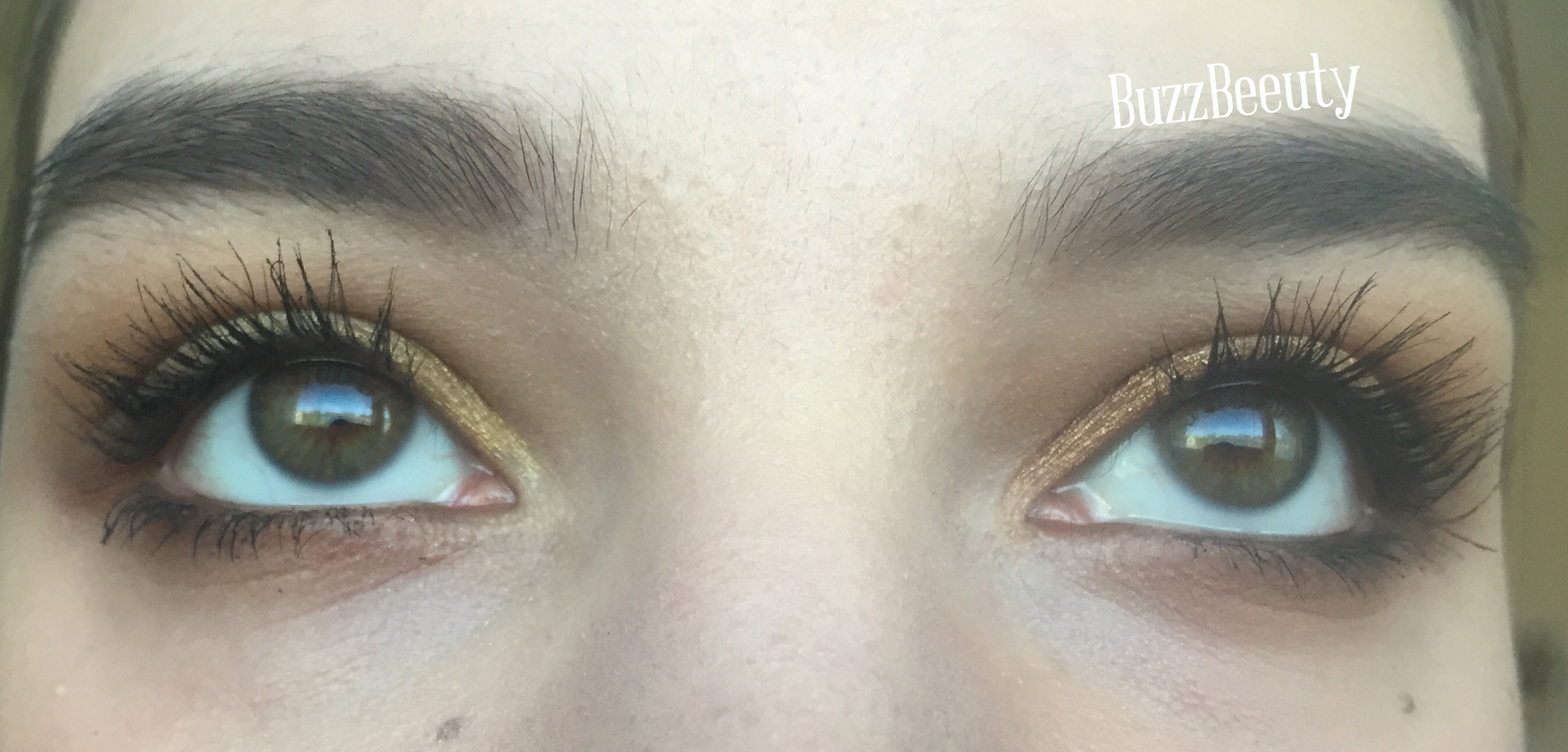 The Packaging
This travel set comes in a super cute cloth travel bag that has the name of the collection on it. It's about the size of an Ipsy bag, which I find to be the perfect purse friendly size. It also came with a little card that has some information about the collection, but get this, IT'S SCENTED! I cannot stop smelling it as I type this. It's supposed to be the scent of the Marrakesh Spice Market and I feel like I'm there. I want my whole house to smell like this. Can you make a candle out of this scent, Nomad? I'd buy 100 of them as well.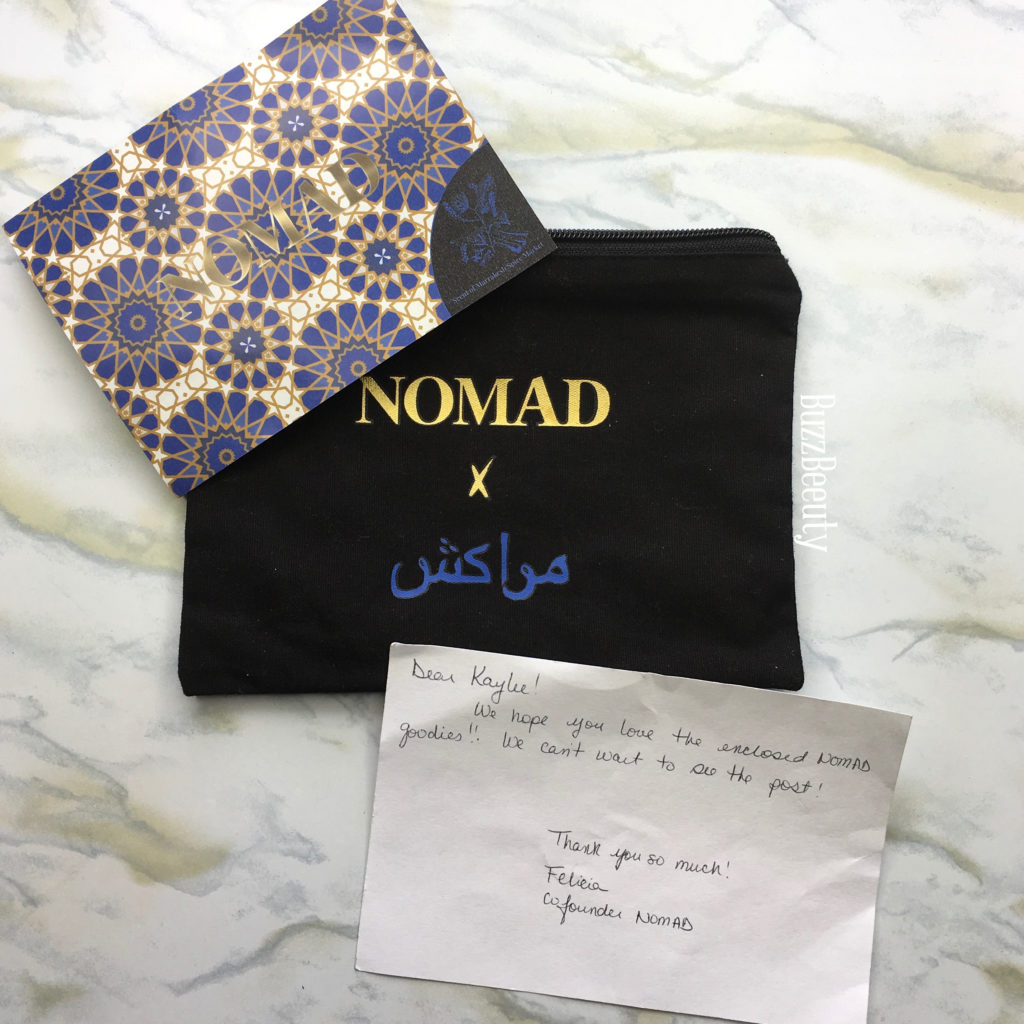 Overall Thoughts on Nomad Cosmetics
I love this brand. The concept is so amazing to me. I love how each collection is based on a place in the world the founders have traveled to. As a wanna-be world traveler myself, this inspires me in so many ways. The packaging is beautiful, and I really don't think the price points are bad when you consider that they're a small company and there's so much detail put into the palettes. I love supporting small businesses, and I would gladly throw all my money at these amazing creators. I am so very thankful to them for giving me the opportunity to try out these products. I am so impressed and I want all the things.  Definitely go check them out at NomadCosmetics.com
P.S. They just released a new collection of single eyeshadows that are perfect for the spring and I'm literally drooling over them…
Thank you again, Felicia!