Hey everyone! Today I'm bringing you my first brand owner interview with Mariaisabel of Spiced Cosmetics!
This brand has blown up recently on Instagram. They opened in April and have already launched an impressive collection of products ranging from mineral shadows, liquid eyeliners, and liquid lipsticks!
It's been a pleasure chatting with Mariaisabel! If you're interested in learning more about her and her business, please keep on reading!
P.S. I have a discount code for you! Use code "BuzzBeeuty" for money off your order! (non-affiliate, case-sensitive)
Tell us a little bit about yourself.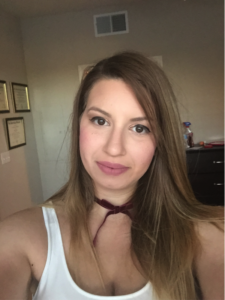 I am 26 years old and live in Louisiana. I am a full-time geoscientist in the Energy industry but I also have a passion for cosmetics. Cosmetics is my passion and it provides me with a means of artistic expression.
 When did your love for makeup start?
Since I was a child I was captivated by the beauty industry. I decided several years ago to learn more about make up arts and enrolled in a makeup academy. After graduating with a degree in Geosciences, I started working in the Energy industry and I felt there was something missing from my life and felt I needed to SPICE IT UP. I wanted to enroll in a professional makeup school but my busy schedule wouldn't allow it. After months of searching I found the QC Makeup academy online. QC makeup academy allows you complete a master makeup course at your own pace and complete classes and coursework online.
What made you start Spiced Cosmetics?
I have always wanted to invest in a business and decided that with my passion for cosmetics that I would enjoy developing a concept and investing in a cosmetics line.
 Is Spiced Cosmetics your full-time job?
 I am a full-time geoscientist, but I have enjoyed putting my ideas into action and investing in an original cosmetics line.
Are you a one-woman team?
Although the idea of starting the spiced cosmetic line was mine, my mother runs the operations of the business while I work in the Energy industry; the Spiced Cosmetics team also includes many talented promoters and all the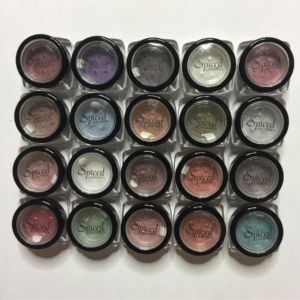 people that help manufacture our products.
What was the first product you ever made for the brand? 
The first product was our line of mineral powders.
How long does it take you to create a new color for your line?
The time to create our product takes several months depending on the particular line. You always have to plan ahead to release a product on the market at a time when there is high demand.
Was your decision to be cruelty-free because of personal reasons, or because of the growing demand?
Our team are all animal lovers so we could never sell makeup that was tested on animals. We are currently working on acquiring our "Leaping Bunny" certification so our customers can purchase our products with confidence that we are a cruelty-free company.Q. Where do you get your inspiration? 
Where do you get your inspiration? 
 My inspiration for the line comes from my background in Geology. Since my work involves studying rocks and minerals, I decided that I wanted all the spiced cosmetics to be mineral based. The colors of the mineral powders are so bright and colorful and also had a lot of similarity to spices. The pieces of the puzzle finally came together and that's how the idea of SPICED COSMETICS began. A spicy look using spicy colors that are made out of minerals.
What is your vision for the brand's future?
We would love to make the brand as big as possible and have every line of cosmetic products you can imagine. It is our dream that retailers like Ulta and Sephora will one day offer our products.
If you could wear only one Spiced color, which would it be? 
 I love pink, so raspberry spice mineral powder is my favorite, although it is difficult to choose just one color. I use all of the colors.
Any product sneak peeks you can give us?
High quality cosmetic glitter is our next product on the list.
What's one brand you'd love to collaborate with?
We would love to collaborate with "Too Faced." I totally love their products and packaging and the most important thing is that they are an example that companies like us can get off the ground and be successful.
What is the hardest part of being a brand owner?
The hardest part is overcoming the fear of failing. It is also difficult to make the decision to invest in an idea and taking the risk of being in business. Our team has put many hours into taking the idea and concept into developing it into a saleable product.
What is one thing you want your customers to know? 
We want all the spiced customers to know that the spiced team is constantly working to offer the best and everything is created with a lot of love and dedication. We would also like to thank everybody for the support they have given our brand. It really means a lot that people take the time to support my dream.
Thank you so much, Mariaisabel for taking the time for an interview! You can follow Spiced Cosmetics on Instagram here, and Mariaisabel here!