How To Save Money Shopping online
I'll admit, I have a bit of a shopping addiction. Constant access to the internet doesn't help this small problem, but luckily over the years, I have found some amazing ways to save money when I place my online orders. And today I'm sharing my tips and tricks on how to save money shopping online with you!
These tips are mostly geared towards shopping for beauty products, but many of these sites are pretty generalized! I hope these help you save some moolah on your next online purchase!
Ebates
Ebates.com is a cash-back website, and it's so easy to use! You can search for the store you're wanting to place an order from and browse through all the deals they're currently offering. To get cash back from your order, you just click the link provided, and that's it! The next day, a percentage of your order purchase will show back up in your account, then deposited into your PayPal account. The percentage you get back changes quite often, so I check it daily.

I never place an order without using Ebates. It's my first go-to stop to not only get a little bit of cash back but also to see what sales and freebies are being offered! If you're not signed up, you can use my referral link and get $10 towards any purchase!
Retail Me Not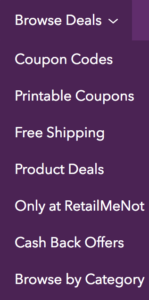 RetailMeNot.com is your one-stop shop for all the coupons you could ever need. They offer both online and in-store coupons and even have a handy app if you're on the go.
They also offer a smaller cash back program, but I personally prefer Ebates for this, as there's a wider selection.
I like seeing all my coupon and freebie options in one place, and they do offer more than what's usually shown on Ebates. The best part is you don't even have to create an account to get the coupons! This is definitely another site you have to hop on before you place an order so you get the most bang for your buck.
Sign Up For Brand Mailing Lists
This is one of my secrets for getting the best deals out there. I sign up for the mailing lists offered by my favorite brands. While this can get annoying, having all these extra promotion emails in my inbox, it's also super helpful sometimes.
A lot of them also offer

you a special discount off your first order when you sign up!
Brands always send out an email when they having a big sale or special promotion before they announce it to the public. This is great for you because you can take advantage of any deal you're interested in without having to search for it!

The downside to this is obviously not every sale will interest you. If you're willing to hold out on that specific item until there's a discount or promotion, then this is definitely the way to go!
 Join Rewards Programs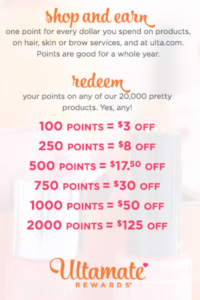 This one is pretty self-explanatory. Sign up for all the rewards programs that interest you. My personal favorite is Ulta's program, where you rack up points that turn into dollars. Sephora also has a great program that offers you mini samples as rewards. There's also special members-only sales that happen a couple times a year for both companies, and the more you spend per year, the better your discounts!
Several brands also offer their own, including Tarte, elf and MAC. If you're going to be purchasing from them directly, sign up and earn those rewards!
Ipsy Brand Offers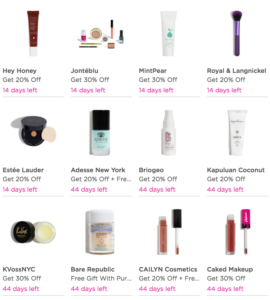 Here's a secret to my success (if you count spending all my money a success). Ipsy.com has a special section where they've included discount codes to the brands they've sampled that month. This page is accessible to anyone, and there's always at least one good deal hiding on there.
Side note: this is also a great way to discover new brands at a discounted price!

 Hautelook
Hautelook.com is a flash sale site owned by Nordstrom. Every several days, there's new events with mega-savings. These don't last for long, and the good products sell out quickly because of the heavily discounted prices, so I suggest you sign up for the mailing list to get the best deals.

My only issue with this site is how long shipping takes. It's taken me close to a month to get some items from them, so I wouldn't recommend if you're impatient and can't wait. But honestly, with deals this good, it's one of the best options out there.
If you're not signed up, you can use my refferal code!
Use Affiliate Codes
Okay, so there's quite a bit of stigma around affiliate codes. If you're unsure of how these work, basically individuals are given a coupon code from a brand and make a small commission off of each purchase. Usually.
Just remember, not all coupon codes are commission based. For example, I have a code with Spiced Cosmetics that I earn no money off of!
Yes, affiliate codes are often pushed to help the influencer make some money, but it's also helpful for you to save some money. If you're uncomfortable supporting a certain person, then, by all means, don't use their code. But I suggest finding someone you really like who has some codes and use them to save some cash! (OurBeautyCult are the gals I like to support, and they have a ton of codes available to you!)
There ya have it! My top secrets to saving as much money as possible shopping online! I really hope these were helpful, and that you learned something new. Have some tips of your own? Please share them with us in the comments below!
Until next time, Stay Beeutiful!
*Some links are affiliate or referal links. Thank you so much if you use them!*