Hi lovelies! I'm so excited to bring you another brand owner Q&A! Today we're chatting with my friend Katie Brown, the owner of DKB Glitter. She has a newer Etsy store specializing in some of the most beautiful pressed glitters I have ever seen!
I've had the pleasure of getting to know Katie through Instagram. We're from the same hometown, and have quite a bit in common! She's a real sweetheart, and I enjoy every conversation we've had together. I'm so honored that she agreed to let me interview her today!
If you're curious to know all the insider deets on this wonderful woman and her brand, please keep on reading!
Tell us a little bit about yourself!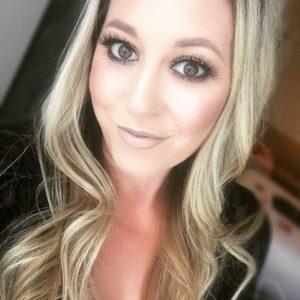 I'm 36 years old and I'm a native Central Texan. I was born and raised in Georgetown, Texas and have lived in the greater Central Texas area most of my life. I lived in Dallas for a couple of years, but much prefer the Austin area.
When did your love for makeup start?
My parents and grandparents were all artists of various kinds. Some of they painted, some drew, some did woodwork. So I guess a certain amount of artistic-ness is in my DNA. Since I was a girl I've enjoyed writing as a creative outlet, but I've also always been drawn to color. From an early age, I liked the idea of being able to transform myself into whatever I wanted with color. I liked playing dress up and having costumes for Halloween. When I was a teenager I started playing with makeup and trying to re-create what I saw in magazines and I was pretty good at it. Then in my early 20's I ventured into a Sephora in search of a blush. A very kind employee offered to help me and asked me some questions about what I was looking for. I wanted what most people want when they shop for blush, "something natural" so I was looking at every shade of pink available. The Sephora employee sat me down and showed me a pink blush on one side of my face and it was nice, but then asked me to trust her to show me something a little different. I agreed and she brought over Exhibit A by NARS. I thought I was going to die when I saw the bright red-orange blush in her hand, but when she applied it to my face it was like magic. It looked perfect, natural, it gave me a healthy flush without looking crazy. I left with Exhibit A that day and determined to learn how to do with makeup what that employee had just done. The next Spring I began what would be a six-year career with Sephora. That's where it all started for me professionally, Sephora gave me the 'keys to the kingdom' of makeup, so to speak. Through Sephora I had access to training that unlocked my natural abilities, I learned about ingredients and techniques. It also provided me with a great space to learn about people. Not just how to help them, but how to see them, to understand what they're really looking for when they shop for makeup. People are rarely looking for a new lipstick or foundation, they're looking for confidence or a new beginning or sense of purpose. That, to me, was the most valuable part of my Sephora education and it's the reason I've stuck with makeup as a career.
What made you open up your own Etsy shop?

It was kind of a whirlwind of a decision. I've always had this dream kind of hiding in the back of my mind of having my own line of products. I'd always joke with friends and co-workers about how if I had my own line I would do this or that, but it was always kind of a background idea. After I started making my own pressed glitters and people who follow my social media accounts started asking where they could get them the light bulb just kind of turned on for me. Why not? What did I really have to lose? So after talking to the people, I trust I decided to do it and instantly loved it.
Why pressed glitters?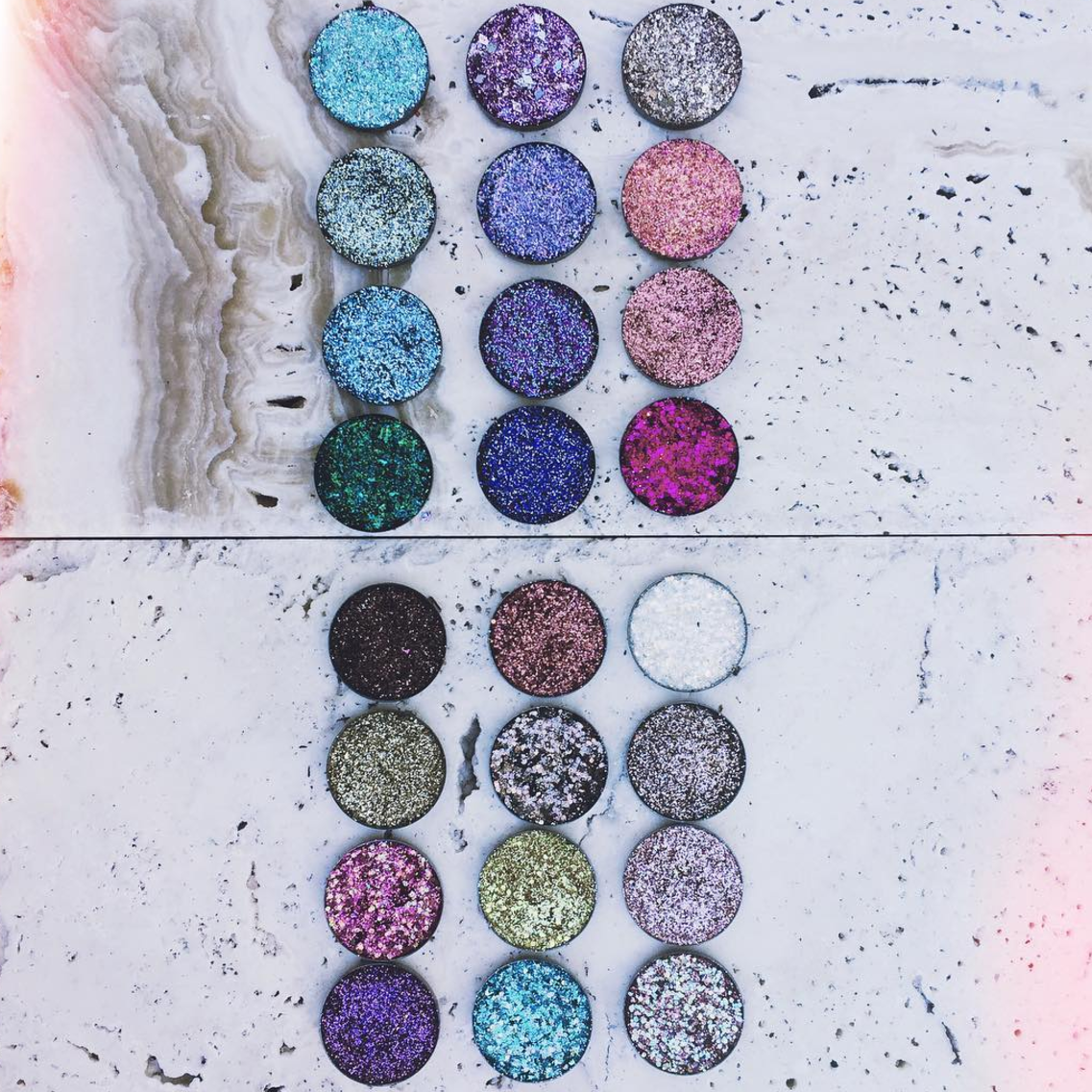 I love glitter and always have. Glitter has been my thing from the beginning of my career in makeup. My coworkers at Sephora would always tease me for telling my clients that glitter was diamonds for your eyes. Glitter makes me feel special and it brightens my day, but something I've learned in my time in the makeup industry is that glitter isn't easy to wear. By that, I don't just mean that it's messy, it's actually emotionally difficult for a lot of people. Glitter shines and stands out and a lot of people are afraid of standing out or being different. They're afraid of looking foolish or having people think they're dumb. As I've worked with clients and helped them learn about makeup, glitter has really come to represent knowing who I am and feeling comfortable with my own unique shine and that's something I want to share with other people. And because I do know from years of wearing it that glitter can be messy, I love that pressed glitter is so much easier to apply and that makes to more accessible and less intimidating for a lot of people.
Is DKB your full-time job?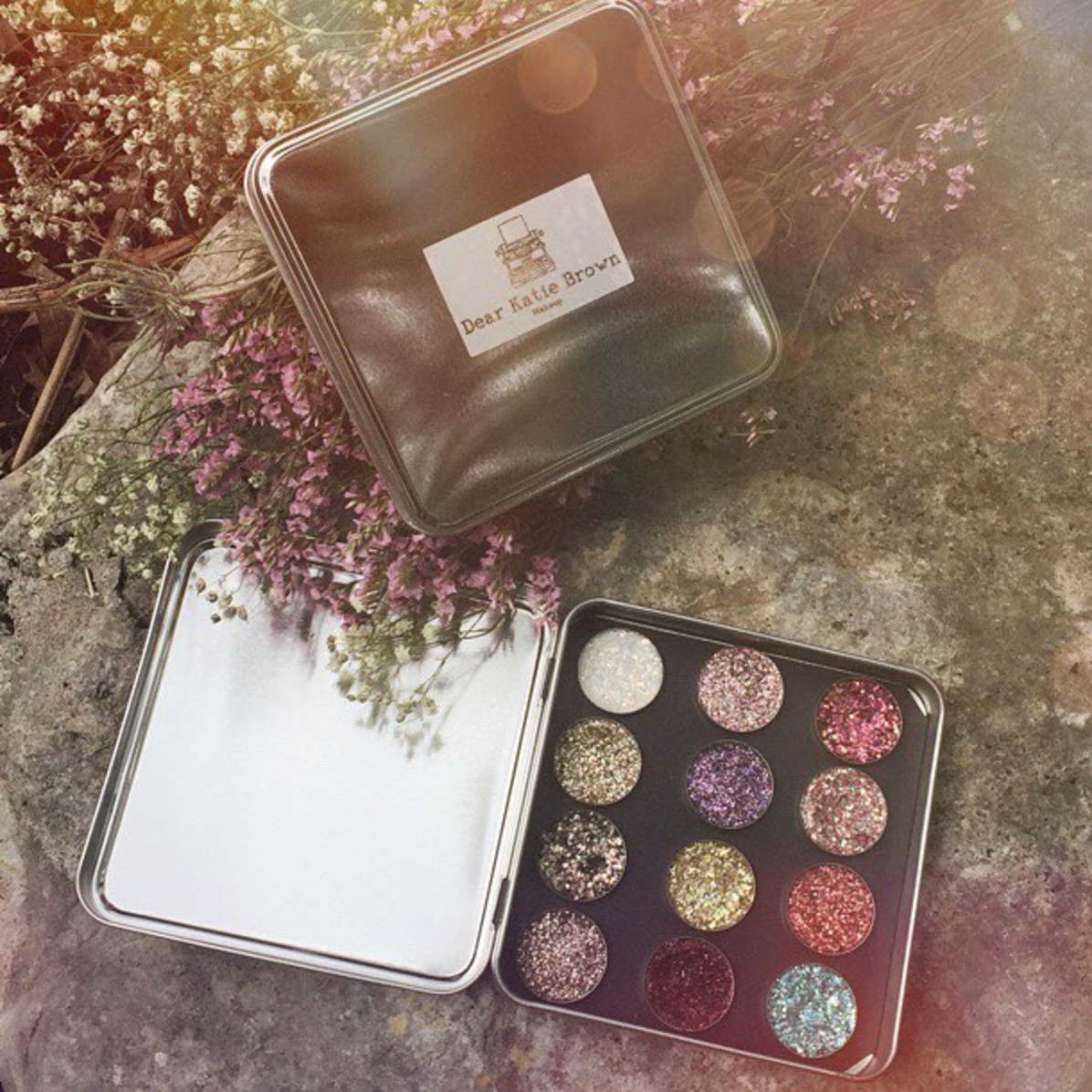 Right now it's not, though I would love (and hope) that it becomes my full-time job, that's the goal. When I left the retail cosmetic industry a handful of years ago I needed a little break. A lot had happened and changed in my family– I had very young nieces and nephews and we'd just lost my Mom somewhat unexpectedly. I was creatively and emotionally spent and I just needed something that would allow me to reorganize my life and recoup. So I took a job being a nanny to a beautiful little two-year-old boy and his four-day-old sister and now that little boy is five, his sister is three, and I also care for their one-year-old baby brother! Being a nanny was never a part of the "plan" but it was just what my heart needed in order to find my creative energy again. Caring for those three little people has helped me find a gentleness that I desperately needed. I also do contract makeup work, I've done runway, print, film, and theatre makeup in addition to individual clients.
How difficult is it for you to balance your job and your business, as well as your personal life?
There are days when it's more difficult than others. I think, big picture, being a nanny really affords me a lot of time to spend on my creative work that another type of job wouldn't, but it can be hard switching hats sometimes and I'm very introverted so my social life is where I end up feeling drained the fastest.
Are you a one-woman team?
No! I said right from the beginning that if I was going to do this I wanted to do it well and in order to do it well I couldn't do it alone. My sister, Kristin, is my business partner (and closest friend). She does all of the hard work running the shop and shipping so that I'm able to keep my creative energy working. I'm honestly so lucky to have her, I don't know what I would do without her support. I've also got a couple of other people who work behind the scenes with things like my (coming soon) website. I'm seriously so fortunate to have such talented and supportive friends!
What was the first pressed glitter you ever made? Is it one that's available in your shop?
The first pressed glitter I made is called Christina, it's a rose and white gold mix. Not only is it in my shop, it's our best seller.
What do you wish you knew before starting this venture?
I wish I'd known how much fun it was going to be so I would have started sooner!
How have you changed as a person since opening up your own business?
I feel more like myself than I have at any other point in my life. This feels like what I was made to do and it's a really good feeling and having that confidence fuels my creativity in a way I couldn't have imagined.
Where does your inspiration come from?
Love for people and for life, as cheesy as that might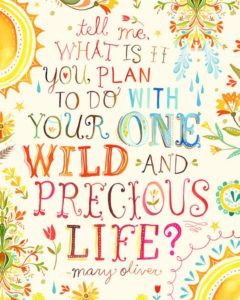 sound. I like Mary Oliver's poem The Summer Day, that bit at the end– "Tell me, what is it you plan to do with your one wild and precious life?" I plan to spend my one wild and precious life honoring the beauty I see in people and the world around us by helping others not to be afraid to sparkle in their own way.
How long does it take to create a new color or palette?
Honestly, not as long as I thought it would. I'm teeming with ideas constantly. Probably the most time consuming part is arranging a collection of colors. I'm pretty particular about how a group of colors should fit together, so I spend a lot of time on that.
What is your vision for your brand's future?
Oh man, that's a big question. I want to paint the world in glitter.
Do you have any plans to expand beyond just glitters?
Not at the moment. The brands that I love the most are the brands that have a really strong identity, they know what they are good at and they make it their mission to be the best at that thing. Right now I'm just focused on being the best I can be at glitter. I'm working on some things beyond pressed glitter, but for the time being they are still in the greater glitter family. But who knows what the future holds!
If you could collab with one brand and/or influencer, who would it be and why?
Sia, even though she's not in the makeup industry. I'm super inspired by her music and I think she's an amazing artist. It would be so awesome to create a line of lip glitters in collaboration with her since she doesn't ever show her eyes on stage.
What's the hardest part of being a brand owner?
Not being able to give everyone free glitter all of the time.
What's one thing you want people to know about you or your brand?
There's no pretension here. I want people to feel at ease with my brand. I want people to know they're cool with me, they're in the glitter squad, lets hang out and eat guacamole.
Thank you so much for the interview, Katie!
Check out her shop, and follow her Instagram page for the most glittery makeup looks!
P.S. You can win her top selling glitters in our giveaway!