Today I'm starting my #TBT series, where every Thursday I'll be posting a full review and eye looks using products that are older and haven't gotten much love from me lately.
We're starting things off with a classic, the Too Faced Chocolate Bar palette. This baby was the first high-end product I ever purchased. I remember going into Sephora when I first got into makeup, dreaming of the time when I could afford to splurge on something that wasn't from Walgreens. I was working as a barista at the time, and I saved up all my tips from two months to buy this palette.
So obviously this palette is very special to me. It sparked my love for eyeshadow palettes, and thus began my need to collect everything in a pretty packaging.
I will say that my taste has changed quite a bit since I bought this palette 4 years ago, but it still remains my favorite neutral eyeshadow palette. I'll admit, I don't use it very often anymore because I've discovered my love for bright, colorful shadows, but it's staple in my collection and I don't see myself ever getting rid of it.
The Details
This palette is priced at $49 for 16 eye shadow shades. It is available for purchase on Sephora.com,  Ulta.com, toofaced.com, HSN.com, and in Sephora and Ulta stores.
* links are affiliateToo links
The Packaging
Let's start with the packaging. Obviously, it's one of the cutest palettes ever. I have the original release, so it's much thicker and bulkier than the new packaging. Here it is compared to the size of the newer one's you'd get.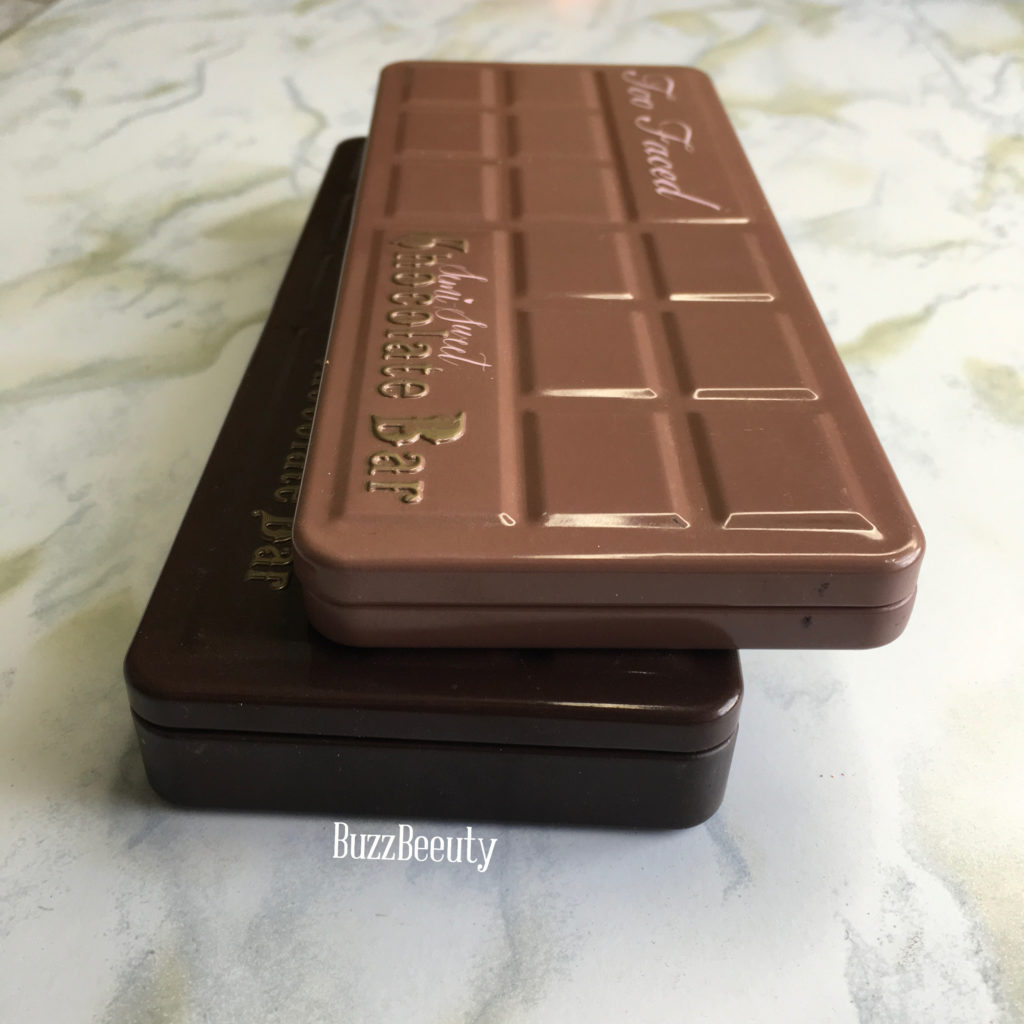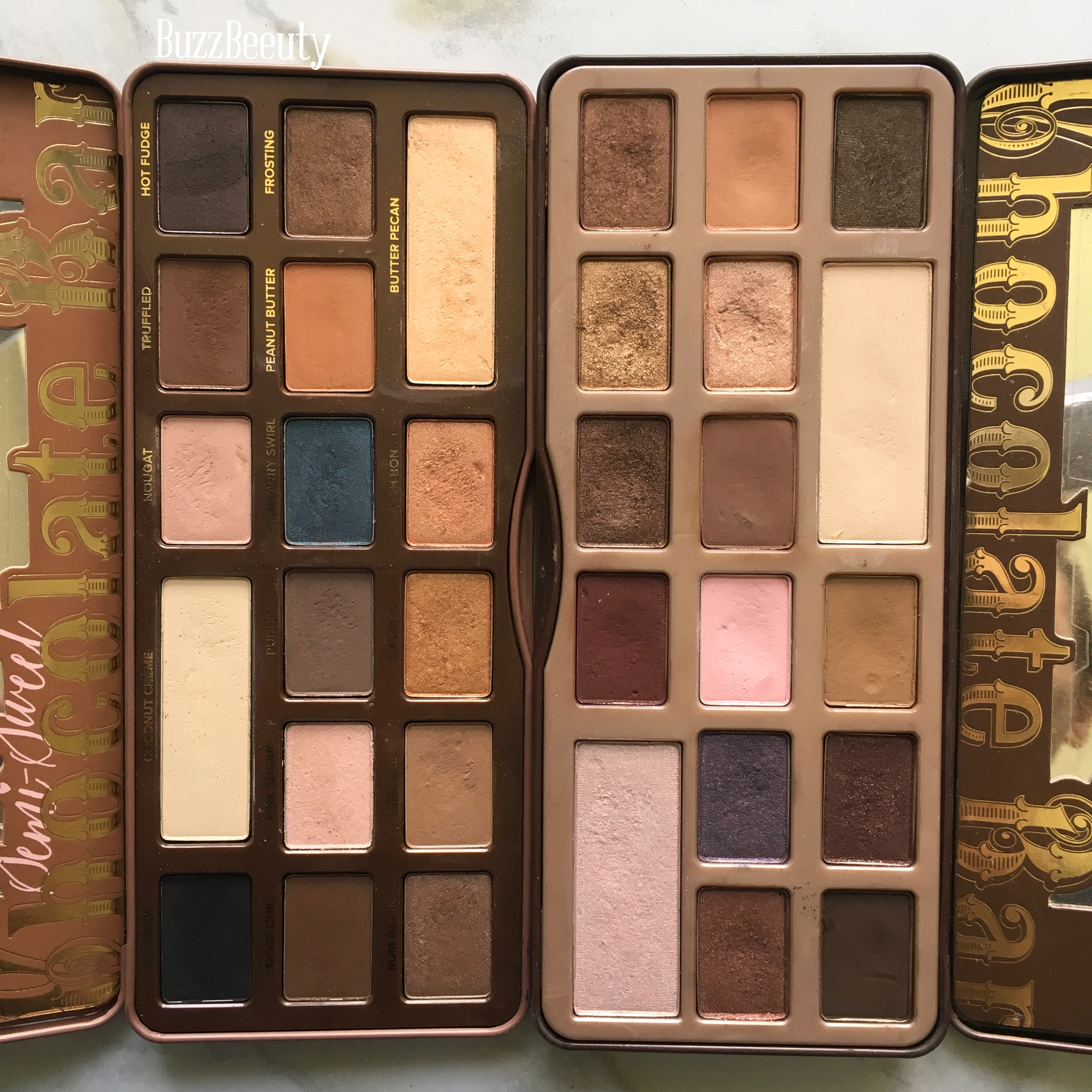 It doesn't have the names printed directly on it as the new ones do either. I hope to someday pan this one and grab up the newer version. It doesn't have the best magnetic closure, which worries me when traveling. However, the tin packaging is very sturdy, so just slip a rubber band over it before putting it in your bag and your shadows will be safe.
The smell. Holy moly, the smell. This was a huge selling point for me and I'm not even ashamed to admit it. If I recall correctly, this was the first palette to ever have a scent. I think this might be why it became so popular in the first place. Some people don't like the smell, but I don't find it to be too overpowering. You can definitely get a good whiff of it when you open up the palette, but the smell doesn't linger on the eyes.
The Colors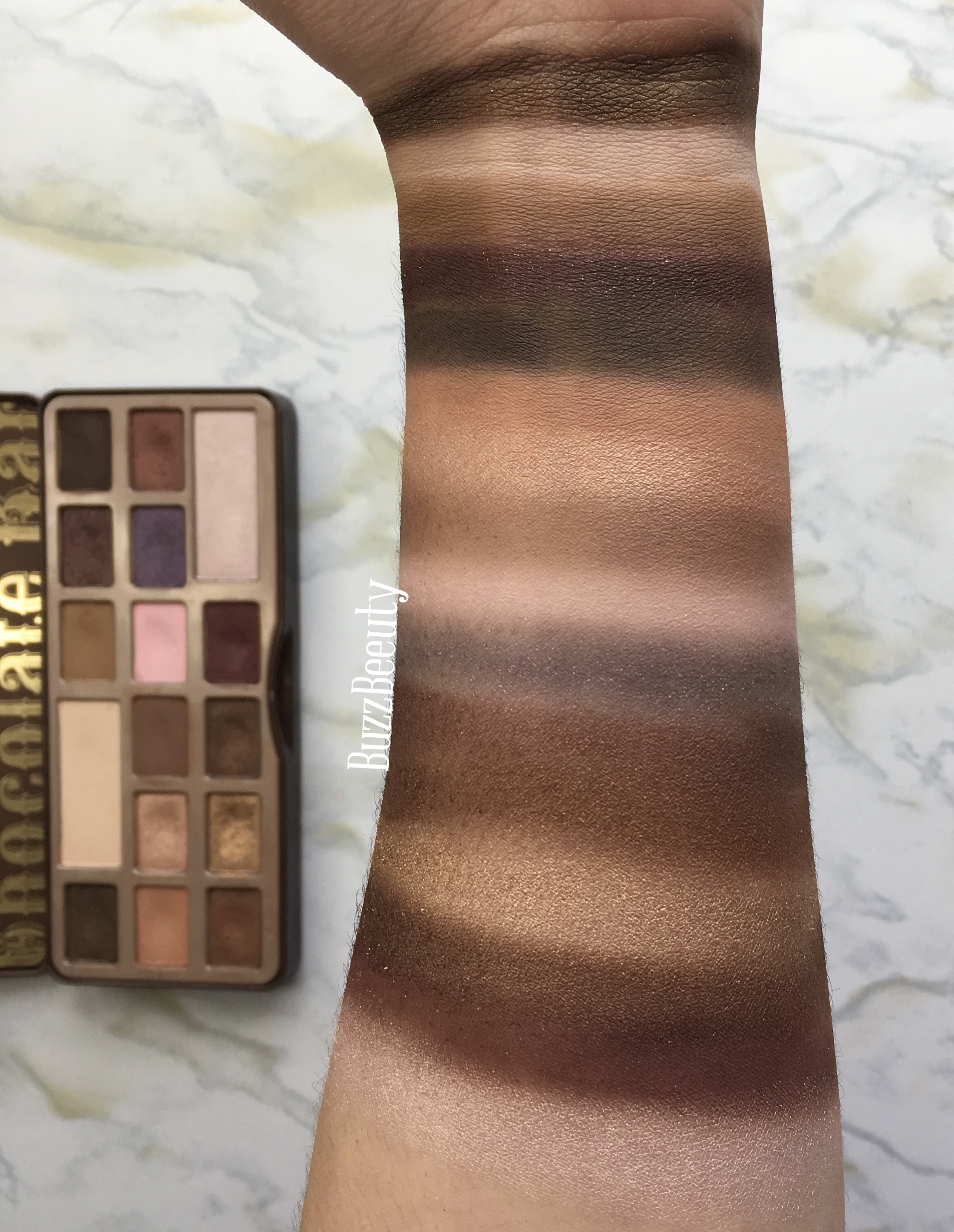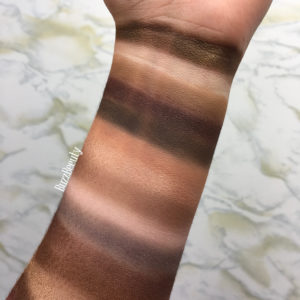 Gilded Ganache – dark brown with golden
flecks of glitter
White Chocolate – a matte off white/pale beige
Milk Chocolate – a matte neutral brown
Black Forest Truffle – a burgundy with bronze glitter
Triple Fudge – Dark matte brown
Salted Caramel – matte orange toned brown
Marzipan – a shimmery champagne-peachy shade in a frosted finish
Semi-sweet – a warm matte brown with red undertones
Strawberry Bon Bon – Matte pale pink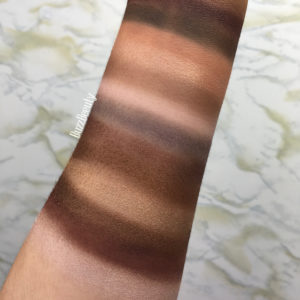 Candied Violet – dark purple with pink and
blue glitter (very sheer)
Amaretto – red brown in a frosted finish
Hazelnut – golden bronze in a shimmery finish
Crème Brulee – Shimmery dark gold in a metallic finish
Haute Chocolate – dark brown shimmer
Cherry Cordial – plummy brown matte with gold glitter
Champagne Truffle – Pinky white with a gold sheen
The only colors I don't find myself reaching for are Strawberry Bon Bon and Candied Violet. I'll get more into that in a little bit.
I used this palette two days in a row, and created three eye looks using every single shade. The possibilities really are endless with this palette if you're creative, but here's some ideas of looks you can get. Please keep in mind, I'm not a makeup artist and I'm definitely not the best or most creative. (Also I apologize for how overgrown my eyebrows are. I refuse to touch up my photos so please excuse them.)
Eye Look #1 – Natural Glam
This first look I created was quite complex for the results it gave, but I wanted to use and retest out as many shades as I could. So with that being said, this could easily be created using the shades marked with a *. (I got a little carried away….)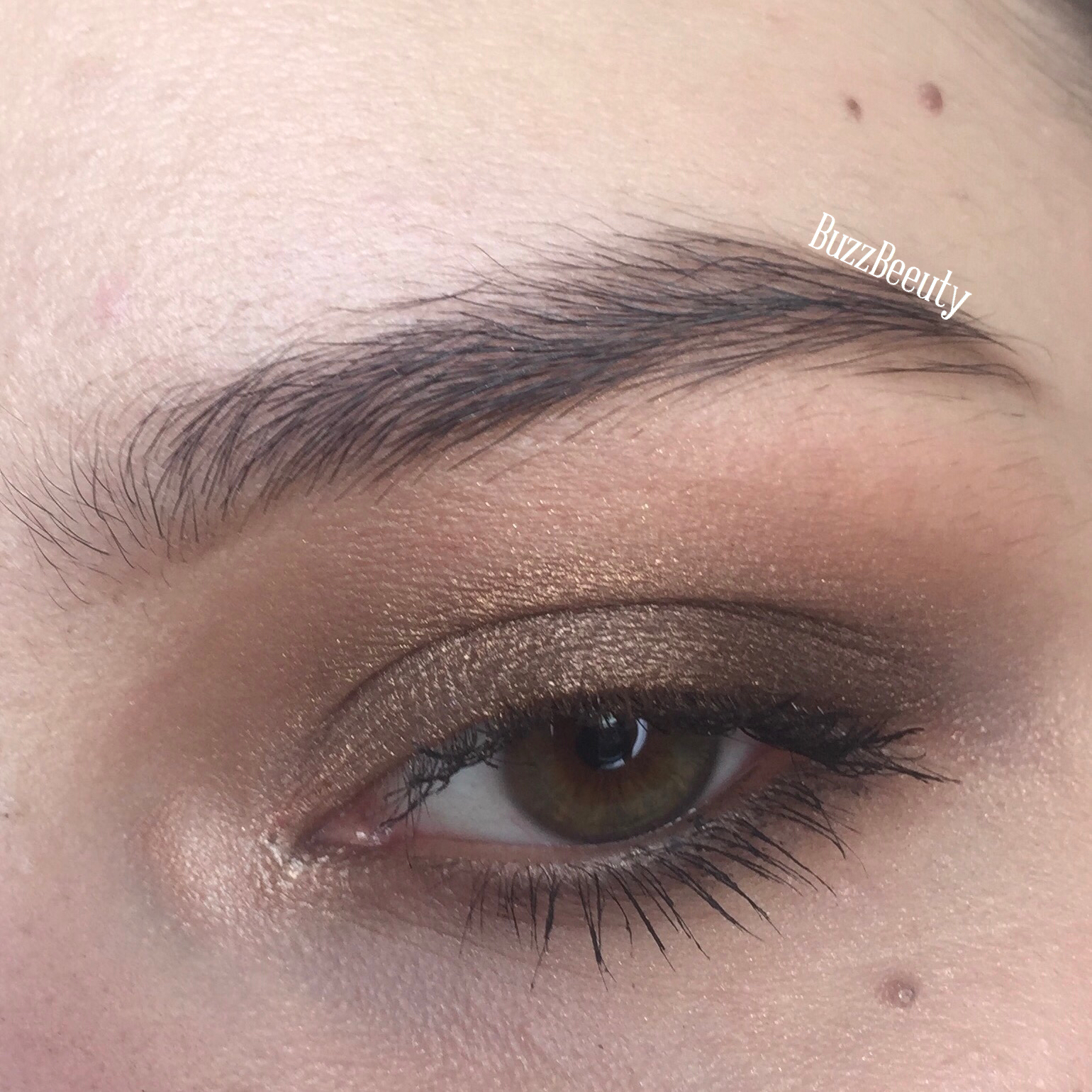 Set whole eye with White Chocolate, Salted Caramel as transition color*, Milk Chocolate in crease, Semi-Sweet in the outer corner/outer crease, Creme Brulee* on the eyelid closer to the inside,  Hazelnut on the eyelid, Haute Chocolate in the outer corner with a touch of Gilded Ganache closer to the lash line, Triple Fudge* on the lower lash line smudged out with Milk Chocolate and Salted Caramel, Marzipan on the inner corner, White Chocolate on the brow bone. (10/16 shadows used)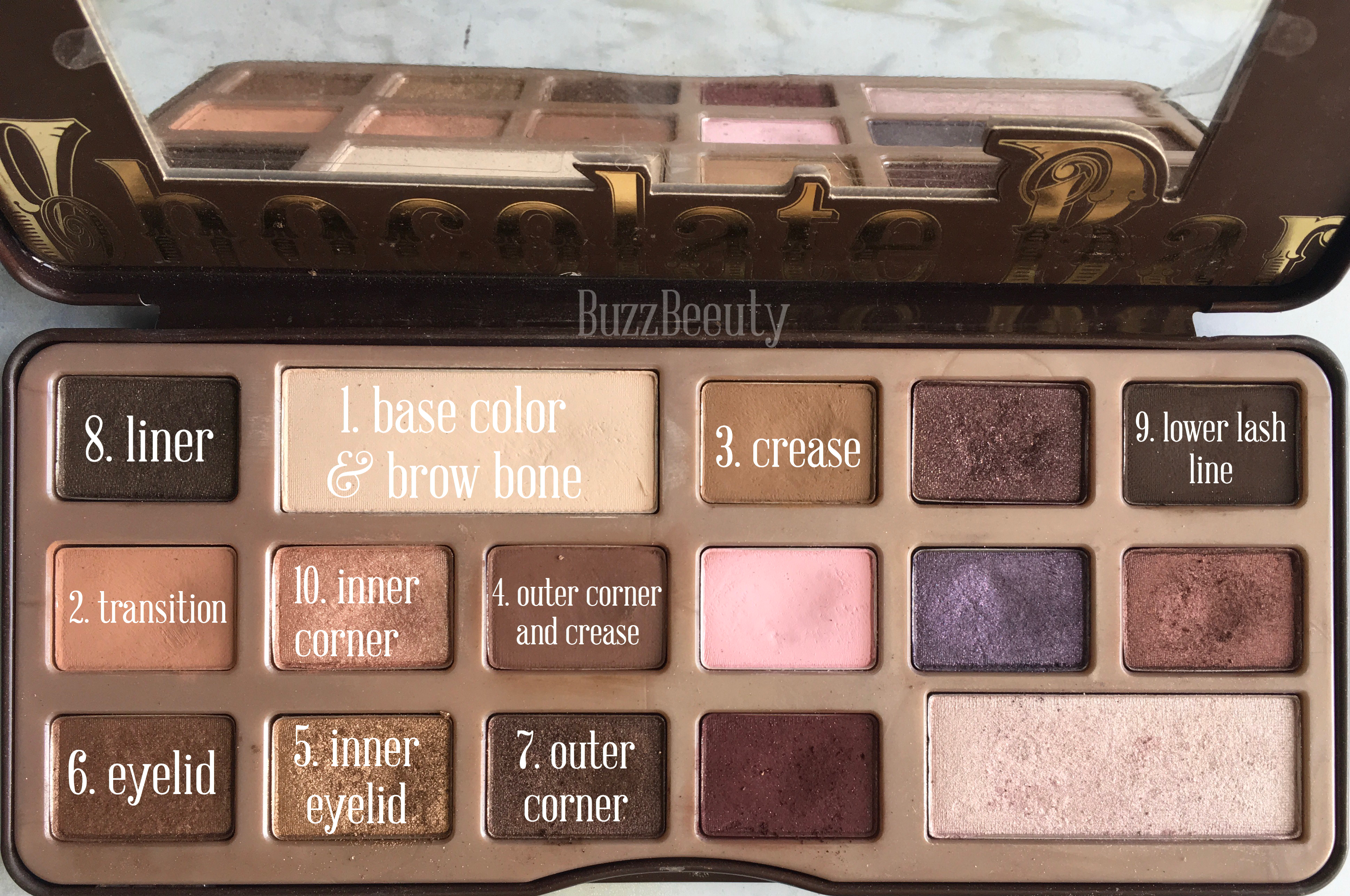 To me, this look is more of a subtle daytime look, but I know for a many this could be considered glam! I think this could easily be toned down a bit for a perfect office appropriate eyeshadow look (or worn as is if you're like me and a bit extra), or paired with some falsies and liquid eyeliner for a glam night time look. It wore well for a good 11 hours with no creasing and very minimal fading over a primer. As I said, you don't need to use 10 eyeshadows to get this look.
Eye Look #2 – Simple Burgundy Smokey Eye
My second look using the palette is one that I've worn multiple times and quite enjoy. If you like burgundy shades, this smoky eye is perfect for you.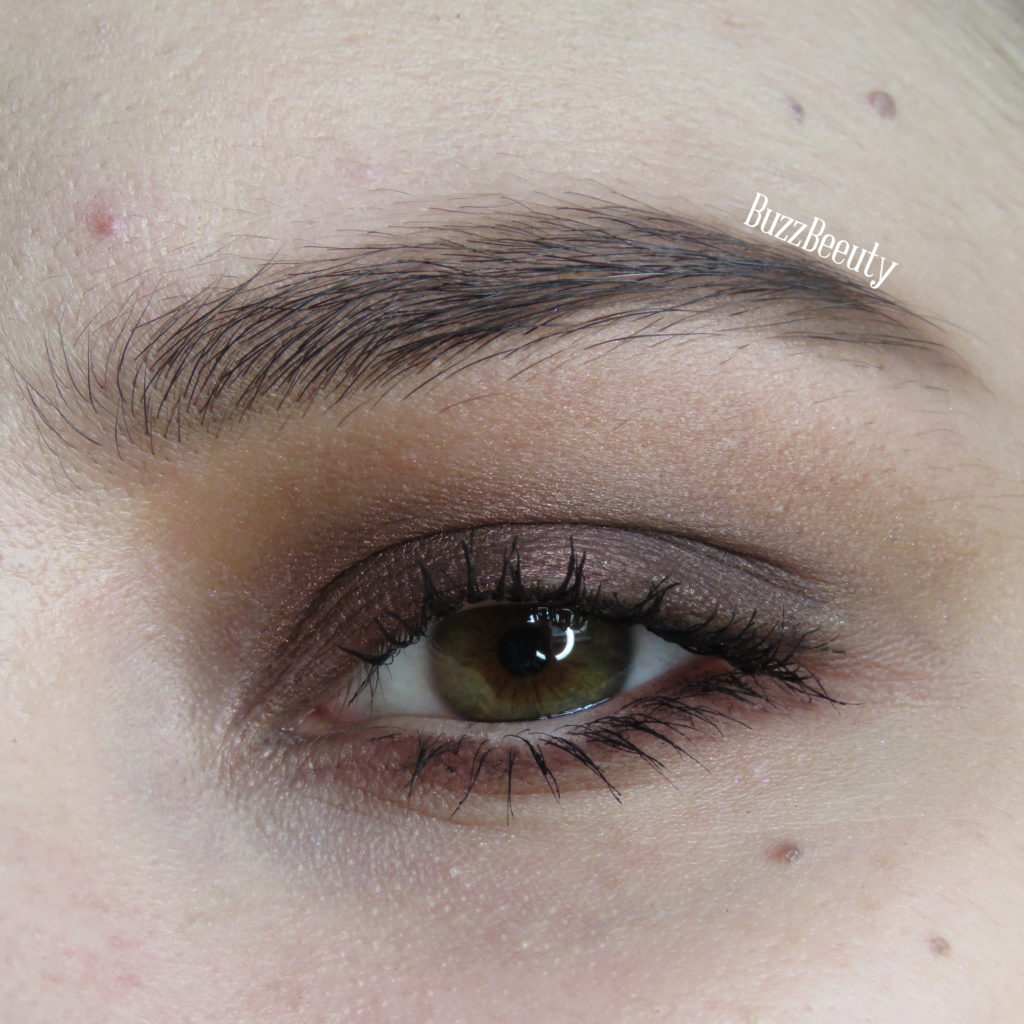 Milk Chocolate as transition, Black Forest Truffle in outer corner blended into the crease, Amaretto all over the lid, Cherry Cordial on the lower lash line.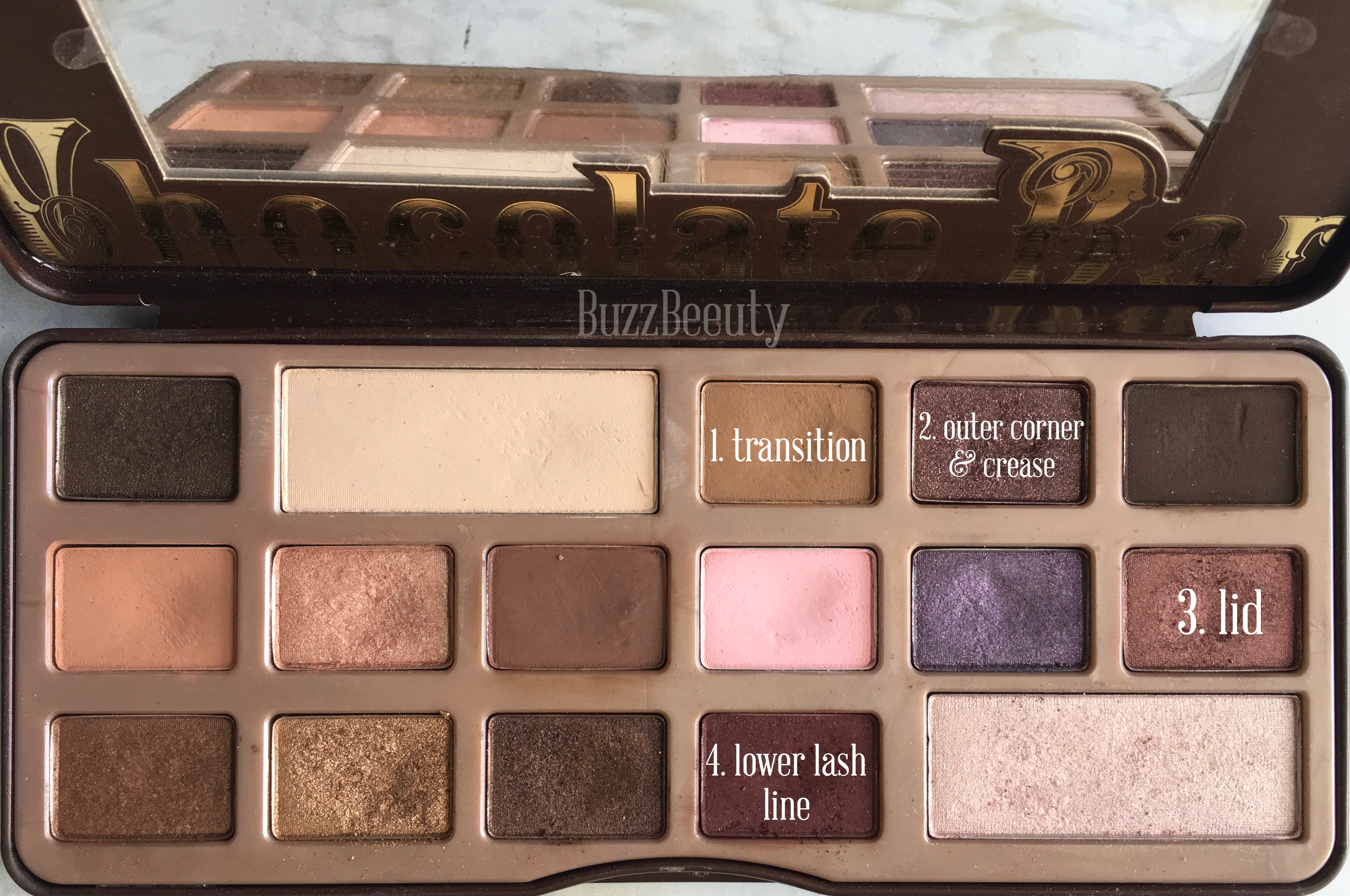 The colors don't translate as red on the eyes as they do in the pans, but this isn't necessarily a bad thing. You can easily wear these shades without the fear of looking sick. Two of the three colors have glitter flecks in the pan, but not much of it transfers onto the eye when applied with a brush. Again, I don't mind this since the Too Faced glitter bomb formula isn't the best in my opinion. It wore well for the entire 10 hours I had it on with zero creasing and very minimal fading over a primer.
Eye Look #3
I struggled to use the last three shades in the palette. This was about the best look I could come up with using the two shades.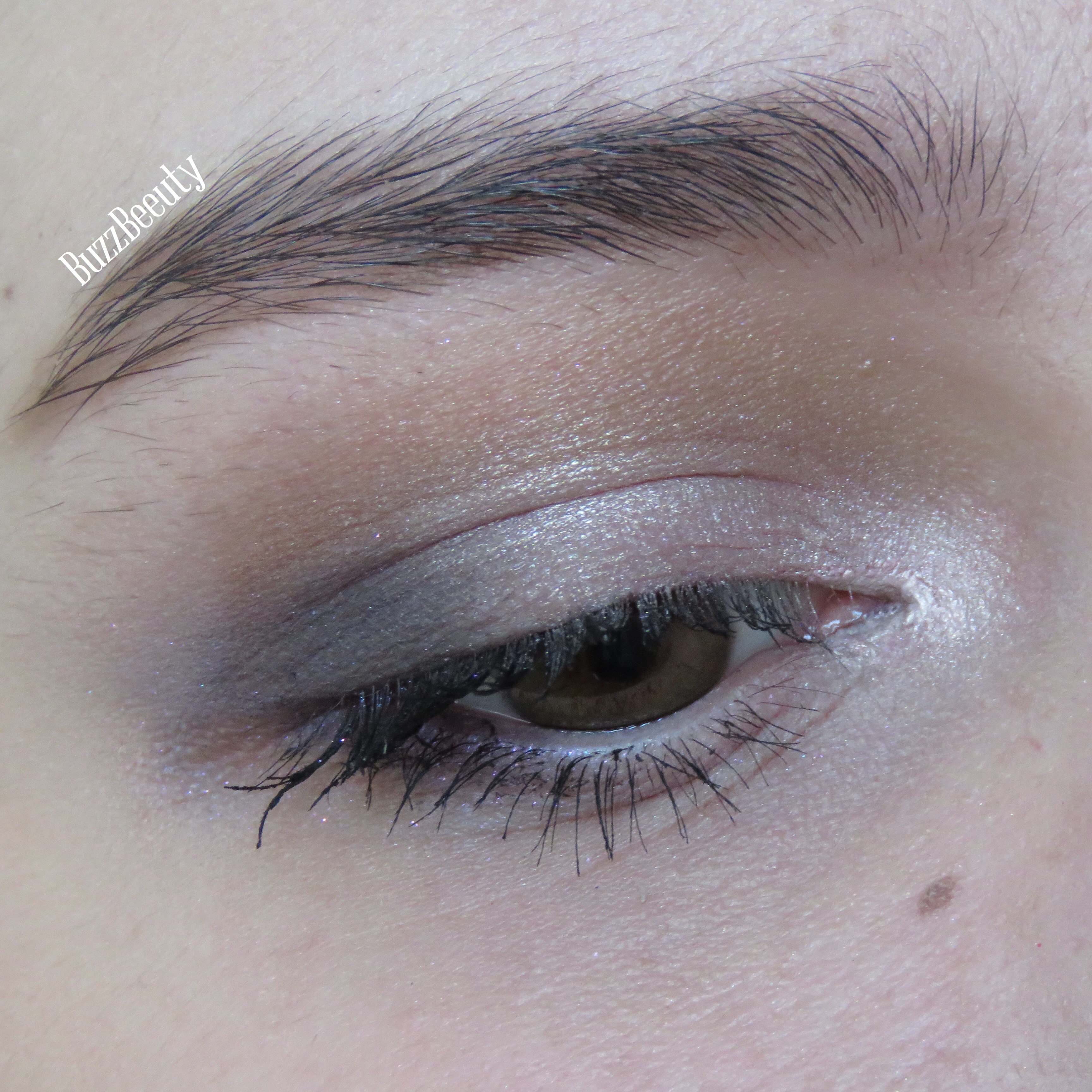 Salted Caramel as a transition/crease, Strawberry Bon Bon all over the lid with Champagne Truffle patted over top and placed in the inner corner, Candied Violet in the outer corner and lower lash line.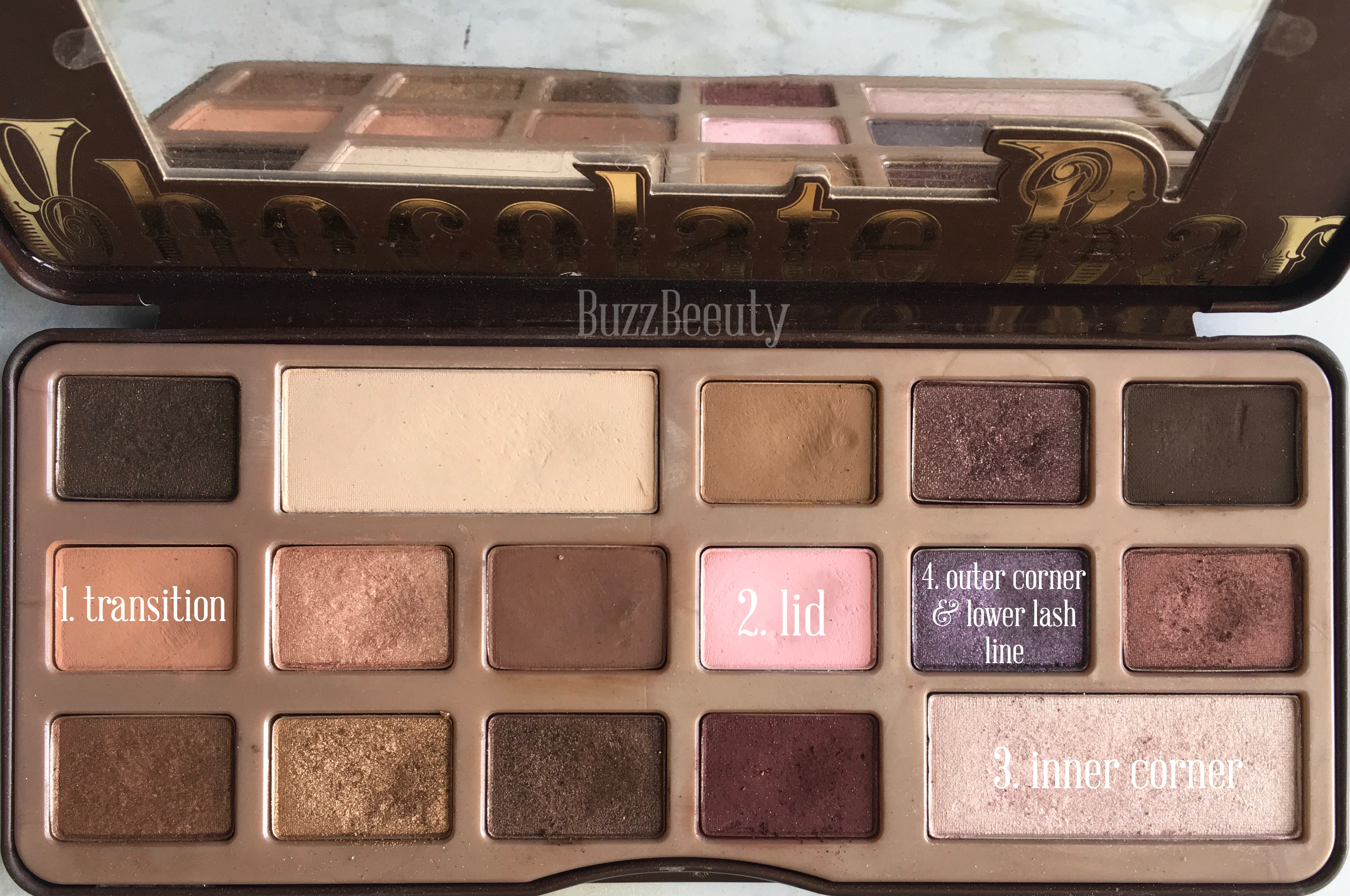 Champagne Truffle is a beautiful color and I love to use it as a highlight and occasionally for my inner corner, but it doesn't really inspire me with the other colors in the palette. Strawberry Bon Bon and Candied Violet are the worse performing colors, and I hate using them. Strawberry Bon Bon is very very very sheer, and I created quite a bit of a dip in the shade trying to get it to show up on my lid. Candied Violet is beautiful in the pan and when swatched has beautiful pink glitter in it, but I could not get any of it to translate to my eye, even when patted on. The color just blends into a muddy mess and has a lot of fallout. The shadows only lasted about 3 hours on my eye before they started to crease and totally disappear even with a primer.
Review
You get just about everything you could need in this palette, and I don't find myself needing to reach for other shadows to create looks. If you need a matte black shadow in your palettes, then you'll be a bit disappointed but I still think it will work for you. I imagine this palette could work for a wide range of skin tones as well. This is the type of palette anyone could pick up and use with no issues. The shadows are very blendable and buildable. You won't get a crazy amount of pigment right off the bat which is great for those of us who aren't makeup artists. But at the same time, you can build up the colors to your liking.
Overall, I think this is a beautiful palette. It's a cult favorite for a reason. You can create several different types of looks with the colors provided, and it's a warm neutral lovers dream. I don't think you necessarily need it if you have a large collection, but I can easily see this being a palette you could get a lot of use out of if you're a minimalist or don't want a huge collection. I can't imagine not having it in my collection, and much prefer it over many of the higher end neutral palettes I've tried. If you have the extra cash to spend or are in the market for a nice versatile everyday palette, I'd go ahead and give this beauty a try!