Happy Thursday! I hope you're all having an amazing week so far. Today I'm bringing you our second palette review in the #ThrowbackThursday Series. We're talking about the Violet Voss Holy Grail palette this week. I dug this out of my collection and have been testing it out all week, so let's get right into the review, swatches, and eye looks!
Violet Voss is an indie brand that's quite popular on Instagram. They originally sold lashes, but have expanded their line to include eyeshadows, liquid lipstick, glitters, and highlighters as well. The Violet Voss Holy Grail palette was their first palette release. I ordered it during the first launch last year. It sold out in a matter of minutes! Now that it's been out for awhile, you can usually find it in stock on their website.
The Details
The Violet Voss Holy Grail palette includes 20 nice sized eyeshadows for $45. The cost per gram breakdown comes out to $1.25 per shadow, which is an amazing deal.
You can only purchase it directly from their website.
"Violet Voss Cosmetics is proud to present 20 highly pigmented eye shadows in a variety of must have finishes.  Our PRO eye shadows are made with the highest quality ingredients and formulated to allow for smooth blending.  The perfect go-to for any occasion to create your flawless sexy look."
 Details
20 colors
Mattes
Metals
Satin
Full sized pans (1.8 grams each)
Cruelty Free
Infused with Jojoba Oil
Vegan
 Ingredients:
Made in PRC- Mica,  Mineral Talc,  Jojoba Oil,  Kaolin Clay,  Magnesium Stearate,  Phenyl Trimethicone, Tridecyl Trime-llitate, Phenoxyethanol. May contain: Mica and Titanium Dioxide (Ci 77891),Iron Oxides,  Chromium Hydroxide Green  (Ci 77288) ,  Chromium-Oxide Greens  (Ci 77288),  Manganese,Violet-(Ci 77742), Ultramarines (Ci 77007), Ferric Ferrocyanide (Ci 77510),FD&C Red 40 Al Lake (Ci 16035), FD&C Yellow 5 Al Lake (Ci 19140), FD&C Blue 1 Al Lake(Ci 42090).
The Packaging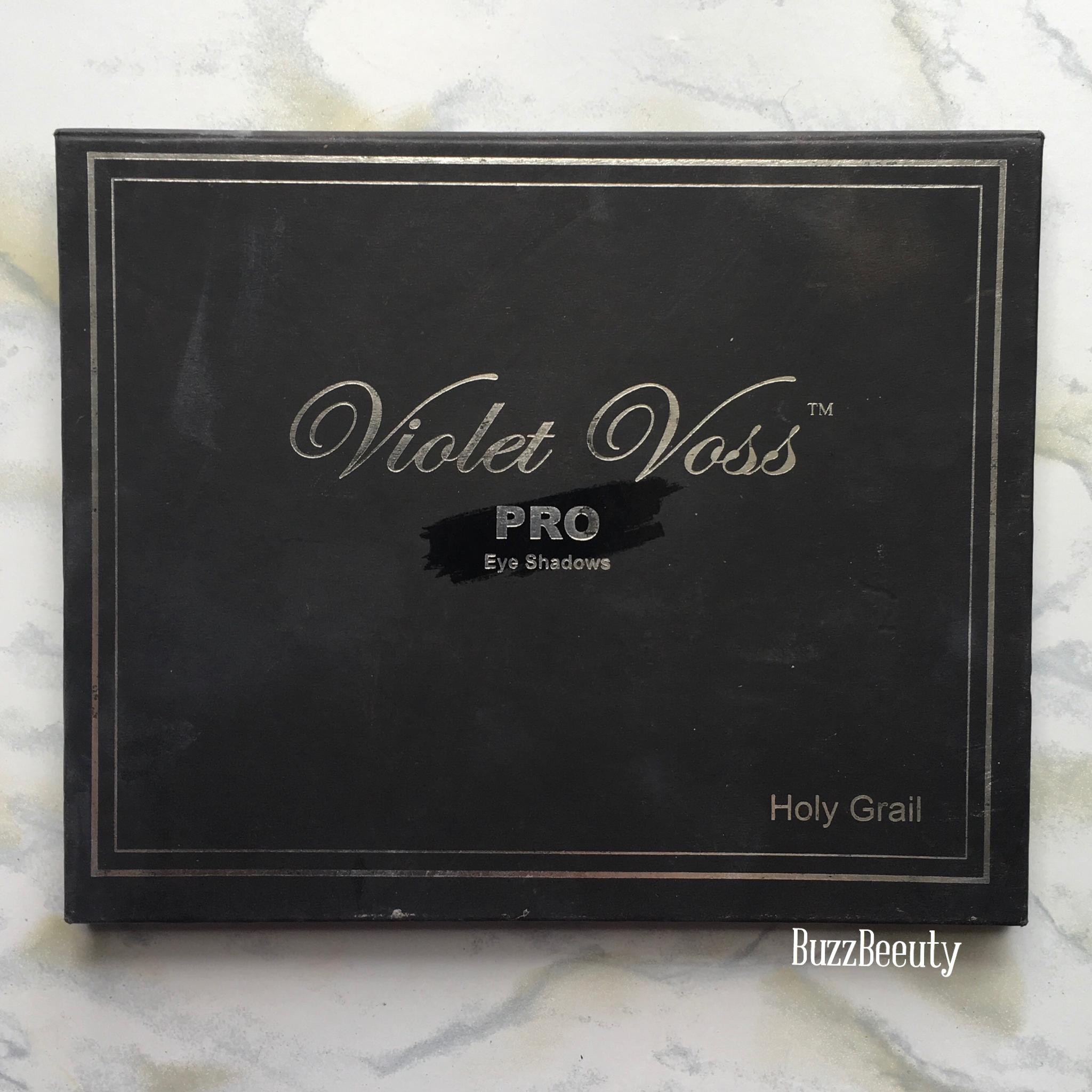 Since the original release, they've updated their packaging. My palette is housed in cardboard packaging with an almost velvet texture. Every speckle of dust clings to the cover which drives me a bit crazy, but I'll live. I think for it being over a year old it's still in pretty good condition, so I can't complain about the packaging. I wish I had the new shiny holographic palette, so I hope to someday pan this palette and grab up the new version.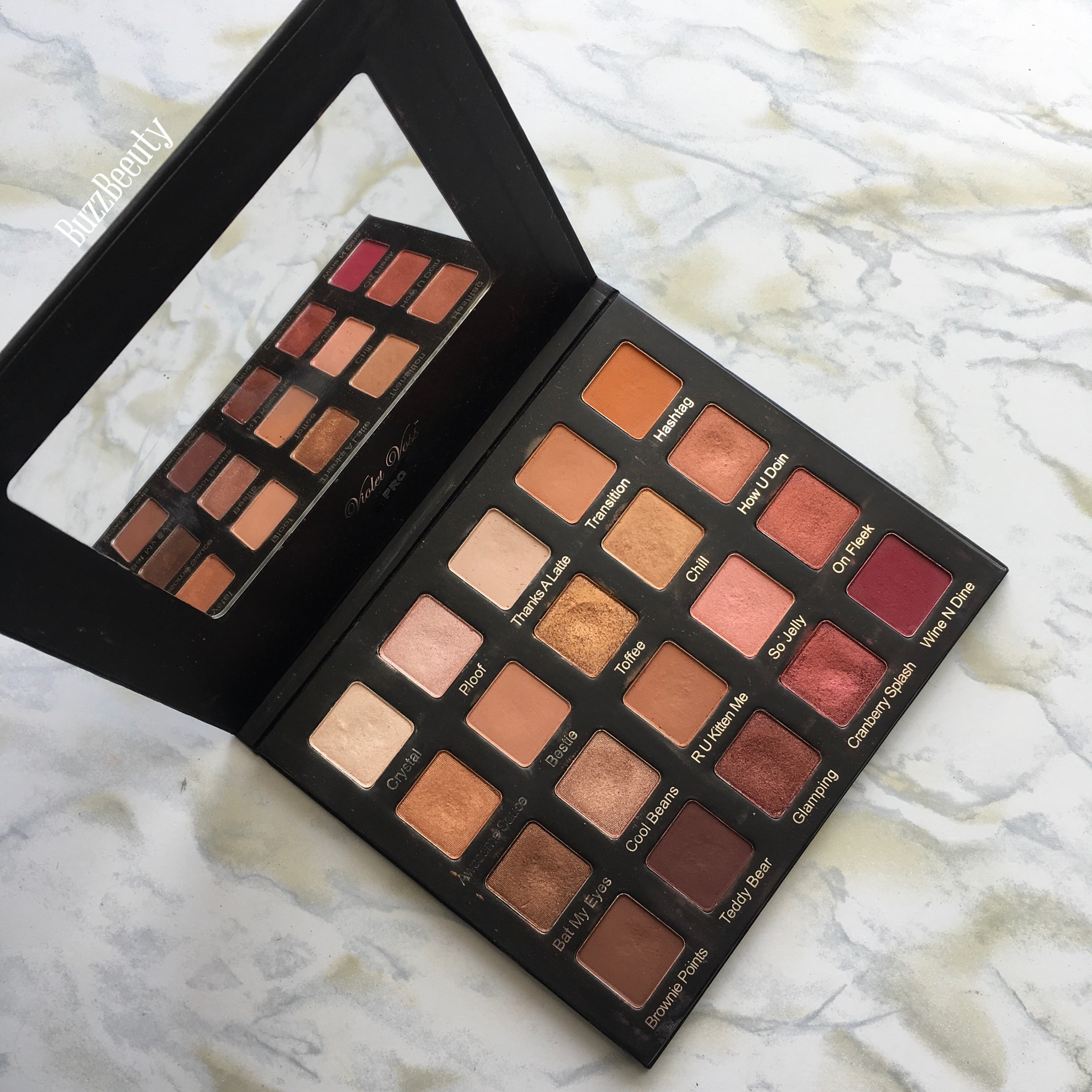 It has a nice size mirror on the inside. The names are written directly on the palette. It has a magnetic closure. I haven't had any issues traveling with it. Overall, not the cutest or most luxurious packaging, but for a small indie brand and 20 shadows for $45, I have no complaints.
The Colors
Crystal – a satin shimmer white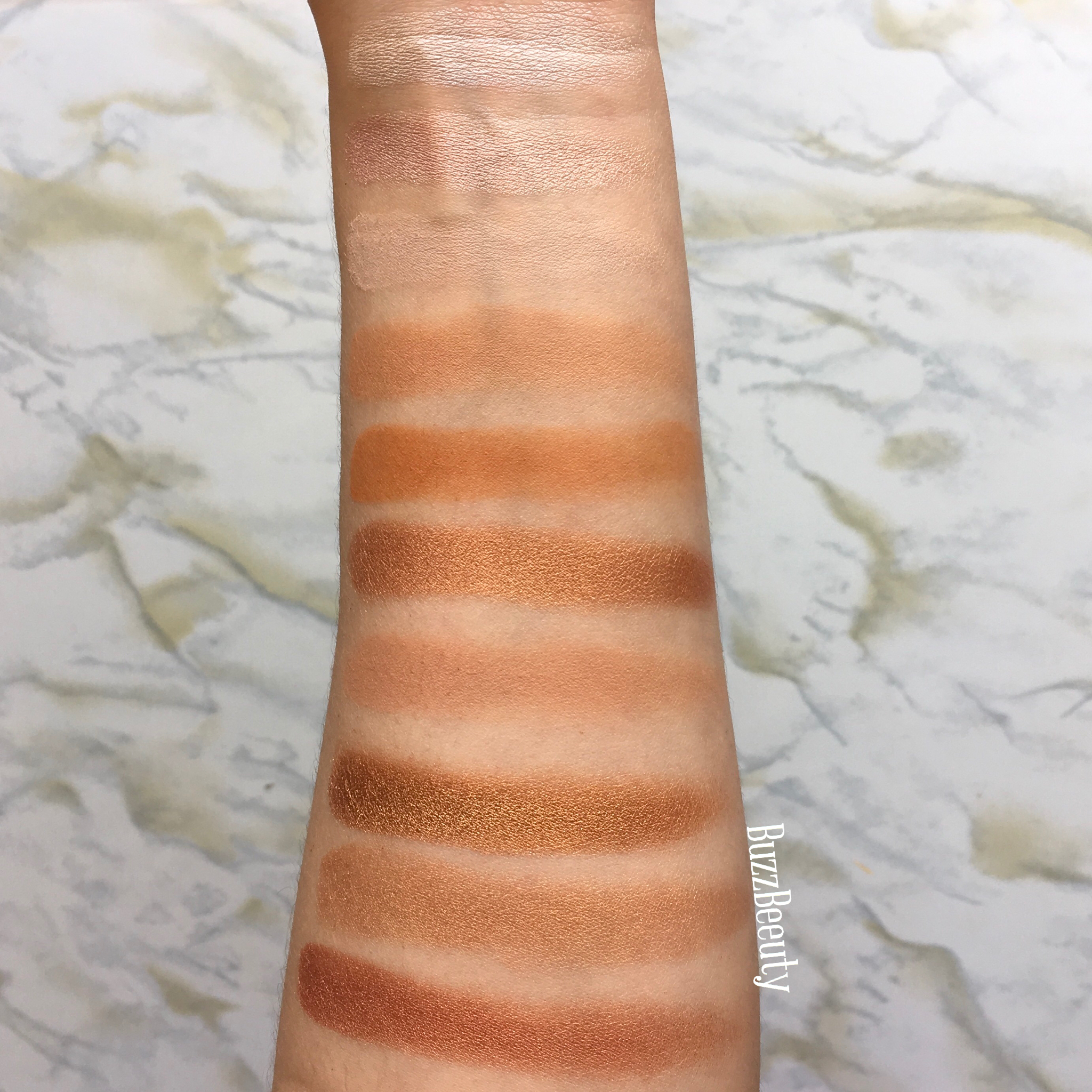 Ploof – a satin
shimmery light pink
Thanks A Latte – a matte off white
Transition – a warm light brown matte
Hashtag – matte orange
Awesome Sauce – metallic bronzy gold
Bestie – soft matte brown (cooler version of Transition)
Toffee – intense metallic gold
Chill – shimmery light bronzey gold
How U Doin – shimmery rose gold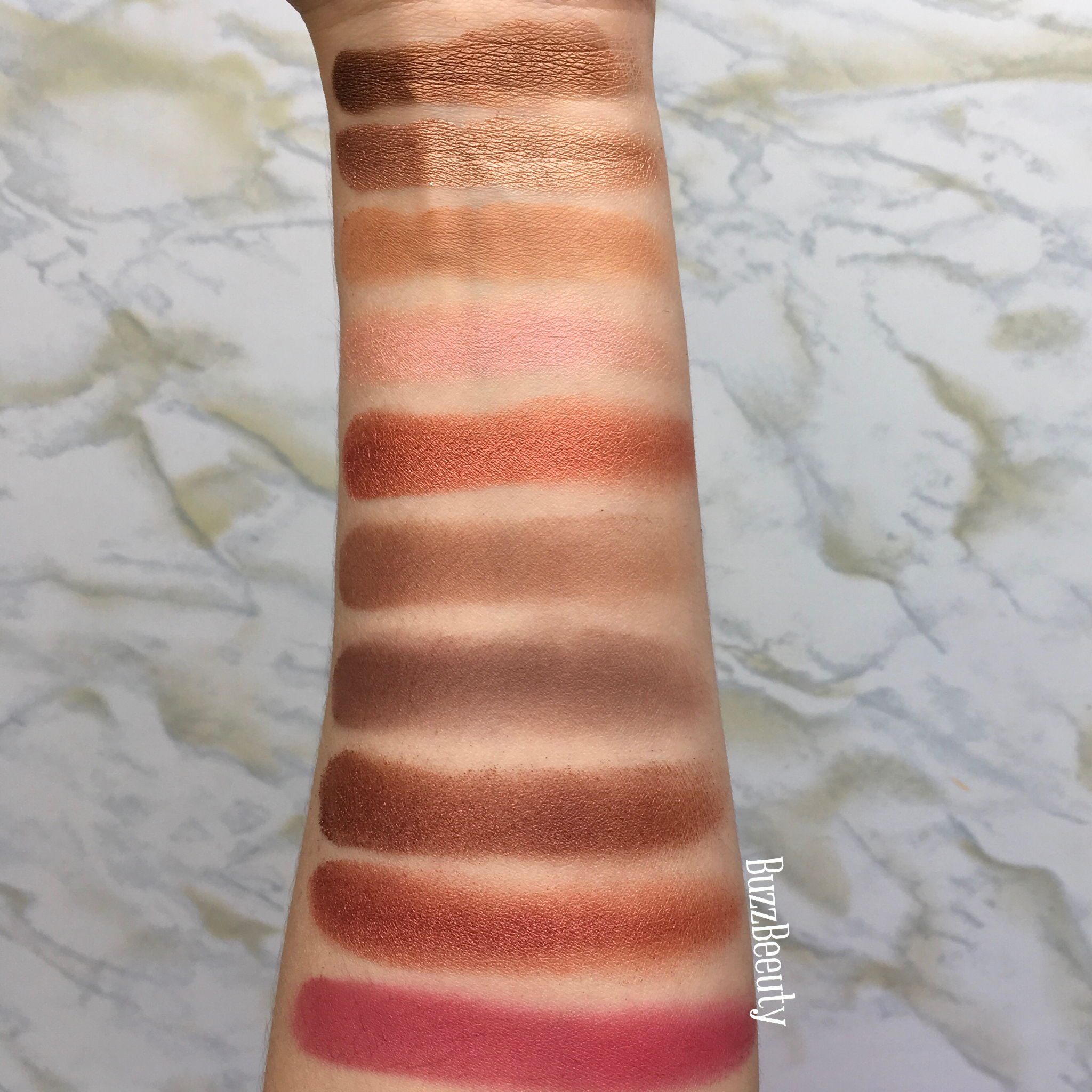 Bat My Eye – dark metallic brown
Cool Beans – metallic cool toned brown
R U Kitten Me – mid toned brown shade
So Jelly – Iridescent pink
On Fleek – light metallic burgundy
Brownie Points – deep chocolate brown
Teddy Bear – dark brown with purple undertones
Glamping – dark shimmery burgundy
Cranberry Splash – bright metallic cranberry
Wine N Dine – bright  matte burgundy
There really isn't any color in this palette that underperforms. I do wish So Jelly was a bit more pigmented, but I like that I can build it up. My absolute favorite is Toffee. All the mattes blend beautifully, and all the shimmers and metallics apply well.
I created 4 eye looks this week to show you how each shadow applies and to give you some inspiration on how to pair them. Please keep in mind I'm not a makeup artist. I also apologize for my overgrown eyebrows.
Eye look #1 – Warm Gold Glam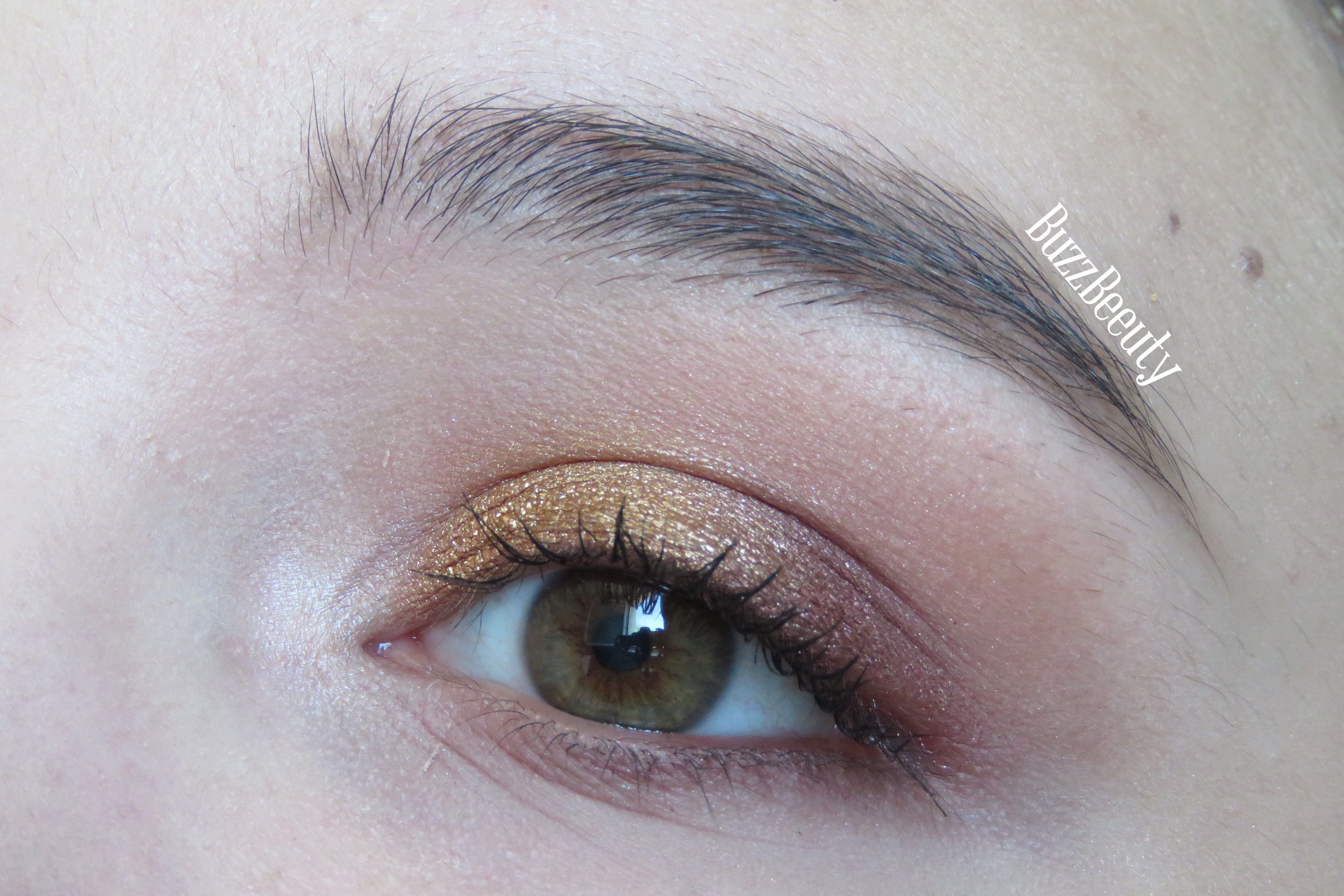 Bestie as transition/crease, Glamping on outer corner, Toffee on the lid, Crystal on the inner corner, Brownie Points on bottom lash line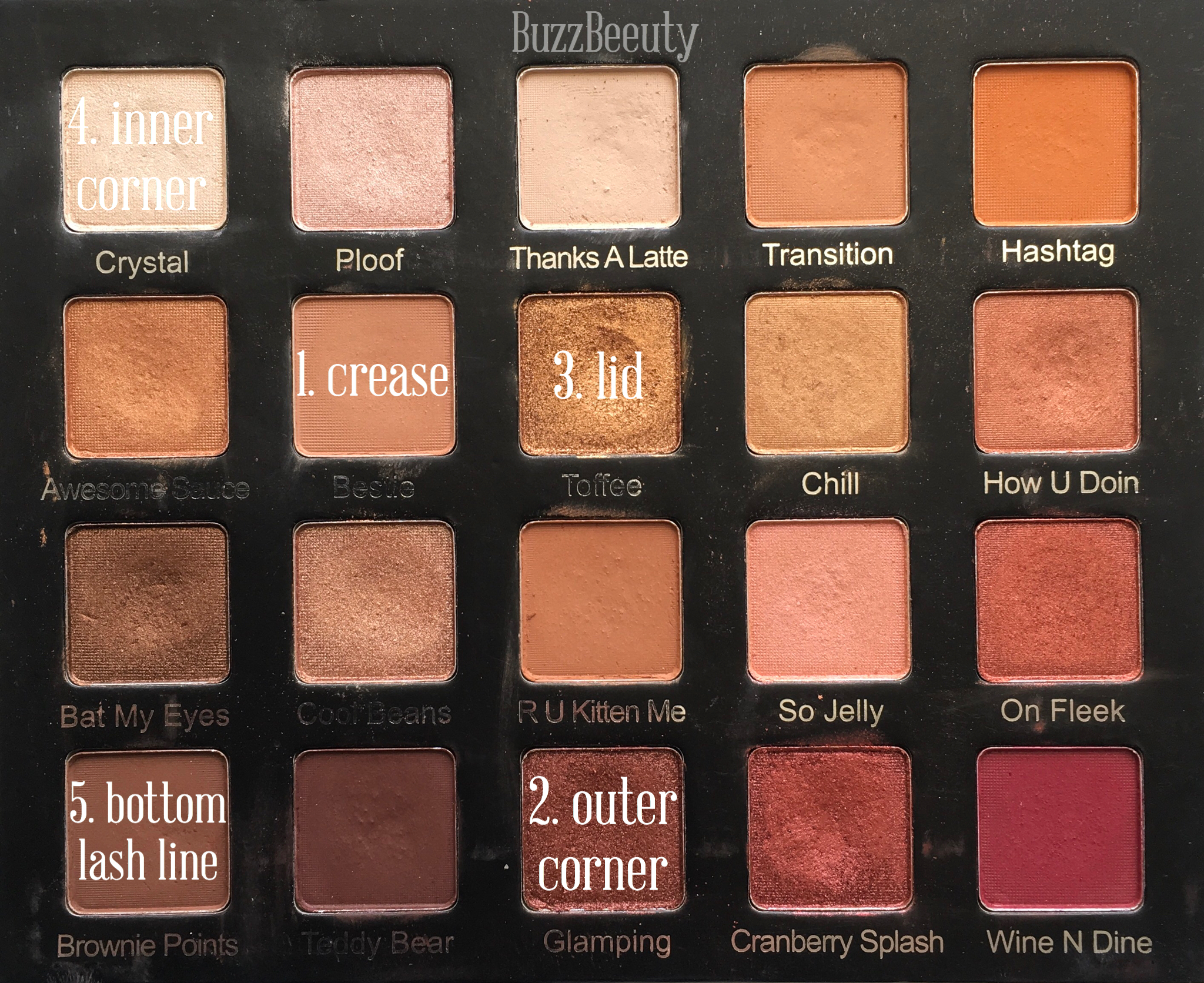 This is probably my favorite eye look. I love how the gold pairs with the burgundy. I think with a wing and some false eyelashes this could be such a beautiful glam look. As I said before, Toffee is my favorite shade in this palette. Every color I used here performed perfectly, though I did find that I got the best color pay off when patting the colors on with a finger. This is pretty normal for shimmery and metallic shades. This look held up for a good 9 hours with no creasing or fading.
Eye Look #2 – Simple Cool Toned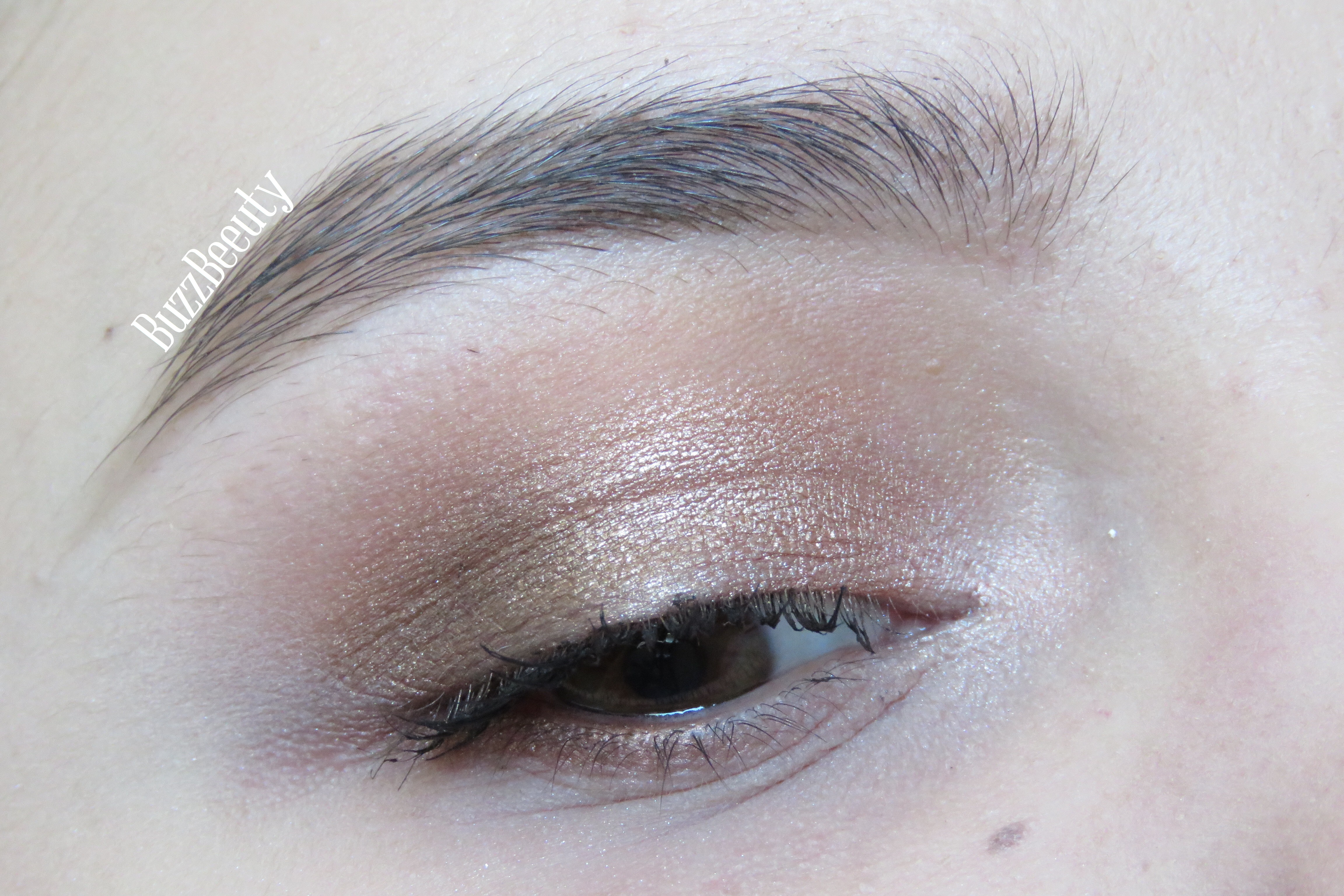 R U Kitten Me as transition/crease, Bat My Eyes on outer corner and lower lash line, Cool Beans on the lid, Ploof on the inner corner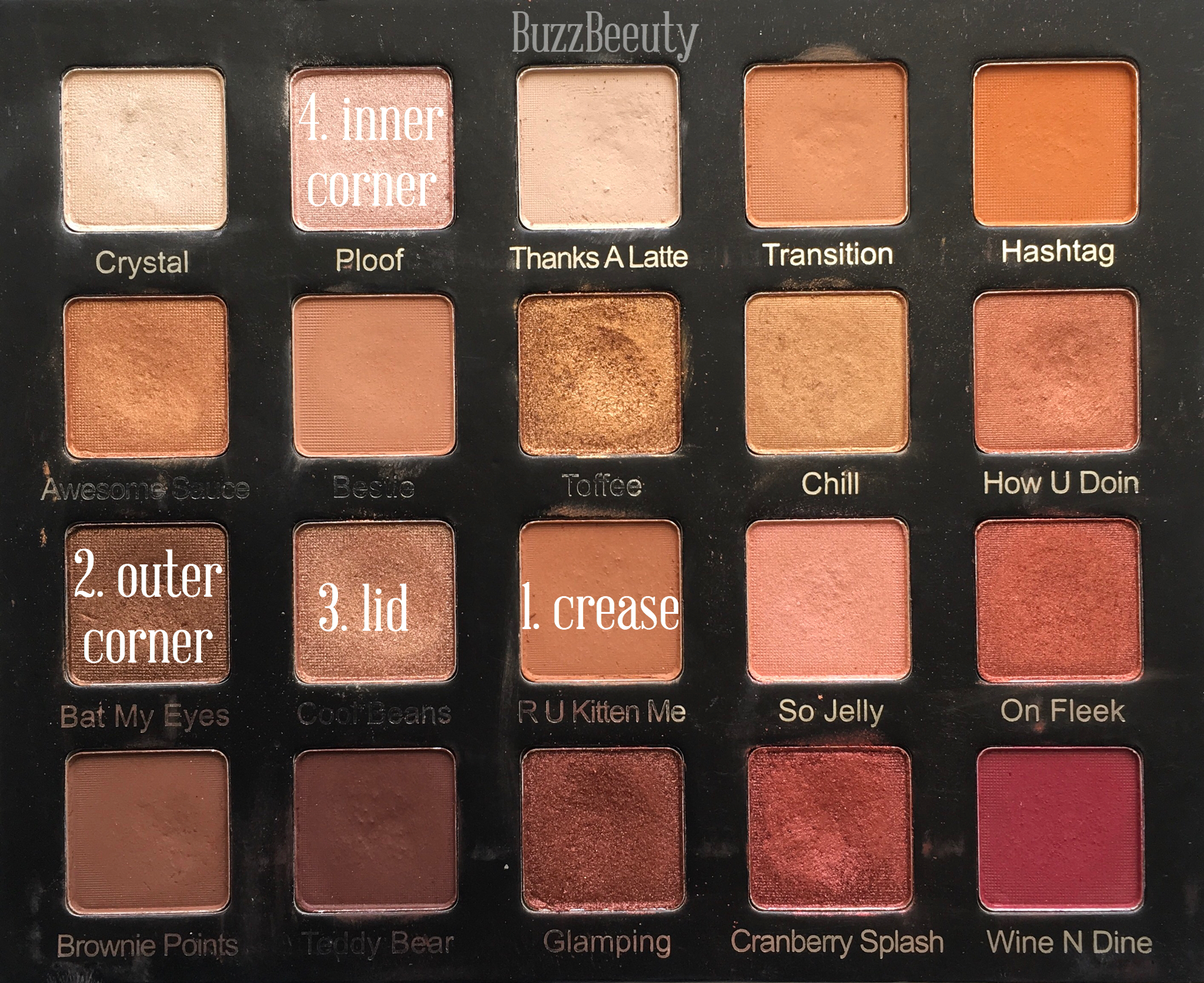 While the palette is very warm toned, I was able to create a more cool toned look. This look is more subtle, and could definitely be an everyday, work appropriate eye. Everything wore well for 9 hours with no creasing or fading.
Eye Look #3 – Cranberry Smokey Eye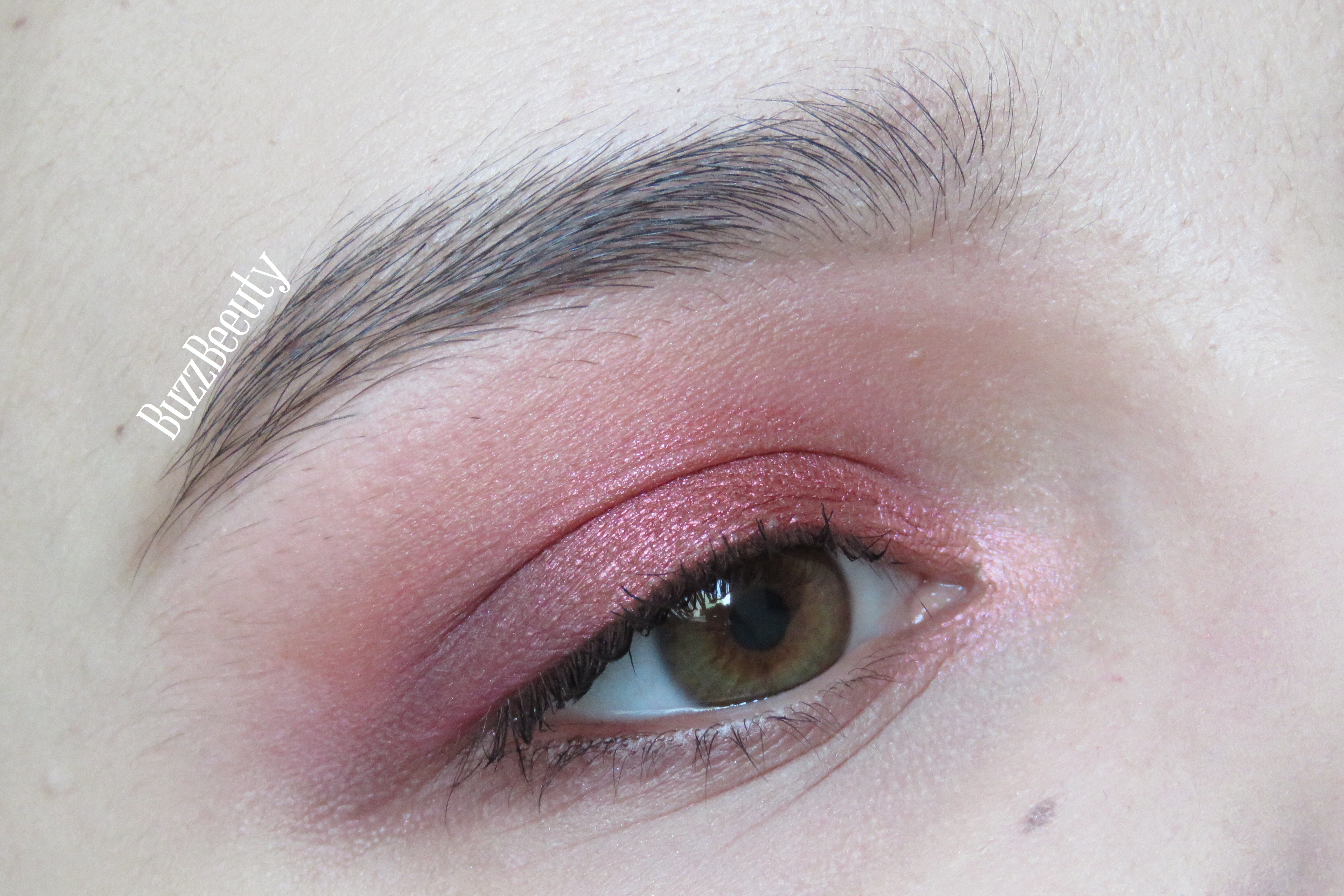 R U Kitten Me as a transition, Wine N Dine in the crease, Teddy Bear in the outer corner and lower lash line, Cranberry Splash on the lid, So Jelly in the inner corner, Thanks A Latte on the brow bone.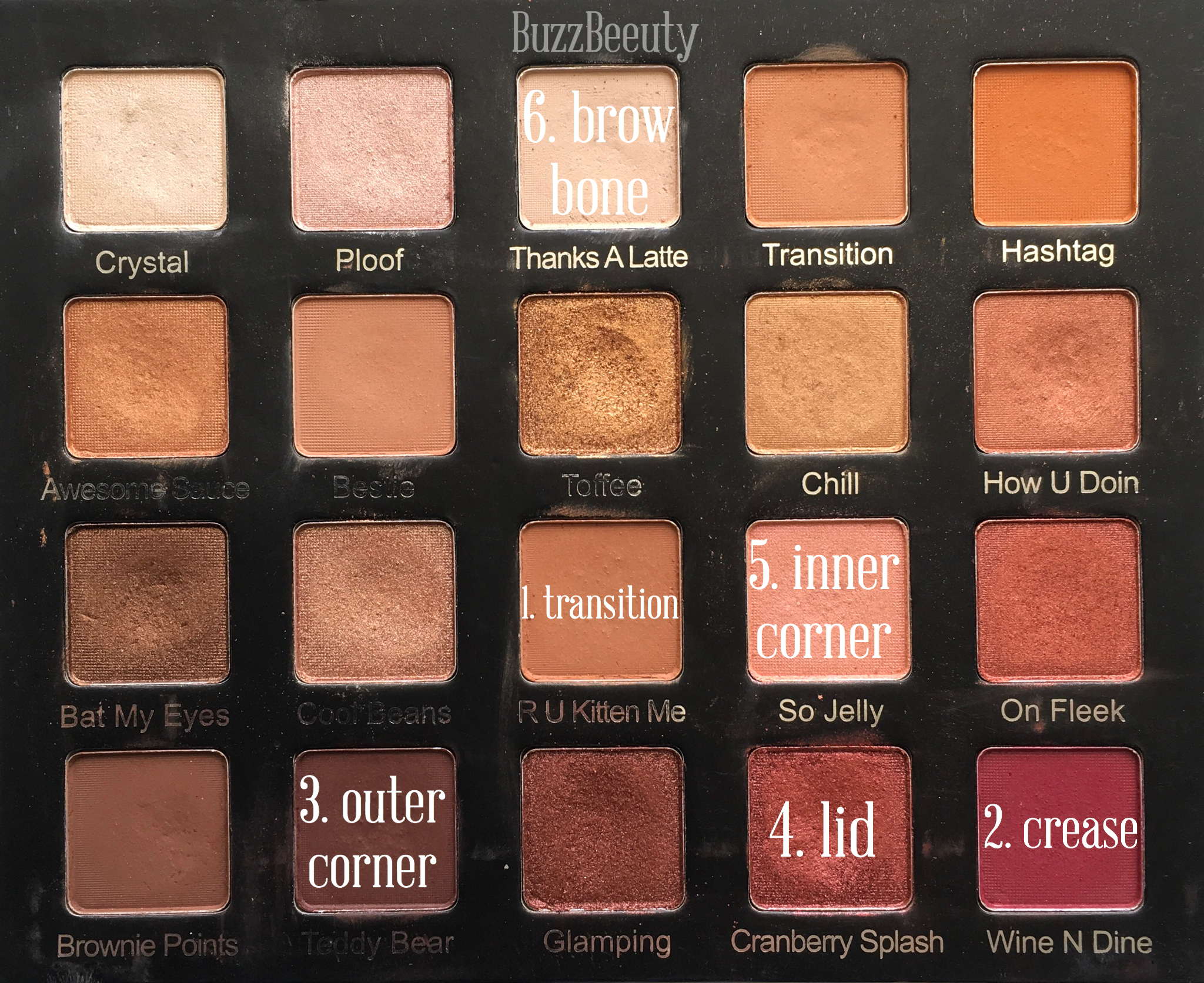 I liked this look, even though it did make me look a little sick. I'd recommend a wing or black eyeliner with it. Wine N Dine blended out beautifully, but it's so pigmented that it did take a little bit of work. Cranberry Splash should be patted on with a finger for maximum color pay off, as it didn't pick up as great on my brush.I really like how So Jelly looks with these red tones. It gives it a bit more dimension. I think I could have deepened the outer corner a bit more, but lesson learned. I had no fading or creasing after 9 hours.
Eye Look #4 – Bronzey Gold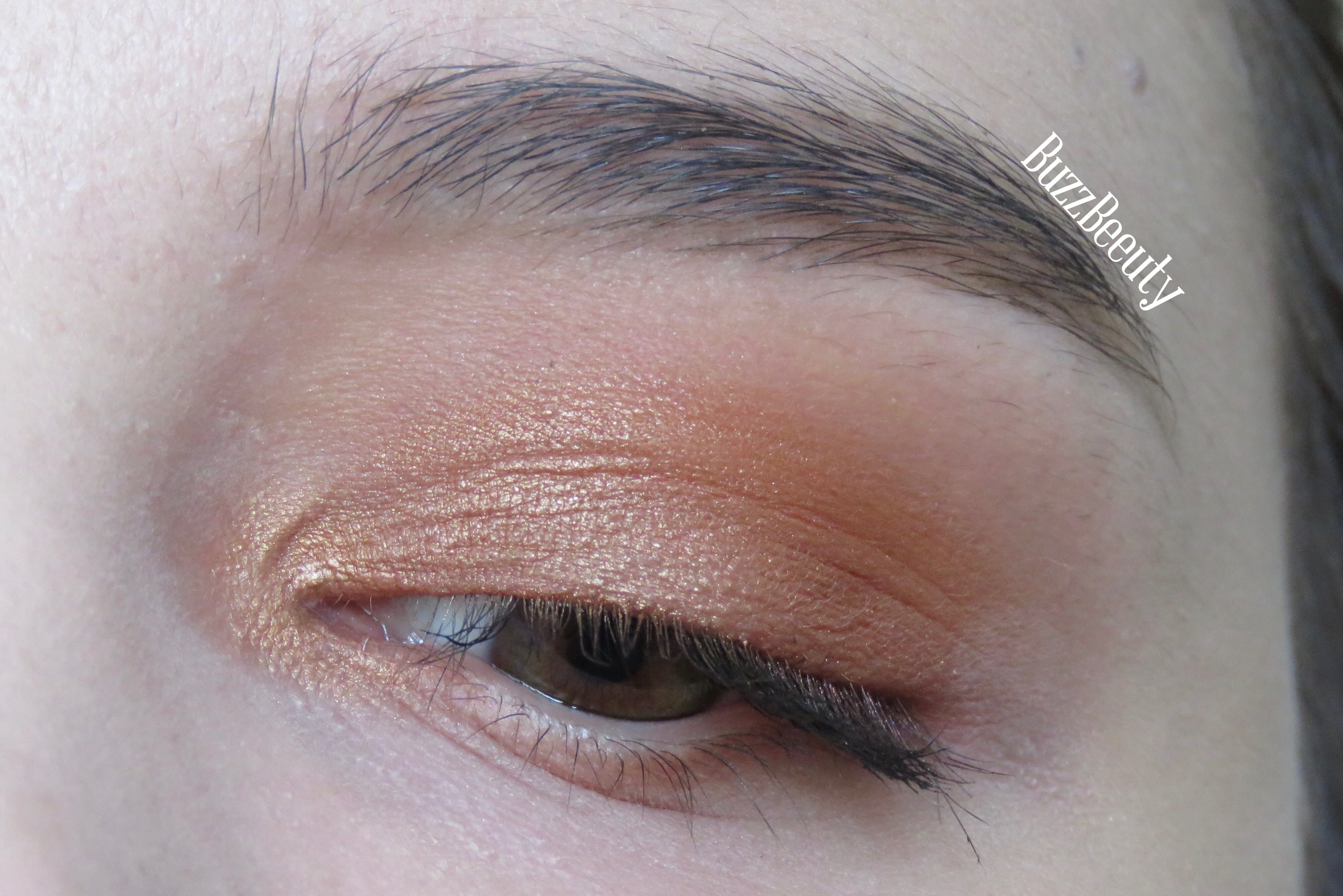 Transition as a transition, hashtag in the crease, Brownie Points on the outer corner and lower lash line, How U Doin on the outer corner, Awesome Sauce on the lid, Chill in the inner corner.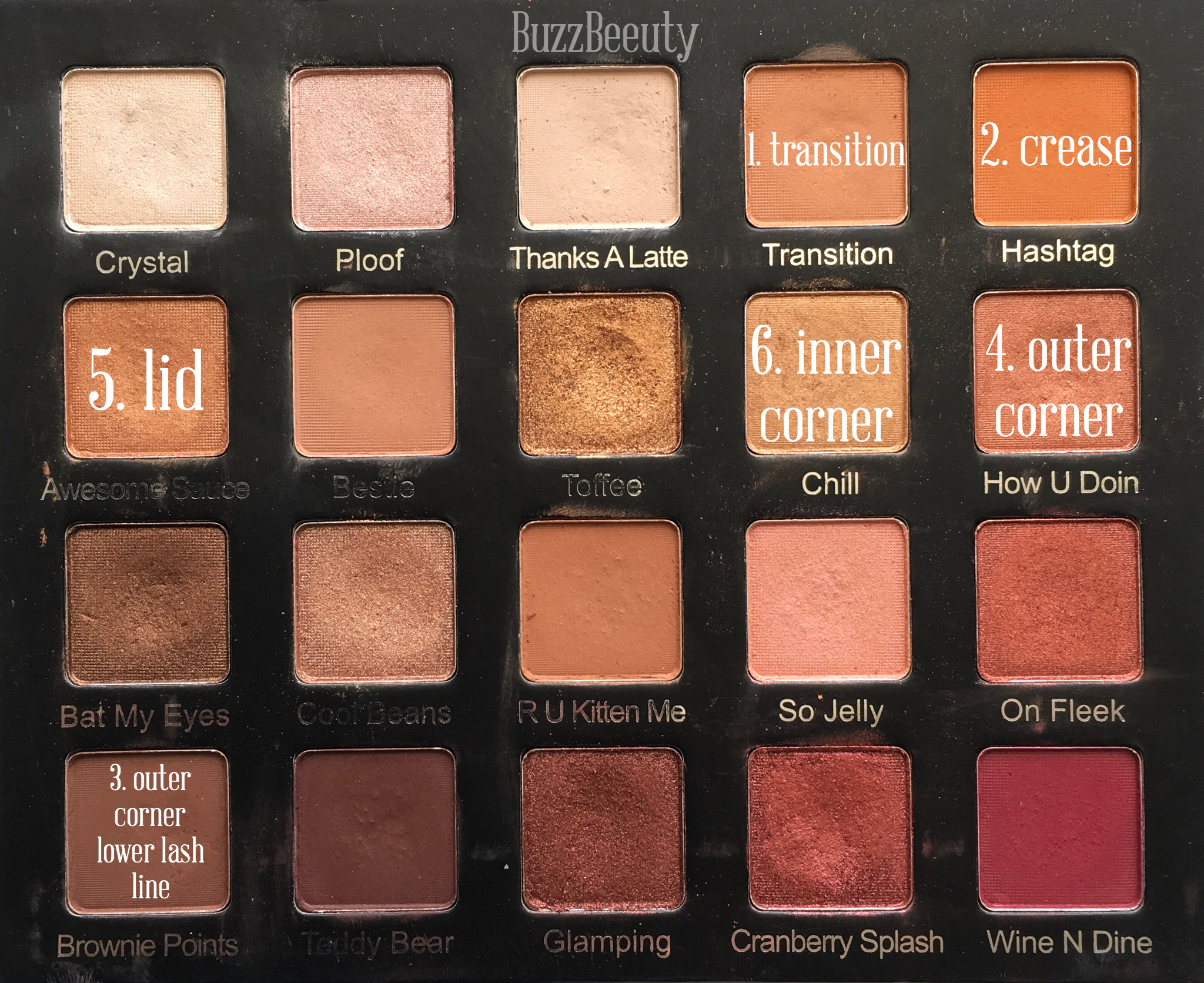 Probably my least favorite look of the four. These colors, while still beautiful, just didn't pack as much of a punch in my opinion. I wanted them to be a bit more metallic/foiled looking. But that doesn't mean I think these are bad shadows. My least favorite is probably How U Doin, as the color wasn't as bold. (Can we just talk about the Friends reference though?!?!) Hashtag impressed me. It blended just as beautifully as Wine N Dine. I think next time I'd pair the three shimmery shades with different shadows and not all together since they look the same on the eyes.
Review
I'm kicking myself for not using the Violet Voss Holy Grail palette more! I guess this is the reason I started this series anyways, to rediscover old loves. I'm not the biggest warm eyeshadow fan, but using this palette again has really made me appreciate them more.
Every shade in this palette is beautiful, and the formula is amazing. The mattes are pigmented, smooth, and blendable. The shimmers and metallics are intense, easy to apply and buildable. There's not a color in this palette that I don't enjoy using.
The shade selection is great. I love how many transitions shades there are. The matte bone color is so useful to me, and you have a choice of inner corner highlight colors. I know many people need a matte black in their palette and it's lacking one, but I personally never use them and think that Brownie Points is dark enough for me. Every color serves its purpose beautifully.
The market is definitely saturated with its fair share of warm palettes, so why this one? Well for one, you're supporting an indie brand. The price isn't that much cheaper than say, an Urban Decay or Too Faced palette, but you get more eyeshadow shades in here. It's about double the price of the Morphe 35O palette, but let's be honest, you're paying for better quality shadows even if there are not as many colors to choose from. Overall, I think for the price, the quality, and the brand, you get more than you pay for with this palette.
So, do you need the Violet Voss Holy Grail palette? I don't think anyone ever needs anything, but it serves its purpose in my collection. If you LOVE warm tones and wear them every day, don't have anything like it, or think this could supplement your collection, I say go for it! Both beginners and makeup artists alike can easily enjoy and use these shadows. There are affiliate coupon codes floating around the internet if you'd like to save some money.