I am probably the worst person when it comes to anything hair related. No, really. I can't even braid. Up until the beginning of the year, I didn't even realize that I shouldn't be washing my hair every single day! Since changing this small little detail, I have learned to love the hair I've been given, and it's so much easier to manage! Today I'm going to be giving you tips I wish I knew earlier on how to wash your hair less as well as the best dry shampoo for your hair type!
Just a disclaimer before we begin. Everyone's hair is different, and what works for me may not work for you. This is all my own personal experiences from a lot of trial and error. I am in no way saying this will work for you, but it might! For reference, I have a very dry sensitive scalp, oily routes, and dry ends. My hair is very very thin and breaks easily!
Stop Washing Your Hair As Often
I always get asked by friends and family how I can get away with not washing my hair every day. I didn't think it would be possible for me to skip washes, but here I am sporting day four hair! The secret is to train your hair. By this, I mean washing every 2-3 days to start and let your natural oils adjust to the change. The point of this is to allow your body to regulate the amount of oils it produces. When you wash every day, your body makes up for it by replenishing the oils more quickly.
The first month was hard. I felt like a greaseball. I was oily and miserable and wore my hair up often to hide my shame. But I can honestly tell you it was so worth it. After those four weeks, my hair felt so much healthier. It was shiny in all the right places, it wasn't heavy from product build-up, and my shower times were cut in half. I actually prefer the way my second and third day hair feels and looks now. I have very thin hair, and having a little extra oil makes it much easier to style my hair.
Now, this didn't solve all my hair issues (as I'll talk about in another post), but it was a great place to start. I can now go a good 4-5 days between washes. Keep in mind though that I work from home and don't have to look decent 90% of the time, ha. But I'm comfortable letting it go a few days between washes. Somedays I'm feeling a little greasy but if I can throw it up in a bun or ponytail and use some dry shampoo, I'll go an extra day.
Best Dry Shampoo
Speaking of dry shampoo, I'm obsessed. If you're not going to be washing your hair every day, you should really have some in your arsenal.
This tool absorbs excess oils in your hair, giving your hair a volume boost and leaving it smelling extra fresh between washes. Currently, there are two types available: Aerosol and Powder, which are a little different in their own ways. Powders might be a preferred option for people with thin hair who are looking for more texture while Aerosols might be a better fit for thick hair. But even so, there are so many on the market and hard to pick which one to try! Reviews.com actually tested 45 different formulas and found a few great picks that not only leave your hair feeling fresh again, but styled and ready for your day ahead. If you're looking for an extra boost to your daily lifestyle, check out what they found http://www.reviews.com/dry-shampoo/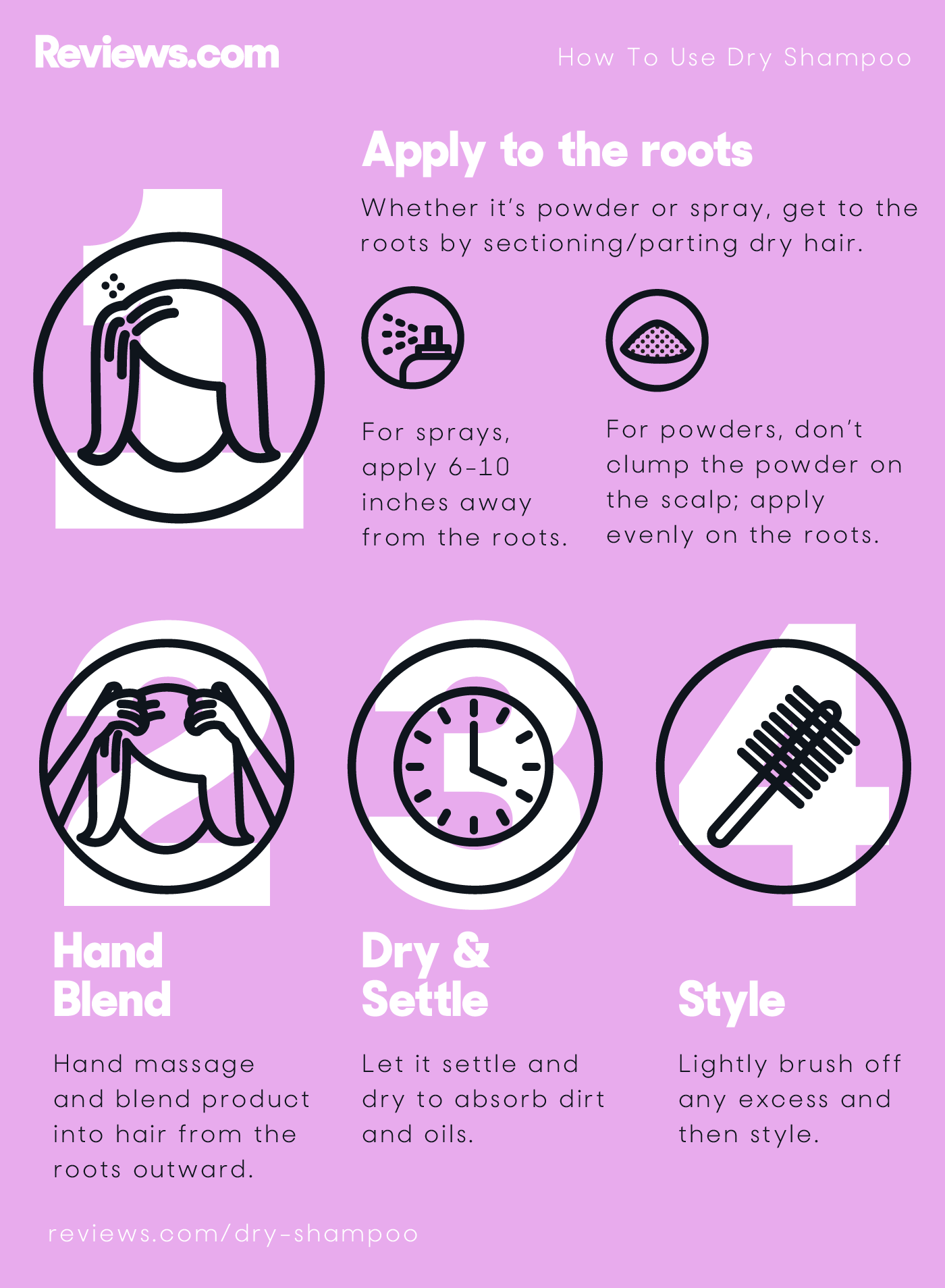 I'll admit, I haven't tried very many options. I've found what works for me and I continue to buy it. My favorite is the Batiste Hint of Color dry shampoo in Divine Dark. They have three colors, Blond, Brunette, and Dark. I have dark hair and a flaky scalp, so most dry shampoos leave a white residue in my hair that only emphasizes any dryness I have. This dry shampoo is perfect for me because it's a dark brown. It blends in with my hair color and is super easy to rub in. It also does a beautiful job sucking up any oil. Definitely apply it before you do your makeup though, as if you get it on your skin you'll need to rub the color away. It's not heavily scented, but I love the color and volume it adds to my hair. It's also very affordable! I'm on my fifth can, and I use it between days 3-5 when I need a little extra volume or oil control.
However, it's important to remember – everything in moderation! Dry shampoo can be a great solution in a cinch, but be careful not to overdo it. Spray the dry shampoo near your roots, wait for it to dry, work in with hands, then style away!
There you have it. My tips on how to stop washing your hair as often for happy, healthy hair. Just remember, it takes time to train your hair. Don't give up. It's worth it, and your scalp will thank you for it! If you have any additional tips, please leave them in the comments below!
I'll be posting my hair routine shortly, so if you're interested please sign up for email notifications so you don't miss that post!
Until next time,
Kaylee Bee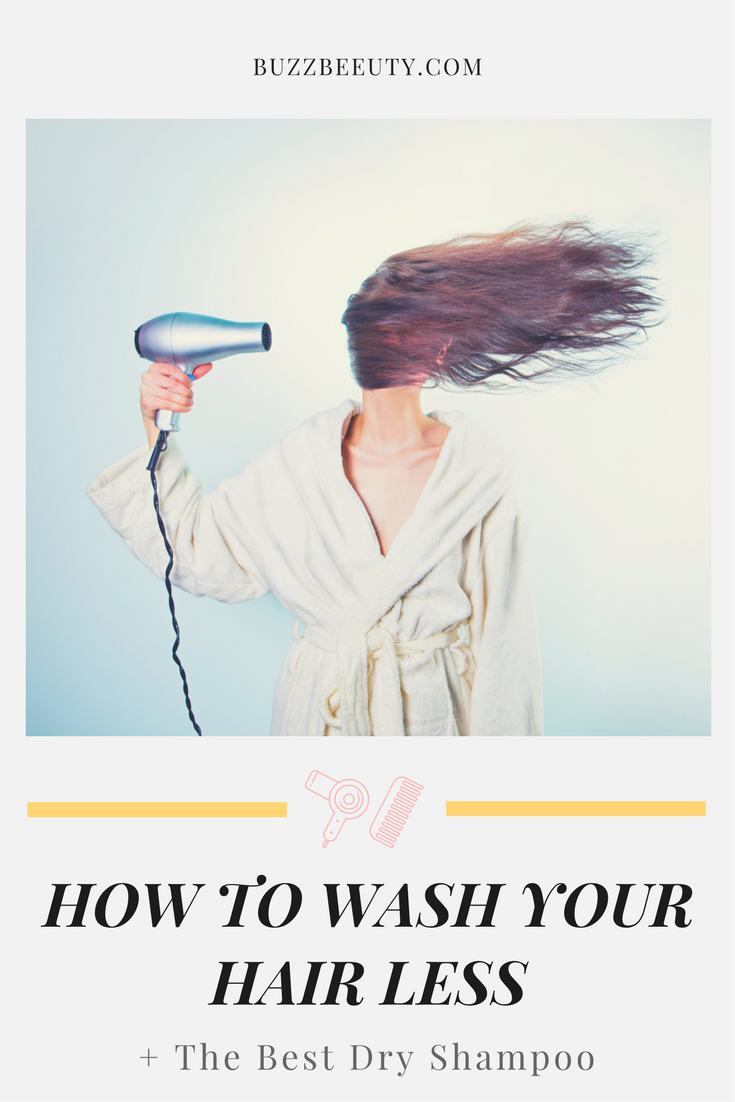 Disclaimer: this post is not sponsored! Product links are affiliate.