I'll admit, until recently I didn't own any glitter. Shocking, right? How could a glitter lover not own a single glitter?! I obviously had to change that, so I placed my first order with Dear Katie Brown Glitters. I ordered twelve pressed glitters from her shop, and today I'll be giving you my first impressions on these Dear Katie Brown pressed glitters!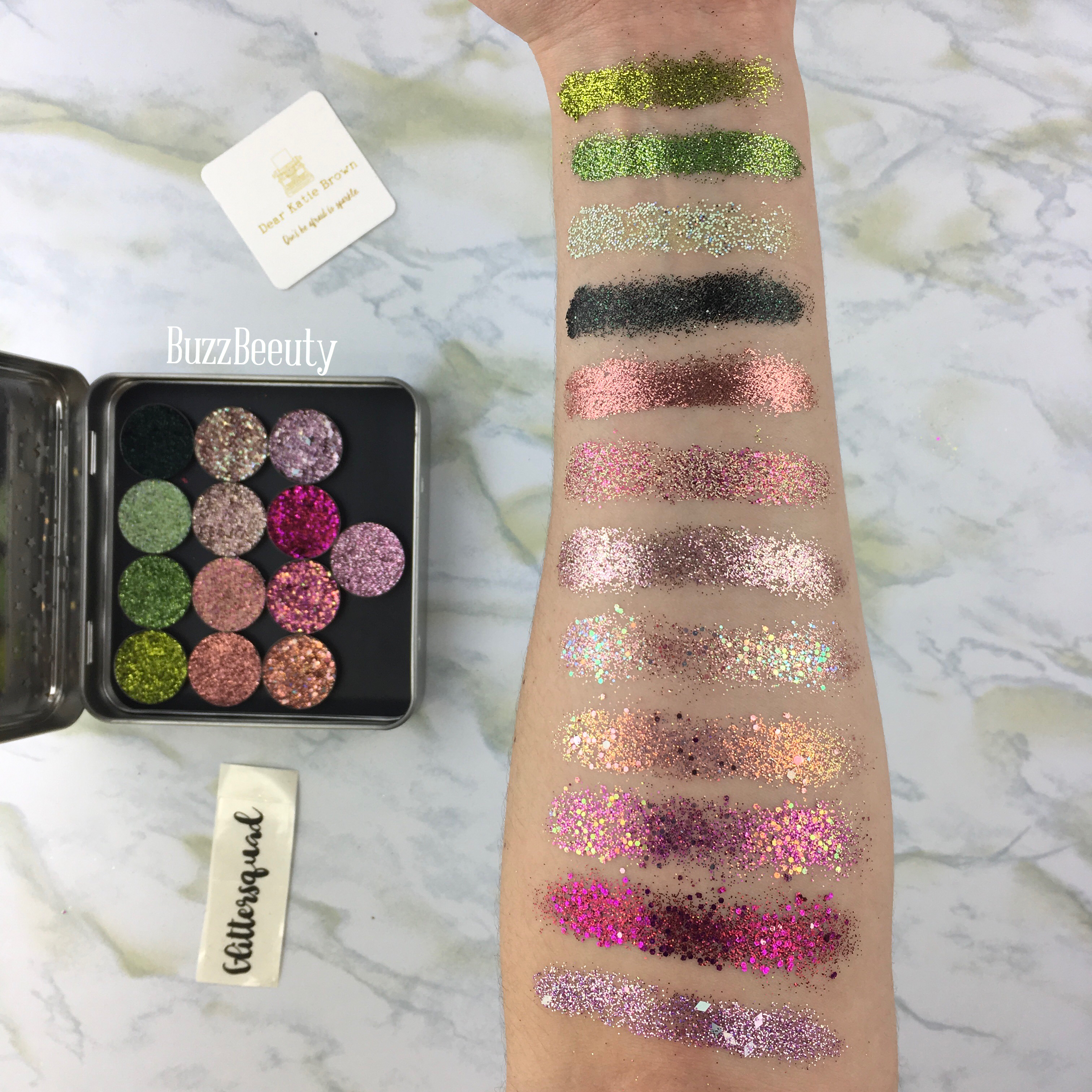 If you've been here for awhile, you might have seen my Q&A post with the owner, Katie Brown. I've been an active follower of her brand since the very beginning, and have been lucky enough to become friends with her. She's very kind and has such a beautiful soul, so I'm absolutely thrilled it's her brand that's opened the doors to glitter for me.
For my first order, I chose the Avocadglo set and the Into The Sun collection.
Avocadglo Set
Avocadglo is a set of four pressed glitters exclusive to the set. It retails for $15.
Avocadglo is a special 4 shade collection inspired by some of my favorite things: Texas and Avocados! If you love your summers hot, your margaritas frozen, your guac smooth and your garden made of succulents you'll love Avocadglo!
This was the set that caught my attention the most. Green is my favorite color, and I can't help but buy all the green eye products I find. I'll admit, the collection being based on my home state might have helped a bit in the purchasing decision as well.
Tejas is a dirty green with flecks of gold.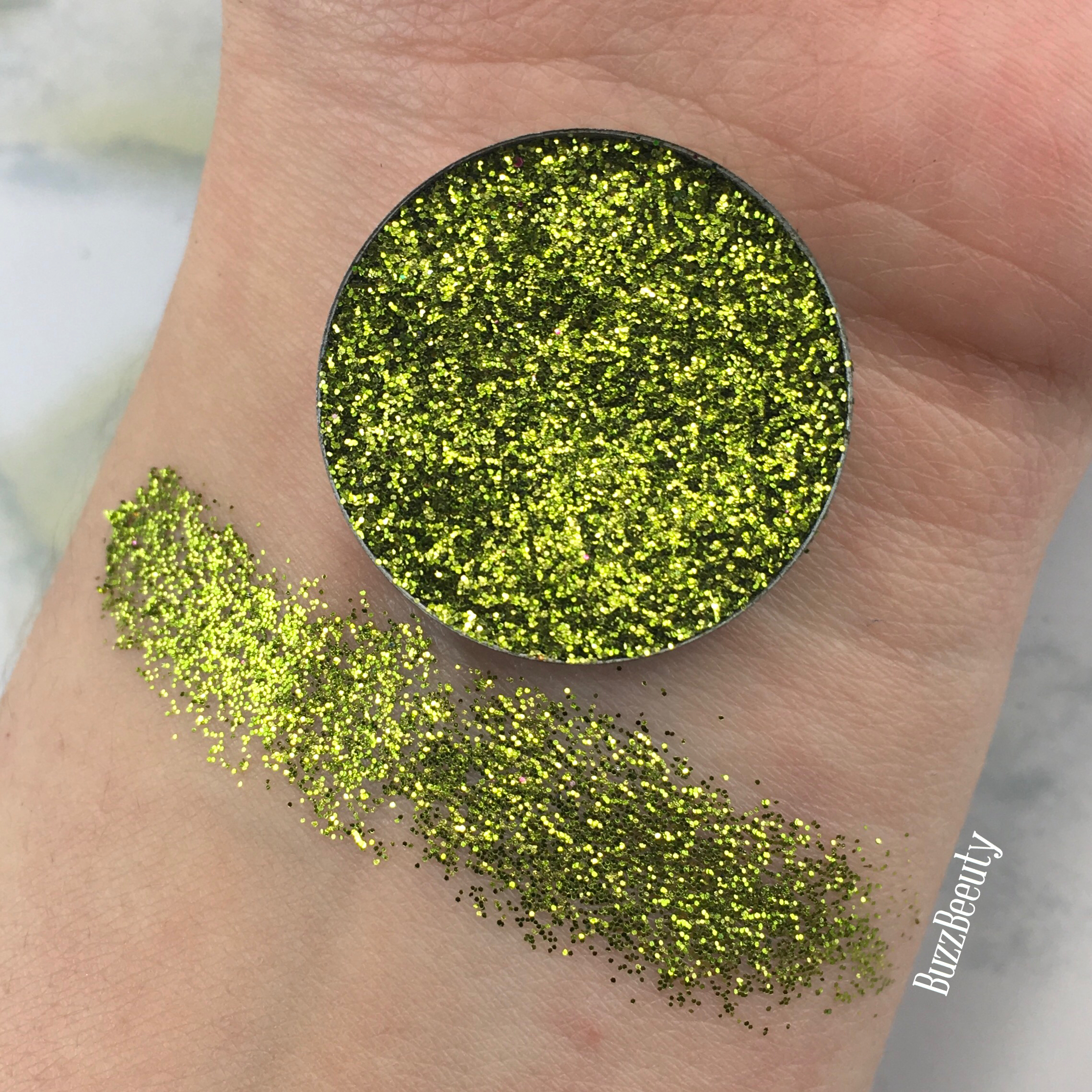 Mash Up is a true green with flecks of lime green.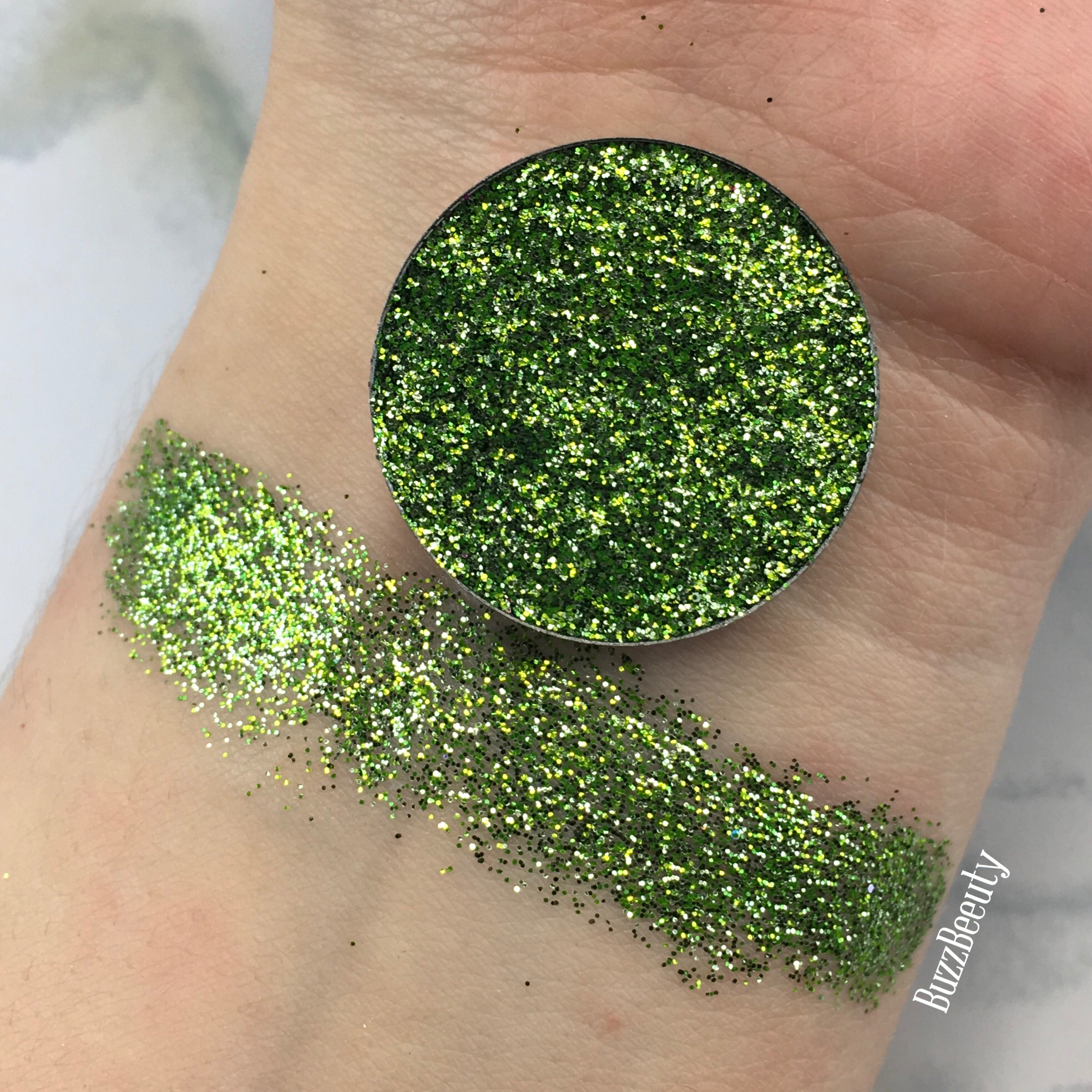 Salty is a sheer light lime green base with small holographic glitters sprinkled in.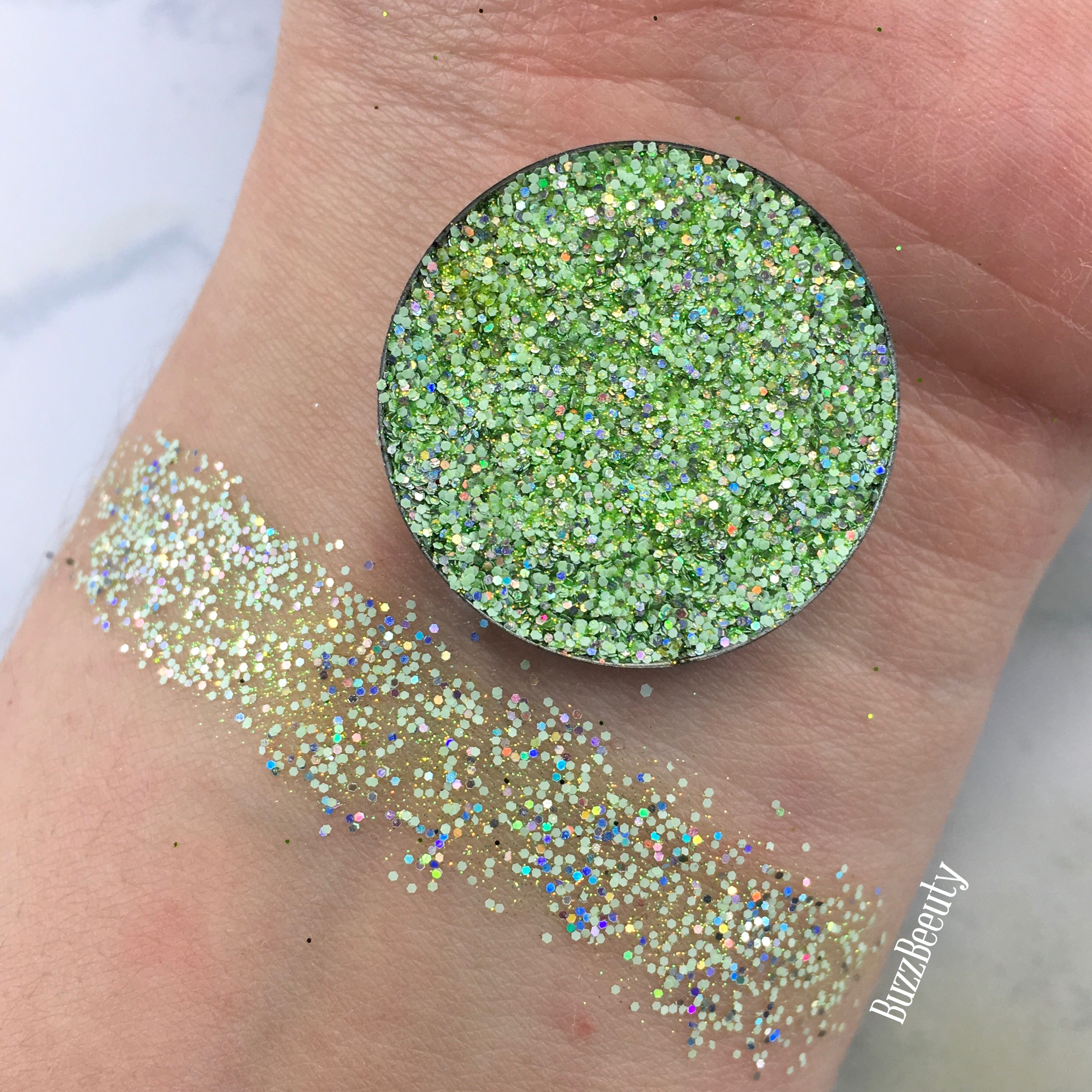 Smooth Operator is a blackened green with emerald glitters.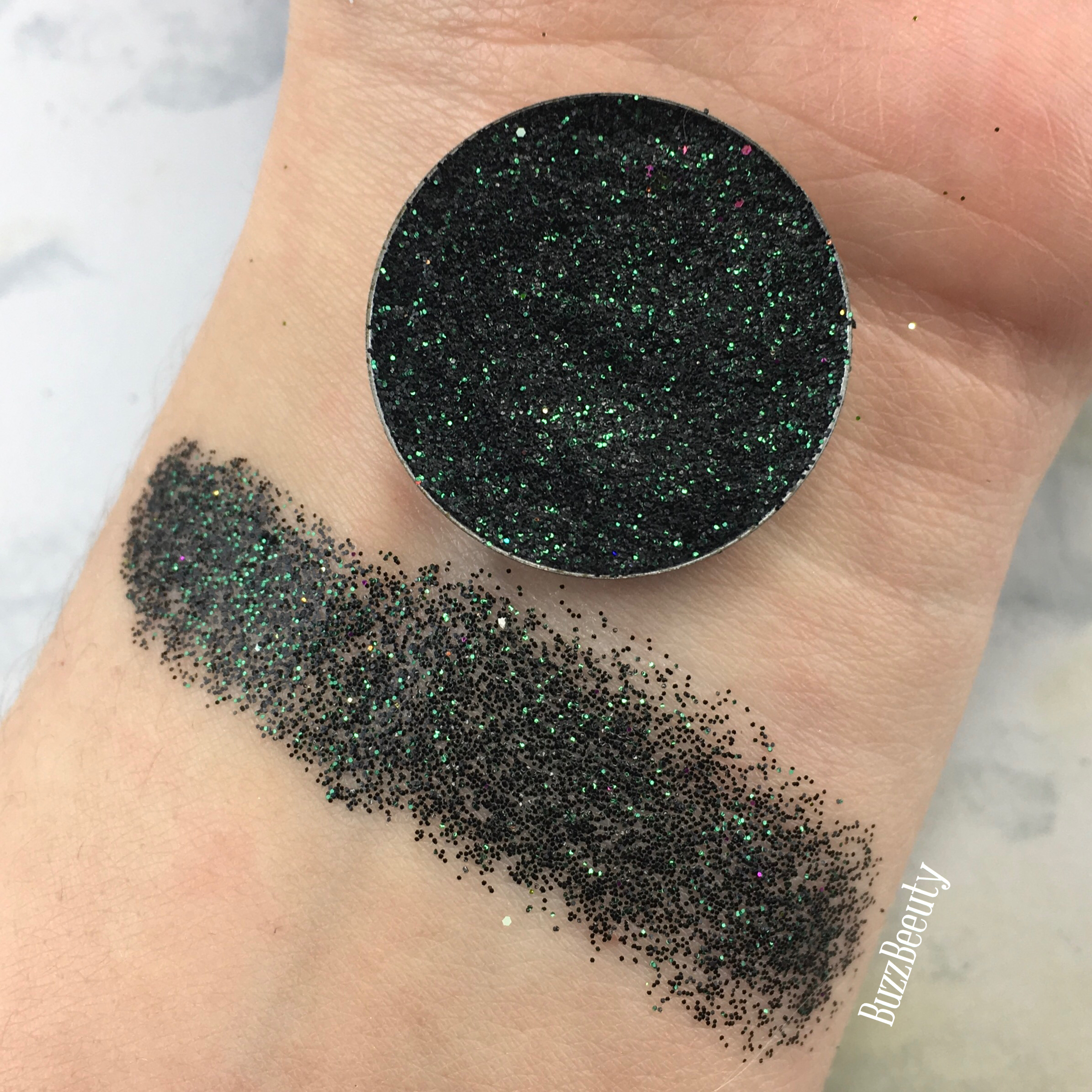 Into The Sun Collection
I also grabbed the Into The Sun collection. This contains 8 pink-toned glitters for $25. This is an amazing deal, as each individual shade retails for $7.
Into the Sun is an 8 shade collection of all of my favorite glitters that give me sunset vibes. These are the shades I use when i want to capture all of the warmth of a tropical sunset.
Leslie is a warm copper/rose gold. It's very metallic.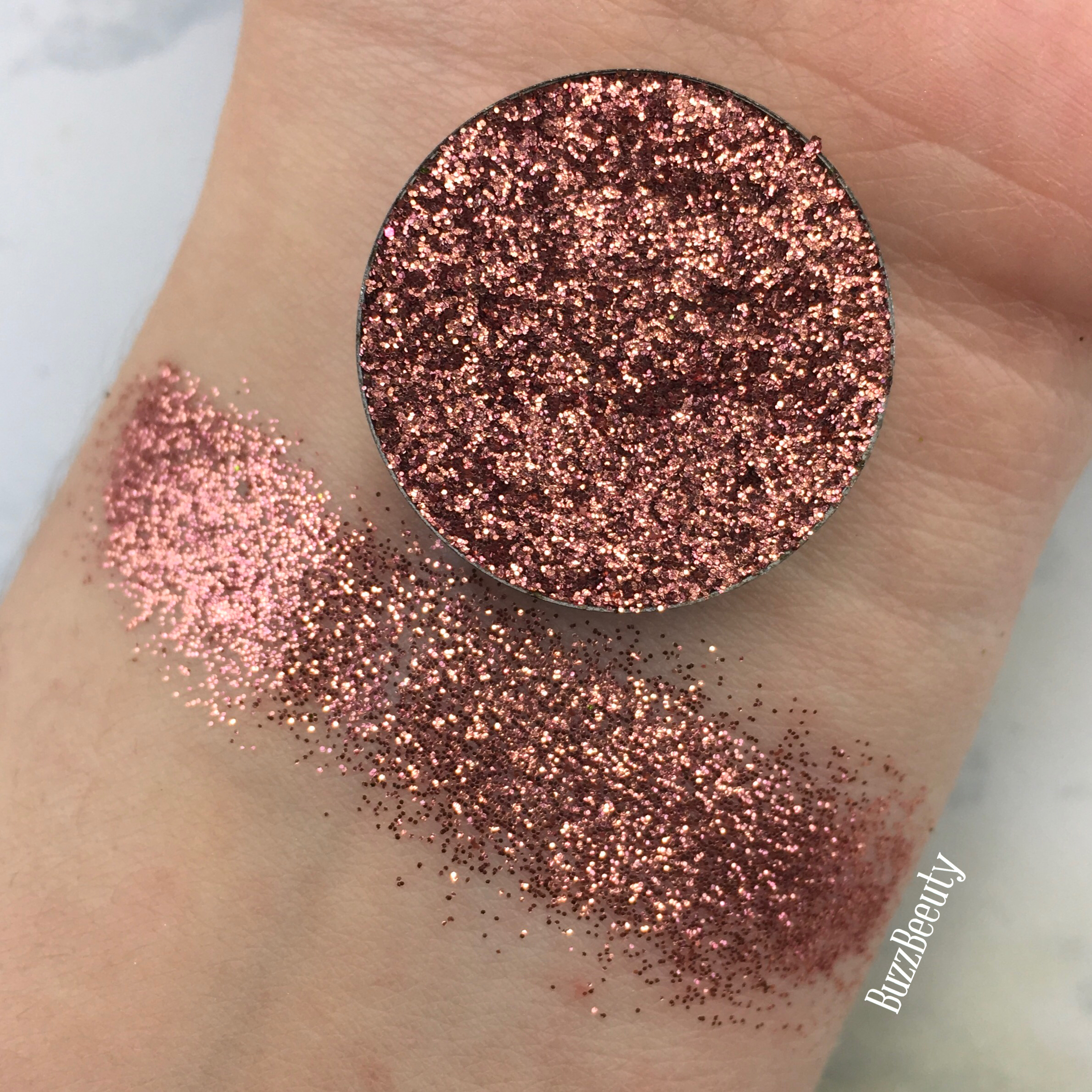 Sandi is a pink mixed with orange and yellow glitters. Very sunset-esque.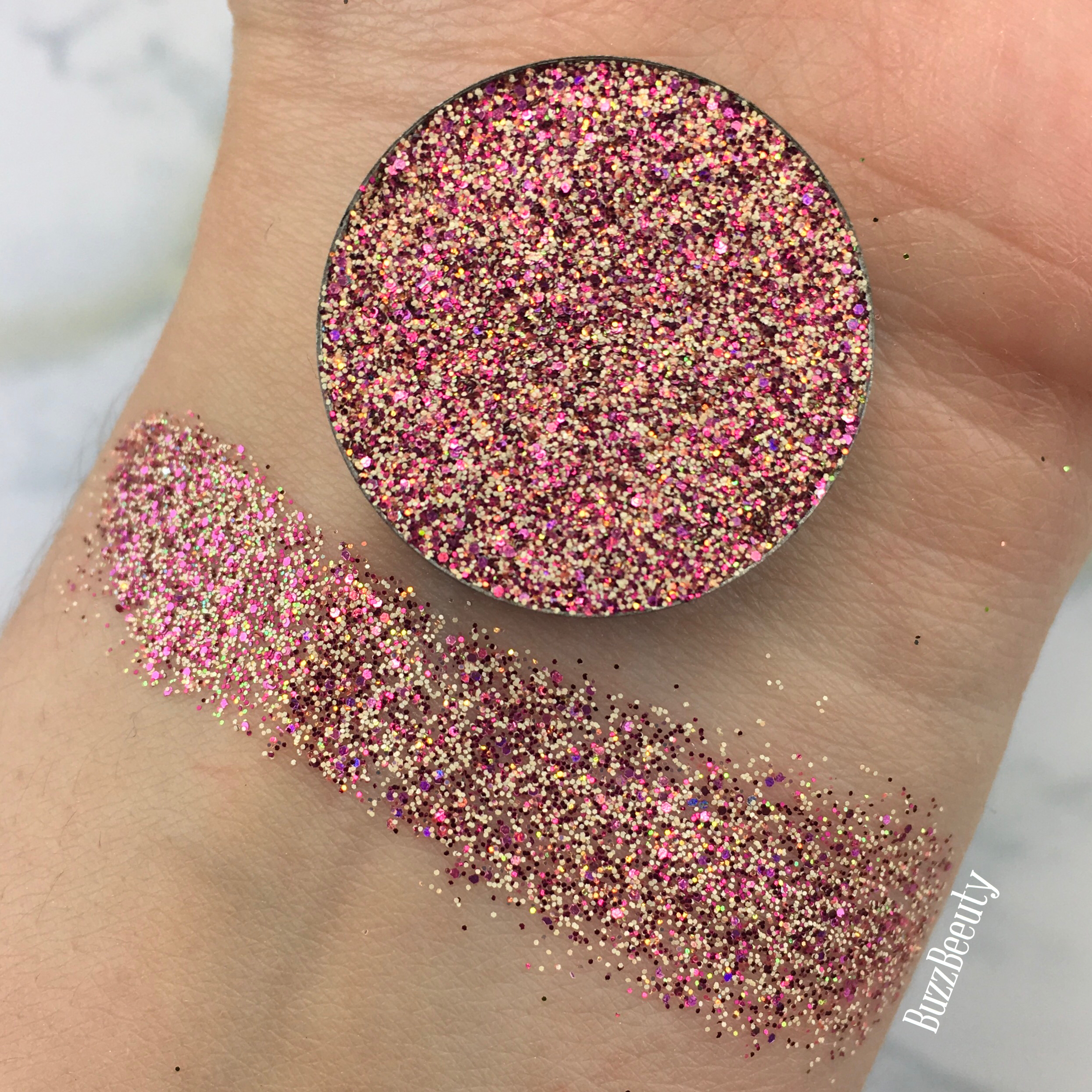 Christina is a rose gold flecked with holographic glitters.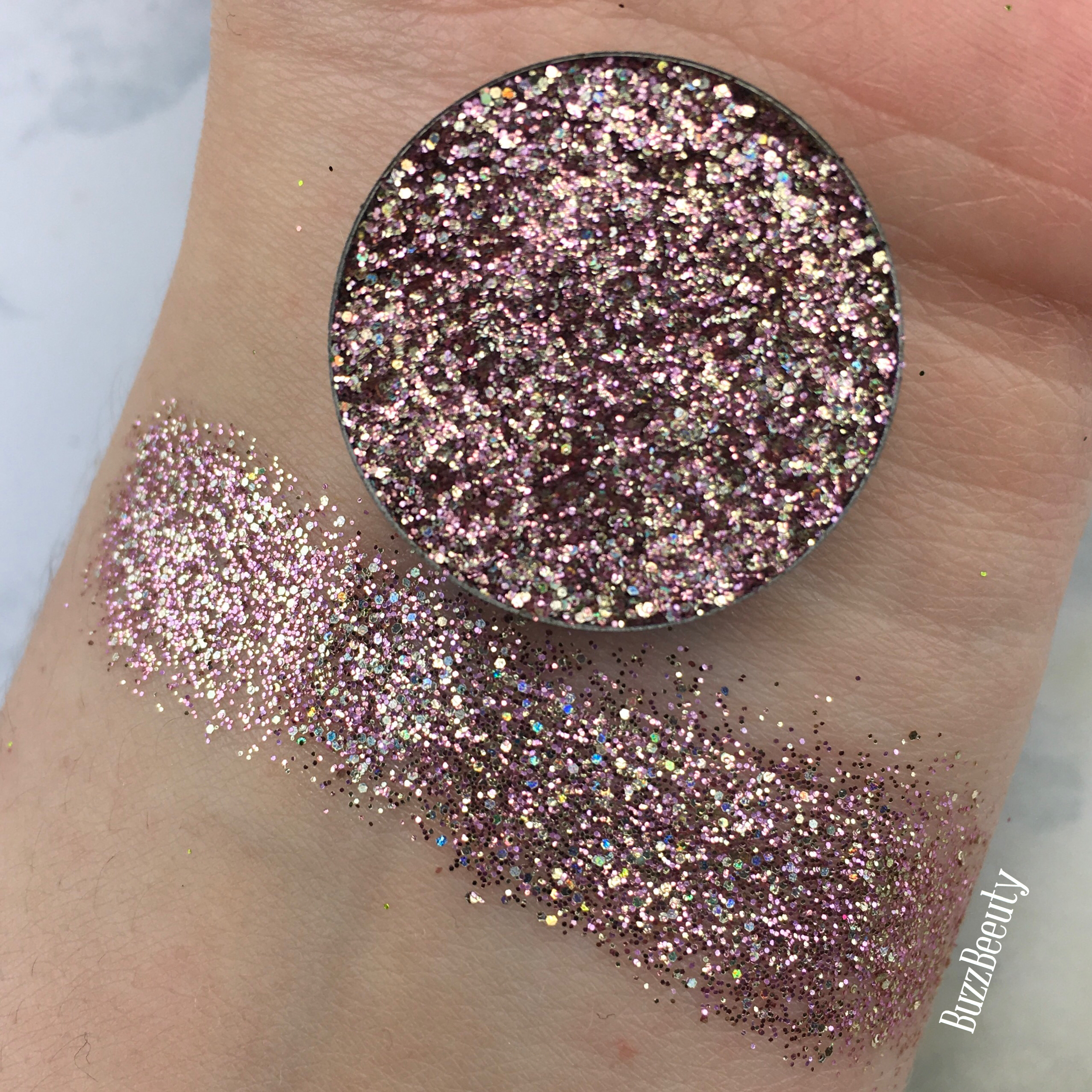 Sarai is an iridescent mix of glitters. Unicorn vibes through and through.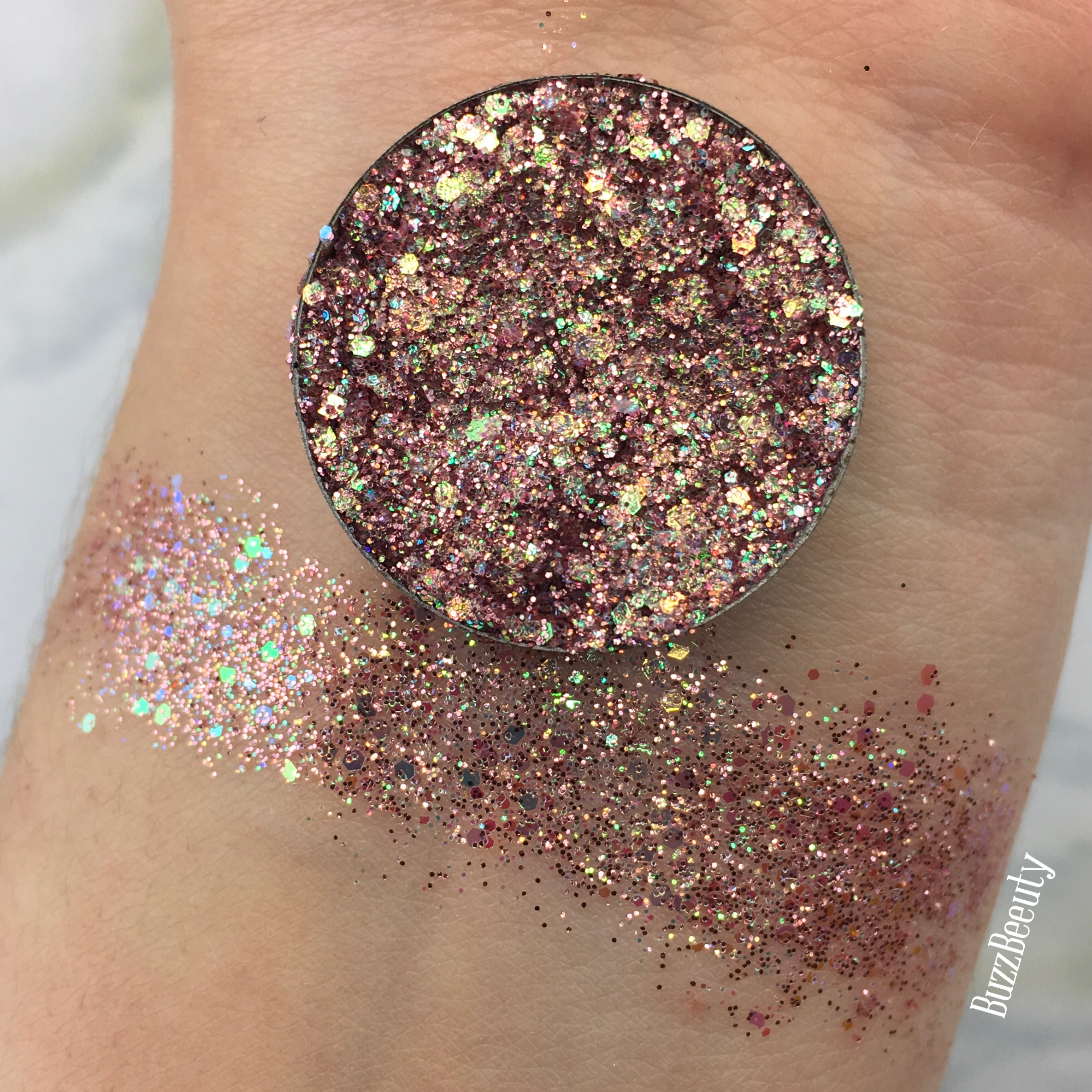 Spiritual Rebellion has a copper/rose gold base with chunky holographic glitters. Bold and unique.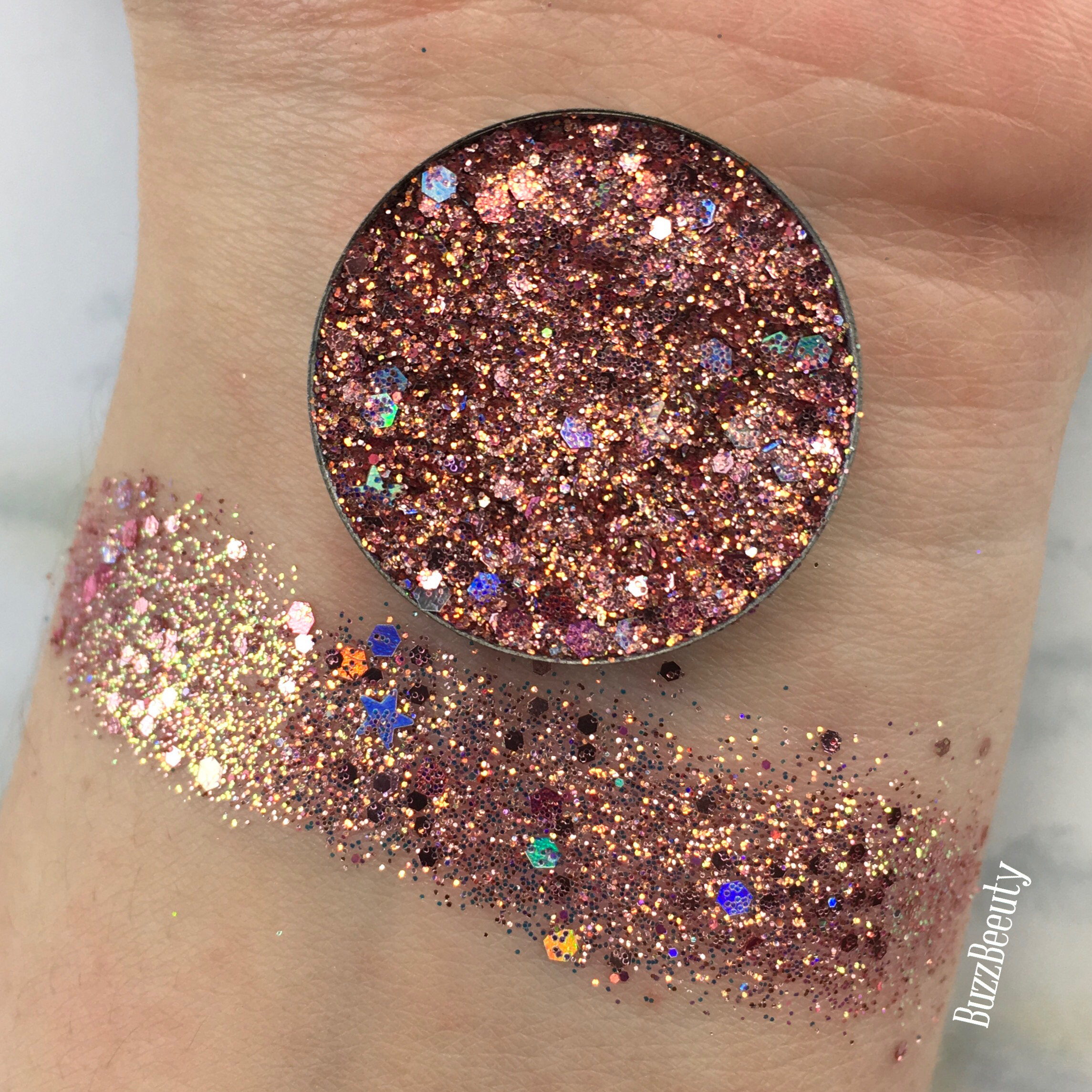 Melynda is a dark pink with chunky holographic and iridescent glitters.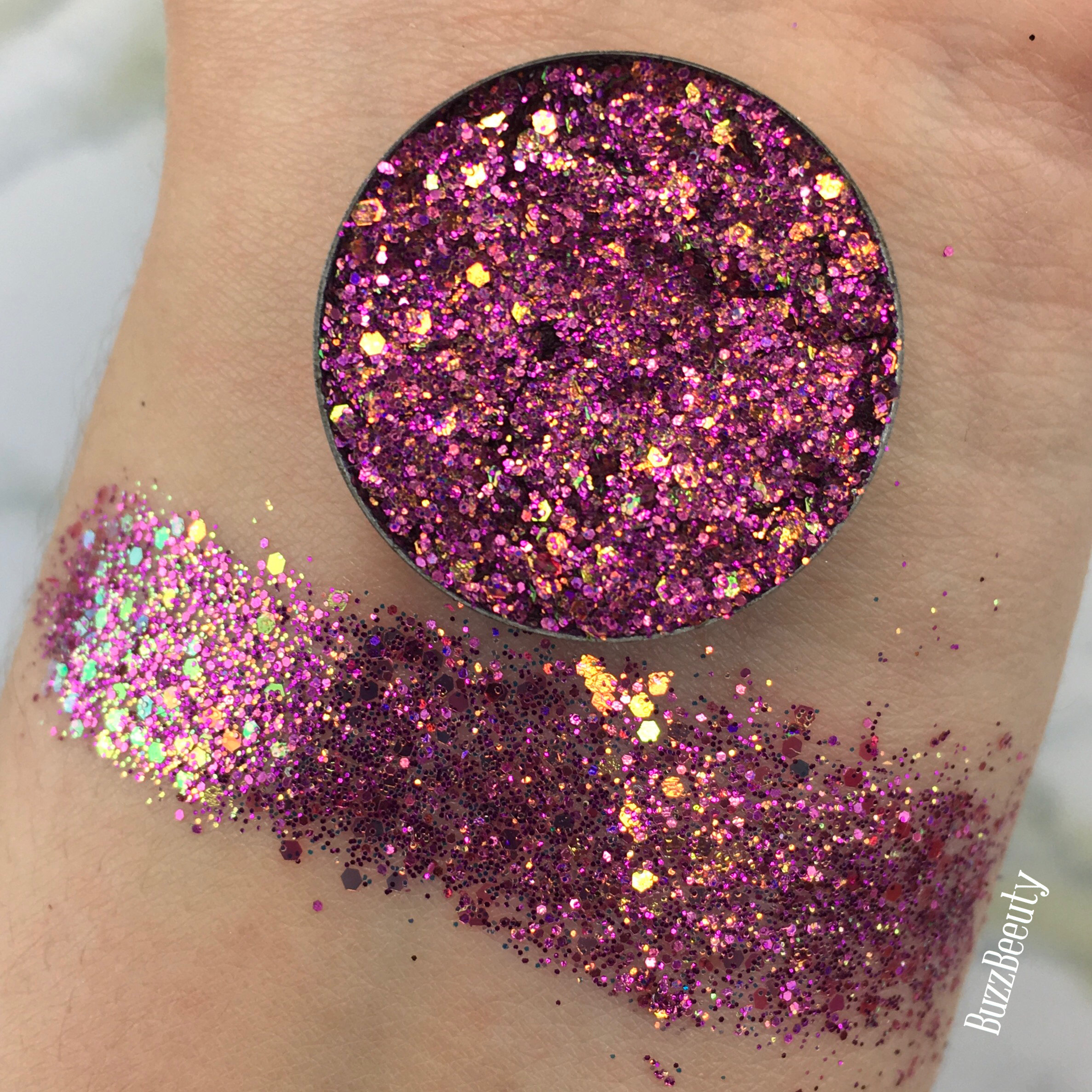 Tracy is a fuchsia pink with chunky magenta glitters.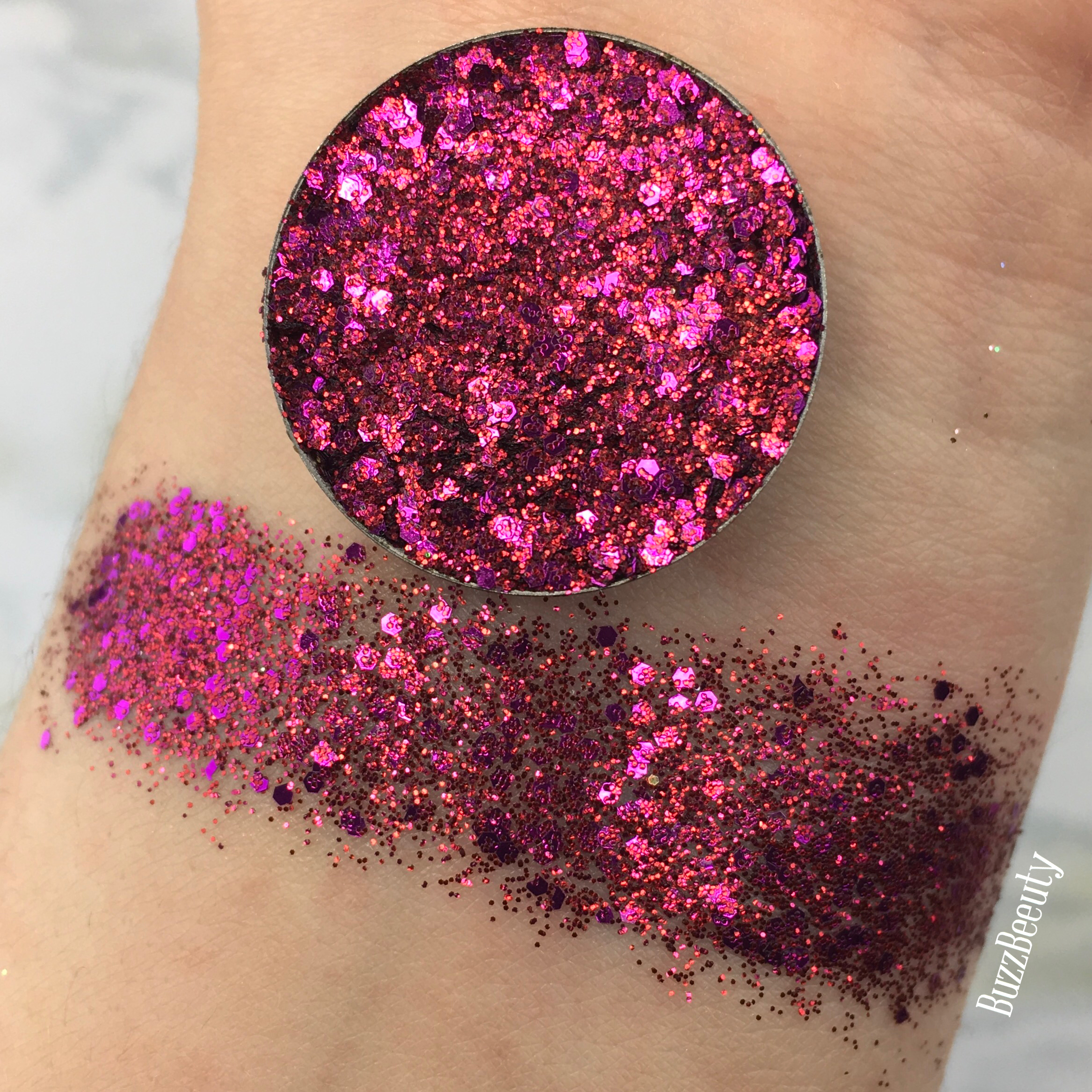 Elissa is a light purple with chunky diamond shaped holo glitters.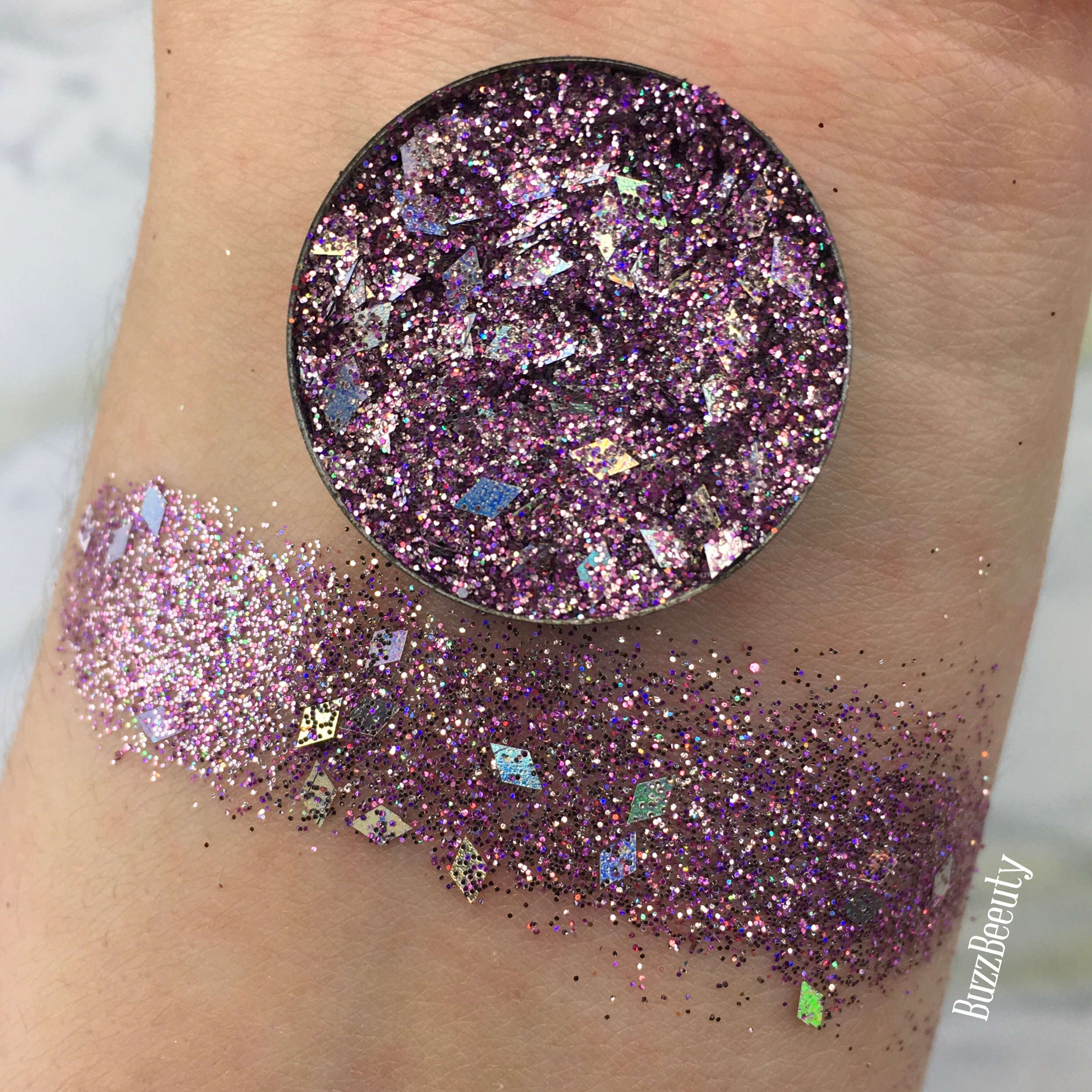 I also received an exclusive shade called Glitter Squad which is only available for her affiliate program members (details here!). It's not available for sale, but I still have to share because it's gorgeous!
Glitter Squad is a medium toned purple with silver and pink glitters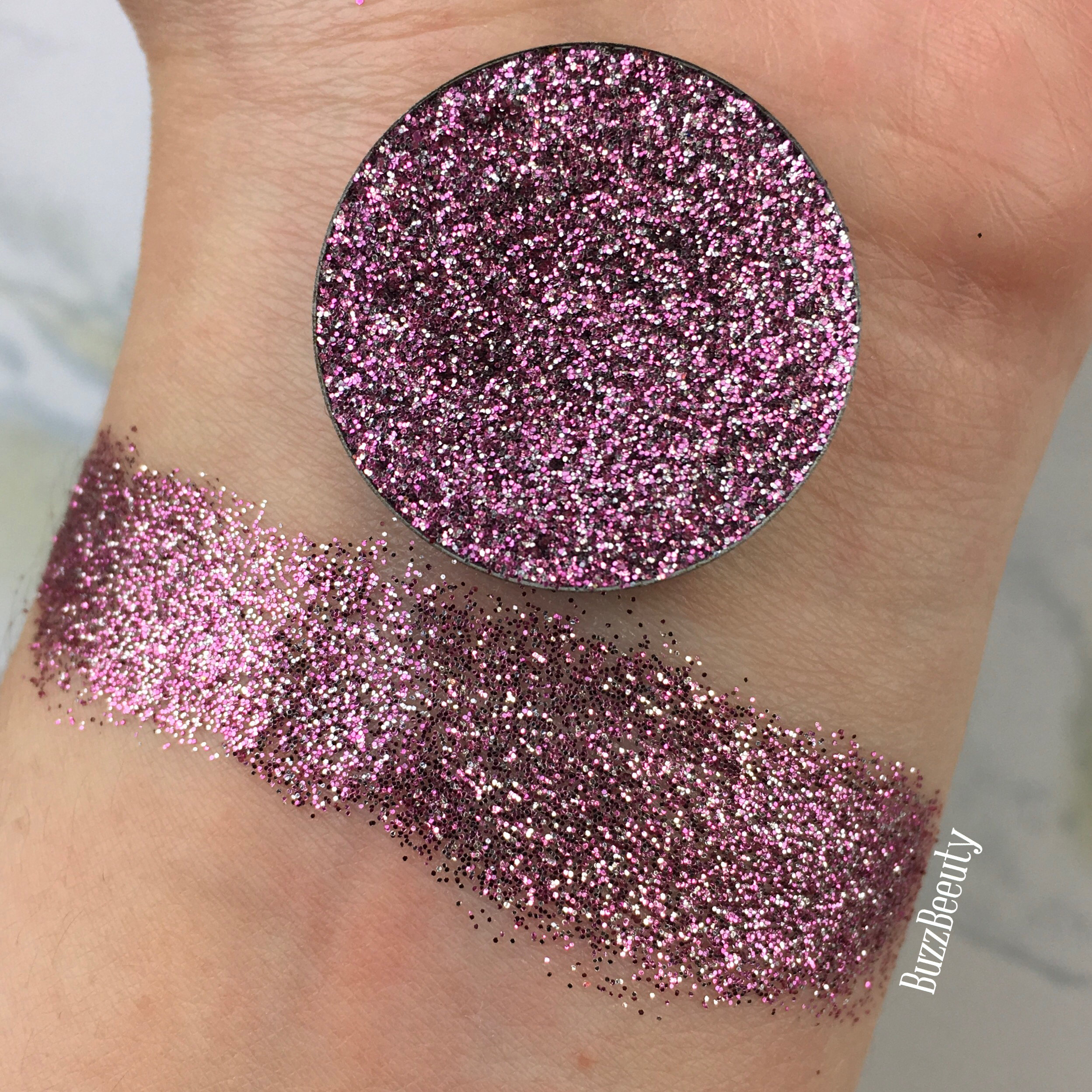 Packaging
My order also came with a sturdy magnetic palette which I appreciate. I have no extra room in my Z palettes, and it's nice to have a separate place to keep the glitters. A sticker of her logo is on the front. I've never seen a brand use this type of packaging for a palette, but I love the minimalism of it!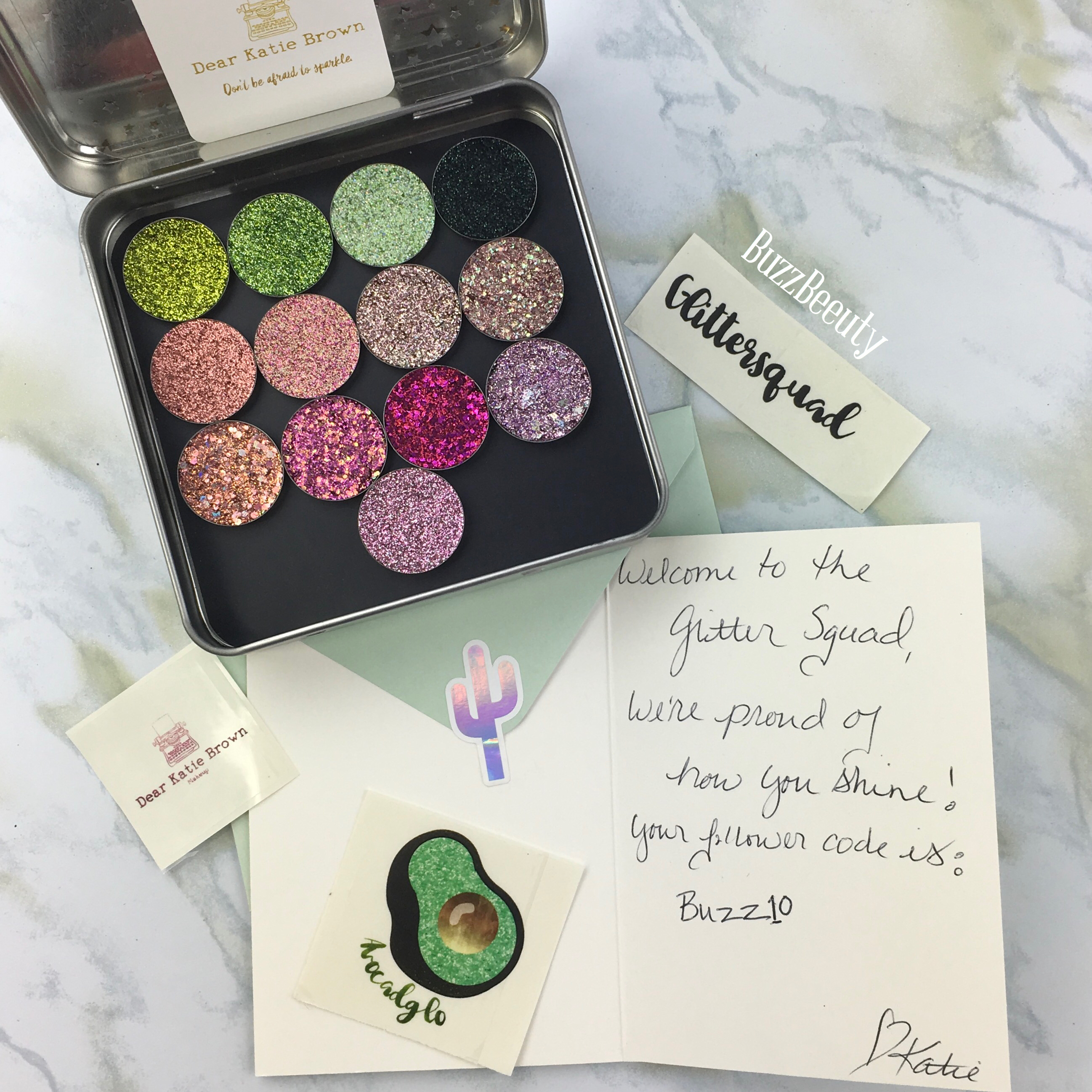 Her packaging is also adorable. The protective sleeves are elegant and kept everything safe and intact during shipping across the ocean. She also threw in some cute stickers which I appreciate. And can we talk about all the Texas themed extras?! It really makes me miss home.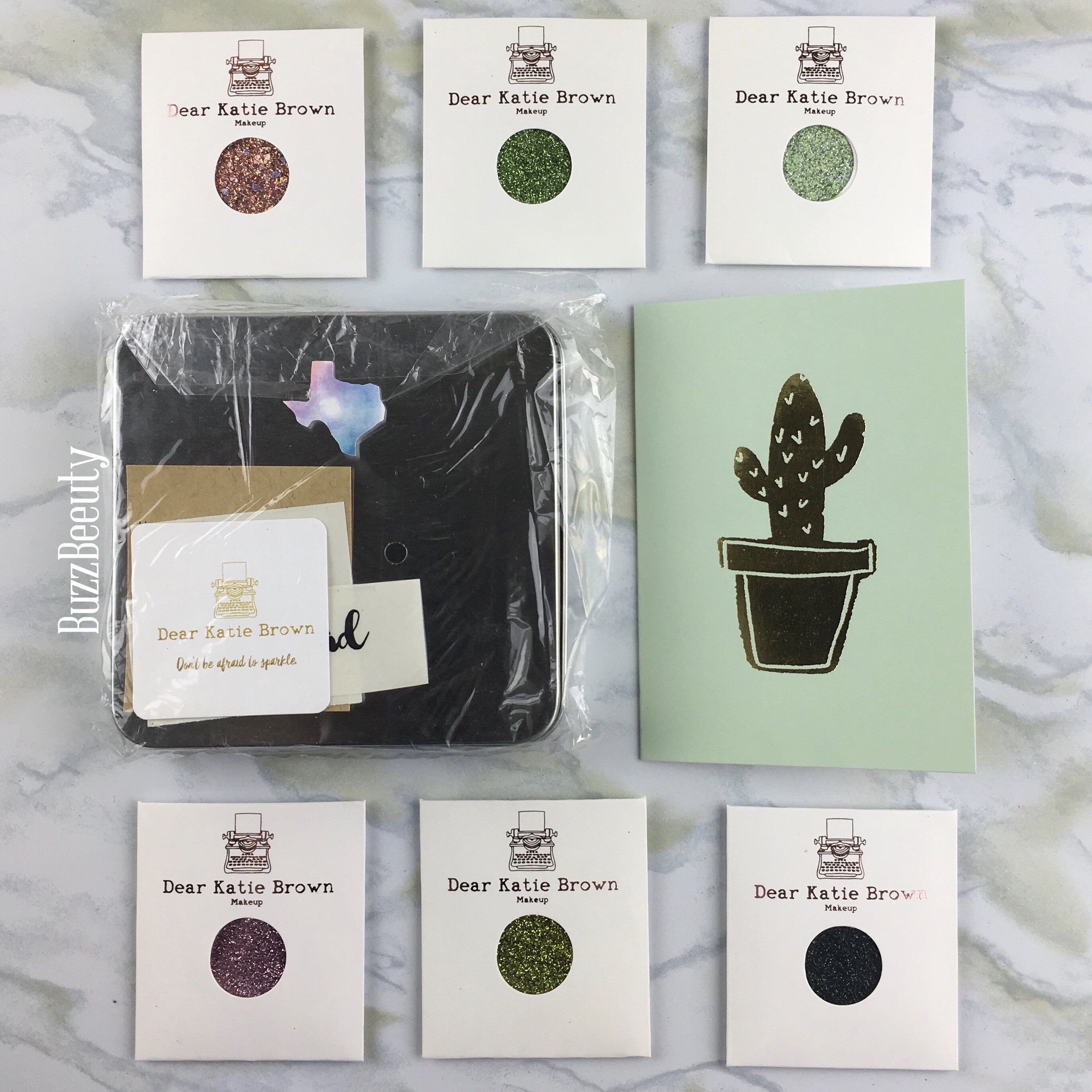 Review
Every single shade I received blew me away. I had high expectations, but pictures don't do these beauties justice. They're so much brighter and intense in person. I love to just swatch and stare at them. I cannot get enough.
I have nothing to compare them to, but the formula seems really great. These pressed glitters are suspended in a base that doesn't require a glitter glue (though it's still recommended to protect your eyeballs). You can literally just pat these on your eyes and be done with it! It's best to apply these with your finger for the best color payoff. There's not a ton of fallout, which is great. I do get small flecks of glitter under my eyes when I apply it with my fingers, but I have slightly hooded eyes so this is normal for me with most eye products. I find that taking a bit of tape and gently patting it on the skin to remove the fall out works perfectly. Katie also suggested that I use a lash adhesive to make the glitters stick better and this trick is a game changer! Just make sure you have an oil based remover on hand and are super careful to not get too much glue on your lashes.
Overall, I'm so happy with this purchase. I already have my shopping cart full of glitters for my next order. She's also releasing new shades this fall, and I could not be more excited! Her Halloween collection is releasing October 1st. She's hosting a giveaway on her Instagram for the entire collection, so go check that out!
I definitely recommend Dear Katie Brown pressed glitters to any glitter lover. Whether you're a pro or new to glitter makeup, these won't disappoint you. The price point is affordable, the quality is great, and her glitter mixes are unique and original.
You can use code "BUZZ10" for 10% off your order! (I don't make any money, just trying to save you some cash!)
Thanks for reading, and I'll catch you in my next post!
XOXO Kaylee Bee